Green's added versatility gets him back in Majors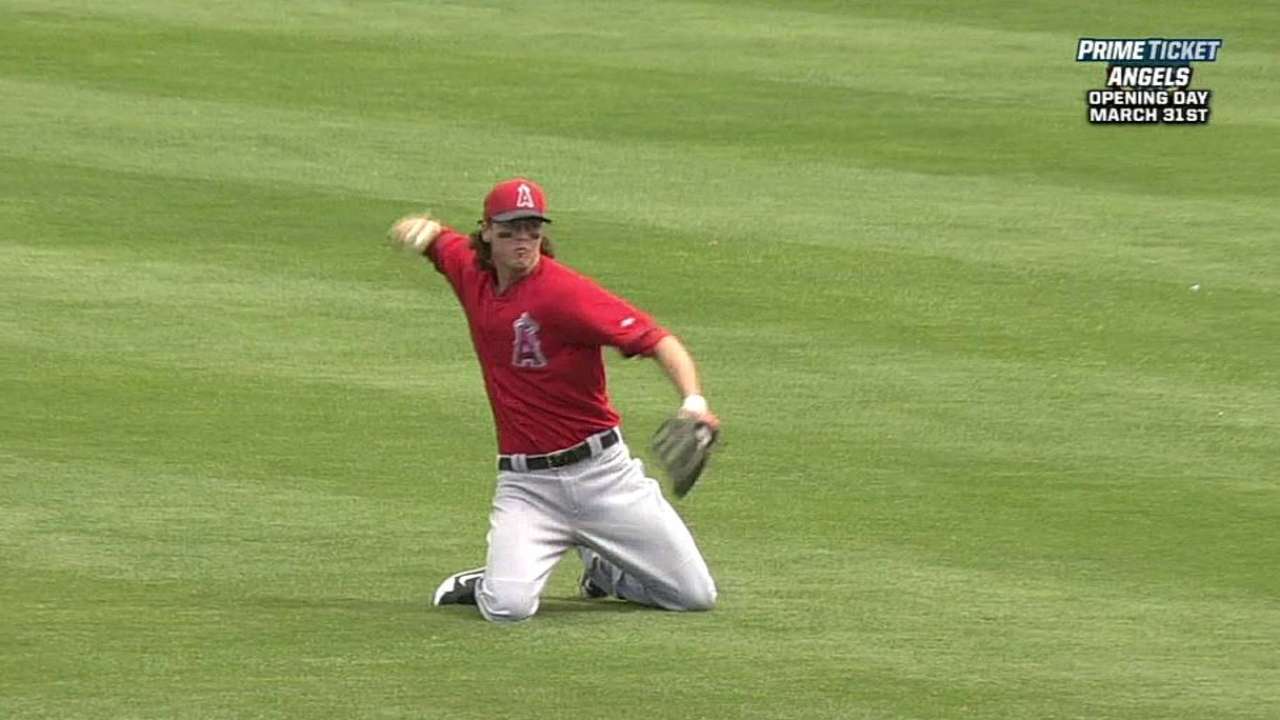 ANAHEIM -- David Freese had come over from St. Louis, Erick Aybar was entrenched at shortstop and utilityman Andrew Romine was out of options, so Grant Green went into 2014 figuring he'd just stay at second base for the Angels, to start there in the Minor Leagues and be ready on the off chance Howie Kendrick was traded.
"I couldn't have been more wrong," Green said from the Angel Stadium clubhouse on Friday afternoon, shortly after being recalled from Triple-A Salt Lake.
Green started the season with the Salt Lake Bees, played two games at second base, then spent the rest of the time getting re-acclimated with the left side of the infield, playing a lot of shortstop and a little bit of third base.
A week ago, he was told he'd start playing left field, and Green didn't know what to think. He asked Triple-A manager Keith Johnson what was going on, and couldn't get an answer.
"You're kind of thinking, 'Did I not do a good job at third and short that they have to put me in the outfield now?'" Green said. "But as long as you're in this clubhouse over that one, I guess you're doing something right."
The Angels just wanted Green to be as versatile as possible to make him more appealing in the big leagues, and give them more options to get his bat in the lineup -- a bat that was responsible for a .349/.395/.505 slash line in 119 plate appearances in the Pacific Coast League.
Angels manager Mike Scioscia said he's "very comfortable" starting Green in left field, a position he spent 49 games at in the A's system in 2012. The 26-year-old right-handed hitter, acquired from Oakland in exchange for third baseman Alberto Callaspo last July, wasn't in the lineup against Rangers right-hander Colby Lewis, but will probably start on Saturday against Matt Harrison and most other lefties moving forward.
Left field figures to be Green's primary position with the Angels right now, but Scioscia said "his versatility is something that will come into play."
Green credited former Angels second baseman Bobby Grich for his success at the plate early on. The two met at a Make-A-Wish event, exchanged numbers and started working together in a local batting cage. Grich taught Green to finish his swing a little lower, which Green believes has "allowed me to stay on the plane of the ball a lot longer."
Left field "feels good," Green said.
Everything does in the big leagues.
"It was just getting used to not reacting right away; taking a couple seconds to see where the ball goes first," Green said. "But it felt fine. The throw's a little bit longer, the batter's a little further away. Other than that, it's the same."
Alden Gonzalez is a reporter for MLB.com. Read his blog, Gonzo and "The Show", and follow him on Twitter @Alden_Gonzalez. This story was not subject to the approval of Major League Baseball or its clubs.