Nats rally in eighth to pick up solid Strasburg
Rendon, LaRoche and Desmond knock key hits late to lead offense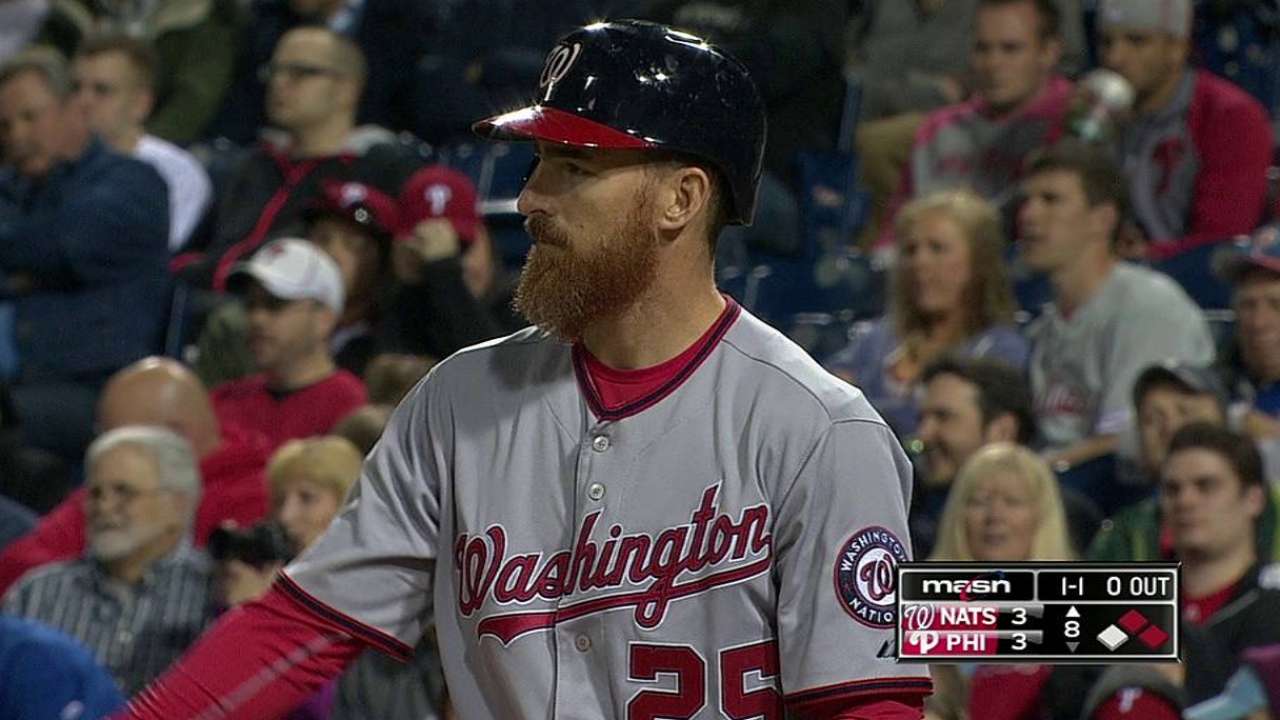 PHILADELPHIA -- The Nationals scored three runs in the top of the eighth inning against the Phillies' bullpen and won the game, 5-3, at Citizens Bank Park on Friday night. The Nationals have now won three consecutive games, improved their record to 17-12 and have nine come-from-behind wins this season.
"It's the atmosphere of the team. We don't panic, there is no sense like we are out of it," outfielder Jayson Werth said. "Last year, we allowed some runs and it was like the game was over. It was like 2011 when I first got here."
Phillies left-hander Cliff Lee was taken out of the game after seven innings with the Phillies leading, 3-2. Enter right-hander Mike Adams, who didn't record an out after facing three hitters. After Denard Span led off with a double and stole third base, Anthony Rendon followed with an RBI single up the middle, scoring Span and tying the score at 3.
Adams was taken out of the game after Werth singled up the middle to put runners on first and second.
Phillies left-hander Jake Diekman came in the game and allowed an RBI single to Adam LaRoche and an RBI double to Ian Desmond to make it a three-run inning.
"It's not too often to see a guy throw that hard from the left side," LaRoche said. "We got some good hits off him. He can be effectively wild at times."
Nationals relievers Tyler Clippard and Rafael Soriano blanked the Phillies the rest of the way, with Soriano picking up his sixth save of the season.
Right-hander Stephen Strasburg had one bad inning and it occurred in the bottom of the first. It looked like Strasburg was going to get out of the inning unscathed. With runners on first and second and two outs, Phillies outfielder Marlon Byrd hit a fly ball to the right-field corner and it looked like Werth had a bead on the ball, but he dropped it for an error in foul territory.
"Jayson makes that play 99 times out of 100, probably even more than that," manager Matt Williams said.
Werth played in that park on a regular basis for four years when he was with the Phillies and he felt he should have caught the ball. He said he's made similar plays like the one he missed 1,000 times.
Three pitches later, Byrd homered over the right-center-field fence to give Philadelphia a 3-0 lead.
"The one [issue] that sticks out for me more than anything else: We have been giving up a lot of runs early in the game," Werth said. "We have been making a lot of errors. Every time we make an error, it leads to [runs] like .... tonight. ... It always leads to something bad. It doesn't have to be like that. It really doesn't. Making errors is part of the game. It shouldn't lead to, you make an error and you lose the game because of it. Does it happen every time? It feels like it happens a lot. We have to stop doing that."
All three runs were unearned, but Strasburg ended up with his third no-decision of the season. He pitched six innings and allowed the three unearned runs on six hits.
Lee was solid, going seven innings, allowing two runs (one earned) on four hits. The Nationals were able to get to Lee in the fifth inning, when Tyler Moore hit a solo home run over the left-field wall. Moore received the start in left field because he was 4-for-9 vs. Lee prior to Friday's game.
"He is a good pitcher. He has really good stuff. I guess I get lucky and barrel some balls against him," Moore said. "I'm just glad I got in the lineup and got to play."
In the fifth inning, the benches cleared after Moore scored on a groundout by Span. As Span was walking toward the dugout, words were exchanged between Span and Lee. The Nats outfielder didn't like the fact that Lee almost hit him with a pitch earlier in the frame. No punches were thrown, however, but a warning was issued to both teams.
"After the groundout, it felt like he was talking to me," Span said. "[Lee] loud talked the umpire. He said, 'If he is in the box, he needs to get ready to hit.' When he said that, I said, 'OK, you are talking to me indirectly. I have to go tell you what I have to say.' And that's what it was."
Lee said Span was in the batter's box and should have been ready to hit.
"I made a pitch and he was in the box and wasn't ready. I'll do that every time. If they want to stand there and not look, I'll take a strike every time. I threw a ball, so maybe he was mad because it was close to him, but if they are going to stand there and not look, I'm going to throw a pitch. I think it's on the hitter to be in the box and make sure they are ready. I'll take advantage of that every time I can."
Bill Ladson is a reporter for MLB.com and writes an MLBlog, All Nats All the time. He also could be found on Twitter @WashingNats. This story was not subject to the approval of Major League Baseball or its clubs.