Bullpen unable to hold off Nats in series opener
Lee spins quality start, but Washington mounts late rally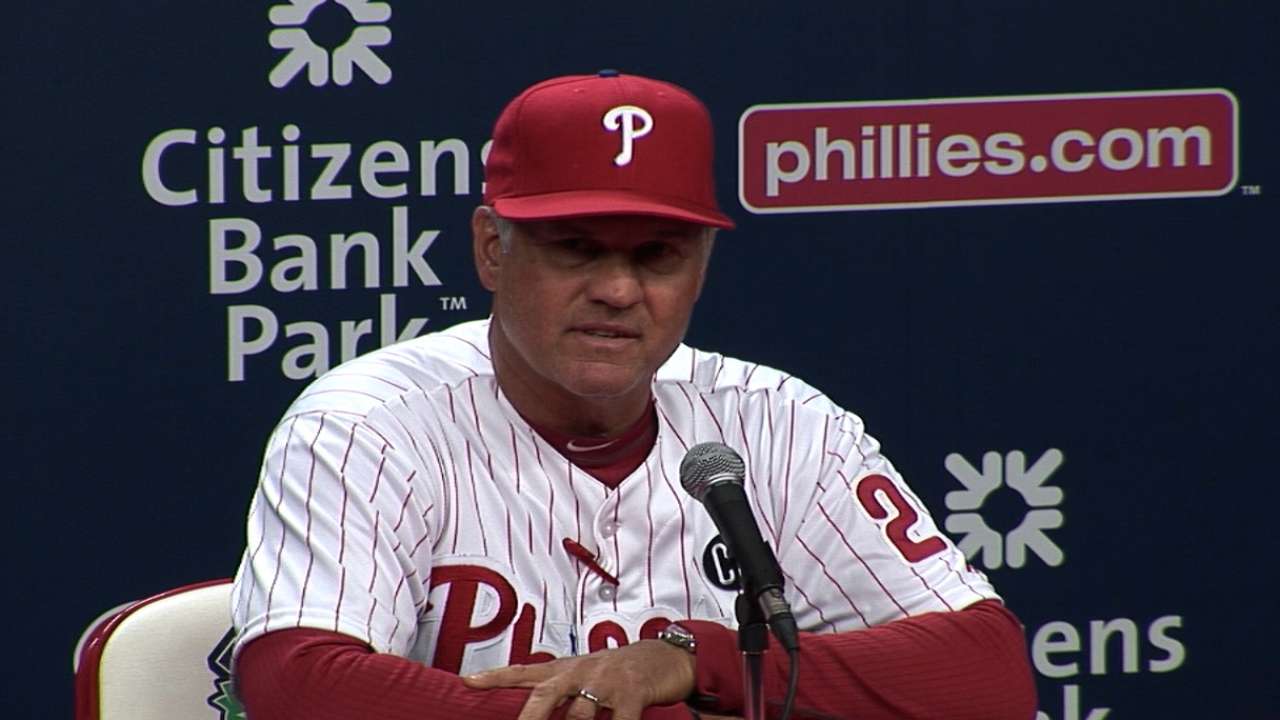 PHILADELPHIA -- This is an important series at the beginning of an important stretch for the Phillies.
They play 21 of 29 games at home and 17 of 32 against National League East rivals. If they are serious about their abilities to challenge for a postseason berth, this is the time to assert themselves as legitimate contenders.
But Friday's 5-3 loss to the Nationals at Citizens Bank Park unfolded like so many other losses the past couple seasons. The Phillies took an early lead, but could not extend it. The bullpen then blew a one-run lead in spectacular fashion in the eighth inning to waste a fine starting pitching performance from Cliff Lee. The Phillies dropped to 4-7 at home, and 13-14 overall after spending the entire month of April fighting and clawing to post a winning record.
"You've got to win games at home," Phillies right fielder Marlon Byrd said. "You look at the guys that get to the playoffs. They have unbelievable home records. We have to do the same thing. You get to sleep in your own bed, we know the park, we know our routine, we know how to get our work in. So when we're at home, we have to win series."
It will be a difficult task if the bullpen continues to pitch like this.
The Phillies blew their sixth save of the season, which is tied for second in the National League. Their 5.07 ERA is the worst.
"If you look at the way our bullpen has been going, it's somewhat cursed a little bit," Mike Adams said. "We have to find a way to break the whole thing and get moving in the right direction."
It is critical it does.
But this is not a new problem. Its 66.7 save percentage last season ranked 21st in baseball, while its 36.2 inherited runners scored percentage ranked 29th. It could not hold leads last season, and it could not keep games close, either.
"If this team is going to be successful, we have to do our job," Adams said. "The bullpen is going to be the most important part of this season. If we don't do our jobs, we're not going to be successful as a team."
The Phillies carried a 3-2 lead into the eighth when Nationals center fielder Denard Span broke his bat on an 0-2 pitch from Adams. The ball landed down the right-field line for a double. Span stole third and scored on Anthony Rendon's single to center field to tie the game, 3-3.
Jayson Werth followed with a single to put runners on first and second.
Jake Diekman replaced Adams, but he allowed a single to center to Adam LaRoche to score Rendon to make it 4-3. One more run scored on the inning's fifth consecutive hit before Diekman finally worked out of the inning.
It was the first time the Phillies blew a save in the eighth inning, although it only seemed like a matter of time. They have a 6.33 ERA in the eighth inning this year, which is the third-worst mark in the Majors. They previously blew a save in the sixth, two in the seventh and two in the ninth. Regardless, Lee lost a win as a result. He allowed four hits, two runs (one earned), two walks and struck out five in seven innings. He has a 1.67 ERA in six starts since he allowed eight runs in five innings on Opening Day.
"I think we'll take Mike Adams in the eighth inning with the lead every time, no matter who is coming up," Lee said. "I know I will. It was just one of those days where they got their hits, they earned it. Those things happen in this game. If we get here tomorrow with a one-run lead in the eighth, I like Mike in there every time. There's no doubt about it."
The Phillies took a 3-0 lead in the first, but it was long forgotten by the time Freddy Galvis popped out in foul territory to end the game. Chase Utley and Ryan Howard hit a pair of two-out singles to put runners at the corners for Byrd, who entered the night hitting .379 (11-for-29) with runners in scoring position. Byrd lofted a 1-1 fastball down the right-field line. Werth pursued and reached out to catch the ball as he neared the wall, but the ball deflected off his glove for an error.
Byrd got a second chance and smacked a 2-2 fastball for a three-run home run to right field to hand the Phillies a 3-0 lead. It was Byrd's fourth homer and his 18th, 19th and 20th RBIs of the season. His 20 RBIs rank seventh in the league.
But the Phillies could not add to it.
"That was the bigger thing," Phillies manager Ryne Sandberg said. "Scoring early, and we could not add on."
But they still had a lead in the eighth and that is a lead the Phillies must hold.
Todd Zolecki is a reporter for MLB.com. This story was not subject to the approval of Major League Baseball or its clubs.