Royal pain: Porcello's solid start fuels Tigers
Right-hander enjoys merry months in May with his fourth victory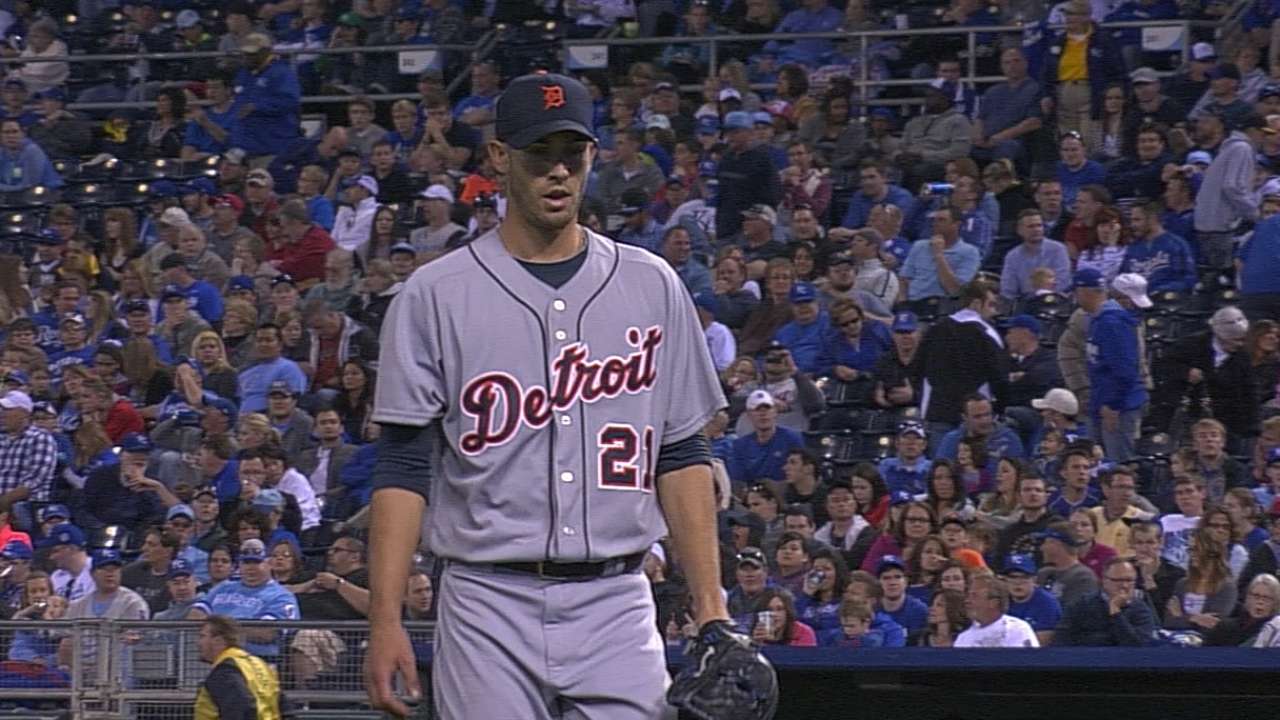 DETROIT -- Big Game James Shields was no match for May Rick Porcello. The way Porcello pitches when the calendar turns from the season's opening month, few opponents are.
Porcello can't explain why he has so much success over his career in May. It's a little easier to explain why he has had success so far this season.
Explaining his success on Friday night -- Porcello delivered seven innings of two-run ball while retiring the final 12 batters he faced in the Tigers' 8-2 win over the Royals -- can be summed up in two words: Strike one.
"It was huge, especially against a team like this," Porcello said. "You get them into fastball-hitting counts. When you fall behind, there's only so many offspeed pitches you can throw to get yourself back into the count, so establishing the fastball and getting ahead early against these guys was big."
Porcello threw it with his first pitch to the first nine batters he faced, and to 20 of 25 batters overall. When the right-hander took the mound for his seventh and final inning, he put all three Royals hitters in 0-2 counts.
"I looked at it one time and he had 27 strikes and like six balls," Royals manager Ned Yost said. "He was just banging those strikes."
Repeat that enough, and Porcello delivered 71 strikes out of 106 pitches over seven innings, his second such efficient performance over his last three outings. In two others, he pitched into the seventh inning with fewer than 100 pitches before giving way.
Repeat those, and while everyone wonders if Justin Verlander is really back, and if Max Scherzer can repeat his magic from last year, Porcello (4-1) became the Tigers' first four-game winner this year.
With no walks and six strikeouts on Friday, Porcello owns the second-lowest ratio of walks per nine innings in the American League, trailing only David Price. Porcello owns the fourth-highest strikeout-to-walk ratio in the league, trailing Price, Masahiro Tanaka and Felix Hernandez.
Porcello has all this heading into what, historically, bizarrely so, has been his most successful month of the season. Repeat that, and maybe, just maybe, this is the year Porcello finally breaks out -- even if finally is a relative term for a 25-year-old pitcher in his sixth big league season.
"This year, since the beginning of the season, he's thrown the ball great," said catcher Alex Avila, whose first home run of the year supported Porcello and highlighted Detroit's barrage against Shields.
Avila should know as much about Porcello as anyone on the team. He has caught Porcello in 82 of his 157 career appearances and all five of his starts this season.
"He's had, for the majority of the games, really good command," Avila said. "There's a few times today where he'd fall behind a couple hitters in a row, 2-0, things like that, but then he's able to make quality pitches after that to get the guy out. But he's been very consistent so far this year as far as not only throwing strikes with his sinker, but throwing strikes with his offspeed stuff as well."
Get ahead on hitters, and that expanded repertoire now boasts, with the curveball he dusted off last year and the slider he has quietly worked in this season, goes to work.
Neither Avila nor Porcello have a theory why he pitches so much better in May than any other month, especially after historically lousy Aprils. Even after going 3-1 with a 3.96 ERA in the season's opening month, Porcello's career numbers for April stood at 9-12 with a 6.12. Even with last April's nine-run first inning against the Angels taken out of the equation, his 9-11 record and 5.57 ERA for his other April outings don't look vastly improved.
By contrast, Friday's win improved Porcello to 14-6 with a 3.13 ERA in 26 career May outings. He averages better than six innings a start for his career in the month. The New Jersey native grew up pitching in cool weather.
"I have no idea [why]," Porcello shrugged. "I wish I could tell you. I don't have an explanation for it."
Porcello can tell you why he pitched well on Friday. If he can repeat that, he'll have the same explanation for the season.
"A lot of first-pitch strikes, that's going to bode well for a sinkerball guy. Give him a lead and he can go to work," said Billy Butler, whose leadoff home run off a 3-1 pitch in the fourth inning was Kansas City's last hit and baserunner of the night.
By the time Butler homered, the Tigers had five runs off Shields, and Porcello -- who paid for a 3-0 count against Butler -- had every reason to pound the strike zone from them.
Much of the damage off Shields came early. Back-to-back RBI doubles from Miguel Cabrera and Victor Martinez moved Detroit in front in the third inning, then Avila followed J.D. Martinez's leadoff double in the fourth with a 392-foot drive to right-center field.
Victor Martinez added an RBI single in the seventh before Austin Jackson's ensuing single chased Shields from the game. J.D. Martinez put the game away with a two-run double off Kelvin Herrera in the seventh.
Shields (3-3) gave up eight runs (seven earned) on 12 hits over 6 1/3 innings.
"What makes him tough, all his pitches, everything he throws, he can throw for strikes at any time," Victor Martinez said. "That's what makes him really tough. When you go out there against a pitcher like him, it's a battle. Just hope that he makes a mistake and take advantage."
Get ahead on the scoreboard early, and Porcello can get ahead in the counts late. Everything goes from there. So far, it's trending in a very good direction.
Jason Beck is a reporter for MLB.com. Read Beck's Blog and follow him on Twitter @beckjason. This story was not subject to the approval of Major League Baseball or its clubs.