Shields can't find his way at home vs. Tigers
Right-hander falls to 3-8 at Kauffman Stadium during Royals' tenure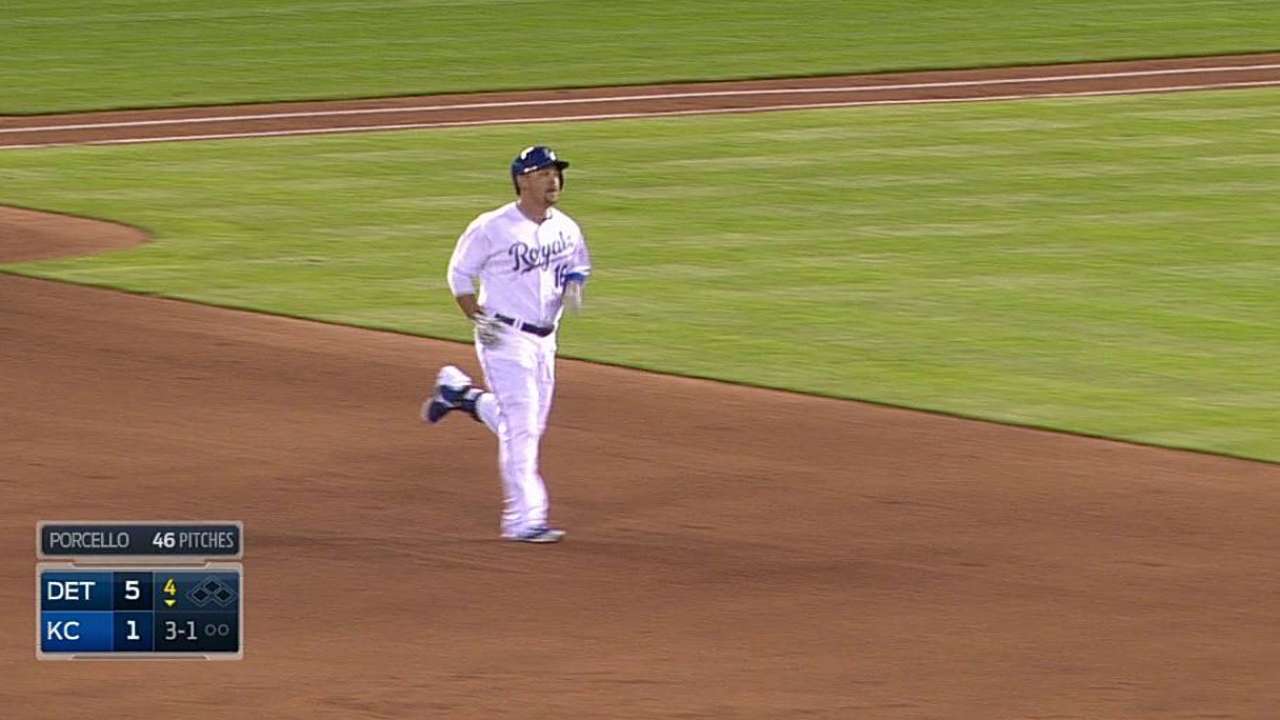 KANSAS CITY -- James Shields just can't get comfy at home.
Shields, after three straight victories on the road for Kansas City, lost to the Detroit Tigers, 8-2, on Friday night at Kauffman Stadium. In his two years with the Royals, Shields has a 3-8 record and a 4.49 ERA in KC, but he is 13-4 with 2.09 elsewhere.
The loss evened the Royals' record at 14-14 and put them three games behind the first-place Tigers in the American League Central. So the Royals can't catch up in this series.
One encouraging sign for the hometown crowd of 28,021 was that Billy Butler finally got his first home run in his 104th at-bat of the season. Other than that, they did little against right-hander Rick Porcello.
But Shields had a tough night and was charged with eight runs (seven earned) in 6 1/3 innings. He gave up 12 hits, walked one, hit one and made a wild pitch.
"I threw some good pitches … that's a good-hitting ballclub over there," he said. "I wasn't locating my pitches, I was getting behind on the count today and I didn't do my job out there, bottom line. I've got to do a better job of getting outs."
That good-hitting ballclub was somewhat surprised over its success against Shields.
"It's not often you see guys put together that many good at-bats against James Shields," said Tigers manager Brad Ausmus. "He's one of the best, not only in the American League but in baseball. I think we were kind of fortunate. We might have caught him a little bit on an off night. Of course, our guys did a great job at the plate battling. Even some of the outs that we made we were able to hit hard."
Victor Martinez hammered Shields for two doubles, a single and two RBIs.
"What makes him tough, all his pitches, everything he throws, he can throw for strikes at any time," Martinez said. "That's what makes him really tough. When you go out there against a pitcher like him, it's a battle. Just hope that he makes a mistake and take advantage."
One mistake came against Alex Avila, who belted a two-run homer just over the right-field wall in the Tigers' three-run fourth inning.
"I honestly didn't think it was going to go," Shields said. "He put a good swing on it. The wind was kind of swirling around a little bit, but I didn't throw the pitch where I wanted to anyway so I wasn't too concerned about it."
Avila, who looked at a lot of sliders in his first at-bat, connected on Shields' first pitch in his second time up. He guessed fastball and guessed right. It was Avila's first homer since he connected twice against Kansas City last Sept. 15 at Detroit.
The Tigers' lead was 5-1 when Butler led off the Royals' fourth with a home run that zipped just inside the left-field foul pole. He hit Porcello's 3-1 pitch.
"I knew I hit it good, I didn't know if it was high enough to get out. I knew I hit it hard, I know I didn't hit it very high and I couldn't see if it was fair or foul. But I know it was really close, too," Butler said.
The home run enabled Butler to tie Steve Balboni for ninth on the Royals' career home run list at 119. Four more and he'll tie Carlos Beltran.
"They say the first one is the toughest one to get. Hopefully, there's more -- and more often," Butler said.
If the Royals and their fans thought this long-awaited event would ignite an offensive outpouring, they were very wrong. After the homer, the next 18 batters all went out and that was that.
Porcello went seven innings, retiring the last 12 batters he faced. Reliever Ian Krol got three outs in the eighth inning on four pitches. Evan Reed got three more in the ninth on six pitches. That's efficiency.
The victory gave Porcello a 4-1 record.
"He's a strike-thrower, we knew that going in," Royals manager Ned Yost said. "With a heavy sinker, he gets ahead of hitters. I looked at it one time and he had 27 strikes and like six balls. He was just banging those strikes."
Porcello didn't walk a soul and struck out six.
"Just looked at their strengths and tried to exploit some weaknesses," he said. "Change the eye level with the fastball, mix in some four-seam fastballs to the lefties especially, and just change speeds."
Simple for Porcello, difficult for Shields.
"It was just a battle for him tonight. He just wasn't his normal sharp self. He was out there grinding, out there battling." Yost said.
Then there's that mysterious inability to win at home.
"Talk to me at the end of the season and I'll tell you what the home and away is. It's too early for that now," Shields said. "I've got two home games under my belt so far this year."
True enough. His next start? On the road again, next Wednesday at San Diego.
Dick Kaegel is a reporter for MLB.com. This story was not subject to the approval of Major League Baseball or its clubs.