Slow starters up for grabs on fantasy waiver wire
Players can take advantage of statistical bump as calendar turns to May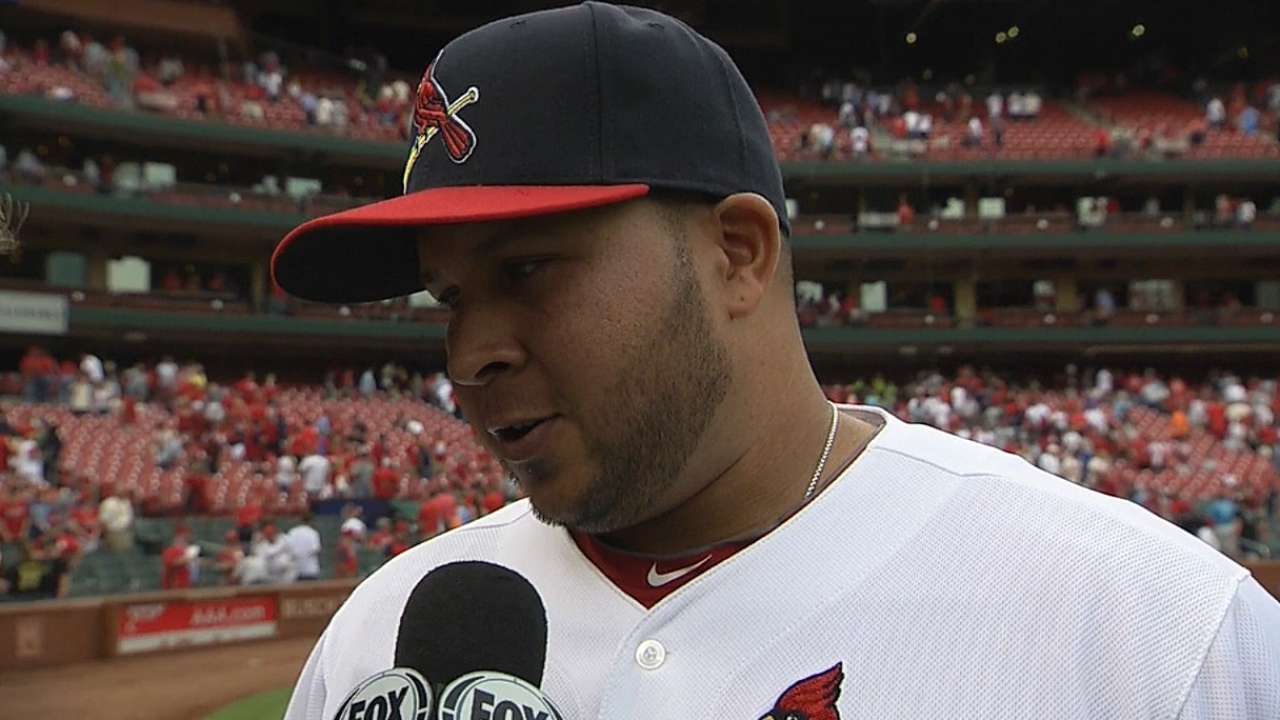 May is upon us, and it's time for fantasy owners to make hard decisions regarding slumping performers. For those who need to visit the waiver wire for alternative solutions, here are some options that deserve close attention. This can be a great time to pounce on slow starters, because those struggles will be in the rearview mirror when fantasy leagues are being decided in September.
Catcher, Wilson Ramos (Nationals): The 26-year-old was dropped in many leagues because of an early-season stint on the disabled list, but he should be activated in early May. Ramos' 12 homers and 42 RBIs in the second half of 2013 are great reminders that he can help a fantasy team as soon as he is healthy.
First base, Lucas Duda (Mets): Fantasy owners have been slow to react to Duda's boost in playing time. Though he has not yet taken advantage of his additional opportunities, he should hit more than 20 homers this season, and he should produce solid RBI and on-base percentage numbers.
Second base, Scooter Gennett (Brewers): Despite the presence of highly-paid second baseman Rickie Weeks, Gennett has earned most of Milwaukee's playing time at second. The 24-year-old is hitting .300 entering Friday after raking at a .324 clip last season, so fantasy owners should be able to count on him to help with batting average. However, a lack of noticeable speed and power limits Gennett's usefulness to deep leagues.
Shortstop, Jhonny Peralta (Cardinals): With six April homers, Peralta has already shown that he can transfer his power stroke to the National League. And though a .196 batting average has pushed the 31-year-old to waivers in many leagues, smart owners will notice his .266 career average and .178 BABIP this season, stats that portend likely improvement.
Third base, Marcus Semien (White Sox): A DL stint for Conor Gillaspie has offset the return of Gordon Beckham, allowing Semien to stay in an everyday role. The 23-year-old's .285 on-base percentage is concerning, but his three homers and three steals in April are an accurate indicator of a dynamic young player who can help mixed-league owners in multiple categories.
Outfielder, George Springer (Astros): No player has shown the overzealous nature of fantasy owners more than Springer. He was added in almost all leagues after an April promotion, but a slow start has sent him back to waivers just as quickly. Springer is an elite prospect who hit .303 with 37 homers and 45 steals in Triple-A as a 23-year-old last season. Fantasy owners who give him time will likely be rewarded in the summer months.
Outfield, Alejandro De Aza (White Sox): De Aza's case is similar to Peralta's. A career .268 hitter, De Aza has been dropped in many leagues because of his .185 batting average (.191 BABIP). Assume that the average will rise, and focus on his four homers and three steals in 28 games.
Outfield, Dexter Fowler (Astros): Fowler was recently recommended in this space, but fantasy owners have been slow to pounce after he turned around his slow start with a nine-game hitting streak that saw him score seven runs. Expect him to produce something close to his .268 career batting average the rest of the way, with some power and speed mixed in, as well.
Starter, Jose Quintana (White Sox): Quintana's 4.00 ERA and 1.33 WHIP have not earned him a roster spot in shallow leagues, but he could easily lower those ratios next week. The southpaw will get a break from American League offenses, and instead will take on a pair of sub-.500 NL squads in the Cubs and D-backs. A 32-to-9 strikeout-to-walk ratio suggests that he can take advantage of the temporarily-softened schedule.
Starter, Robbie Erlin (Padres): It's rare to recommend a starter with a 5.83 ERA, but Erlin is available in virtually all leagues, and his 25-to-7 strikeout-to walk rate suggests he could soon turn his season around. A pair of home games in pitcher-friendly Petco Park (vs. Kansas City and Miami) should give him every opportunity for success in the coming week.
Starter, Nathan Eovaldi (Marlins): Fantasy owners should take notice that Miami is no longer one of the weakest teams in baseball. Eovaldi remains on waivers in many leagues despite an impressive 2.58 ERA, 1.02 WHIP and 8.2 K/9 rate in 38 1/3 innings. He is scheduled to take on the Mets at home and the Padres on the road next week, and the two pitcher-friendly parks should make him an asset in shallow leagues.
Starter, Henderson Alvarez (Marlins): Because of a low strikeout rate and 1.46 WHIP, Alvarez is strictly for deep-league use. But he should be good for eight to 10 strikeouts and solid ratios when he faces the Mets and Padres next week.
Starter, Jon Niese (Mets): Niese has been a huge part of the Mets' pitching-led resurgence, posting a 2.20 ERA and a 1.04 WHIP in five starts. The southpaw has yet to allow more than three runs in a start, and his scheduled outings next week against the Marlins and Phillies should give him the chance to log at least one win, double-digit K's and low ratios.
Reliever, Casey Janssen (Blue Jays): Janssen is on the comeback trail, and he should return to Toronto in less than two weeks. Fill-in closer Sergio Santos owns a high WHIP (2.08), so Janssen should have no difficulty in regaining ninth-inning duties as soon as he returns.
Reliever, Mark Melancon (Pirates): Because of Jason Grilli's injury, Melancon should be owned in every league. For the duration of his time as closer, Melancon can be an upper-echelon option at the position, and Grilli's recent ineffectiveness and injury history could open the door for Melancon to keep the job much longer than expected.
Fred Zinkie is a fantasy baseball writer for MLB.com. This story was not subject to the approval of Major League Baseball or its clubs.