MLB.com Columnist
Jim Callis
UNLV righty Fedde conquers the elements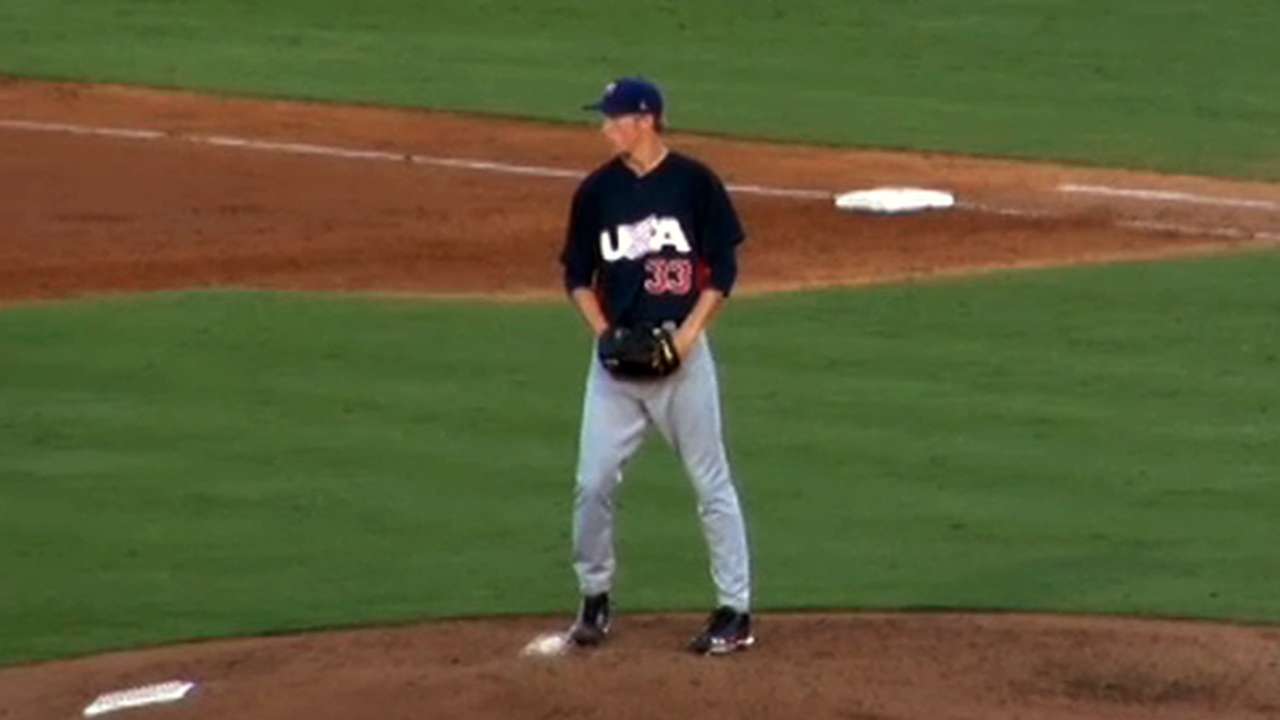 It's not easy pitching at Nevada-Las Vegas' Wilson Field, or at most of the other ballparks in the Mountain West Conference. The altitude and weather conditions at many of the schools make it the hitter-friendliest league in college baseball.
Except when Rebels right-hander Erick Fedde takes the mound. He has done so 11 times in 2014, and he has recorded 11 quality starts. Fedde owns an 8-2 record and a 1.76 ERA with 82 strikeouts and a .209 opponent average in 76 2/3 innings.
Fedde won't deliver another quality start this weekend, because UNLV decided to give him a week off when it visits Clemson for some rare non-conference action in May. Scouts eagerly anticipated a Sunday showdown between Fedde and Tigers righty Daniel Gossett, then scrambled to change their travel plans after Rebels coaches scratched him Thursday.
That's the first time scouts have been disappointed when it comes to Fedde this season. UNLV's Friday night starter since his freshman season, he has a heavy 92-97 mph fastball that he commands well. Fedde's hard slider should give him a second plus pitch, while his changeup features deception and fade.
The 6-foot-4, 180-pound Fedde is a good athlete who repeats his clean delivery well. He throws on a steep downhill plane and fills the strike zone with ease. One scouting director said Fedde is better than former Mountain West Conference rival Braden Shipley, whom the D-backs drafted 15th overall out of Nevada in 2013.
"His stuff is pretty good," a senior scouting official said. "When you see him in Las Vegas, with the dryness and the lack of humidity, it affects his breaking ball. I saw him at San Jose State, and the breaking ball was pretty good. He has a power sinker and he's athletic. I think he could go in the top 10 to a team that really likes him, and he won't go far past that if he doesn't."
UNLV hasn't had a pitcher selected in the top 150 picks since Eric Ludwick in 1993, and the school has produced just one big league arm (Ryan Braun) since then. Fedde should end both droughts, and he also should become the third first-rounder in Rebels history after Matt Williams (1986) and Donovan Osborne ('90).
Jim Callis is a reporter for MLB.com and writes a blog, Callis' Corner. Follow @jimcallisMLB on Twitter. This story was not subject to the approval of Major League Baseball or its clubs.