Collins hopes Lagares' return sparks Mets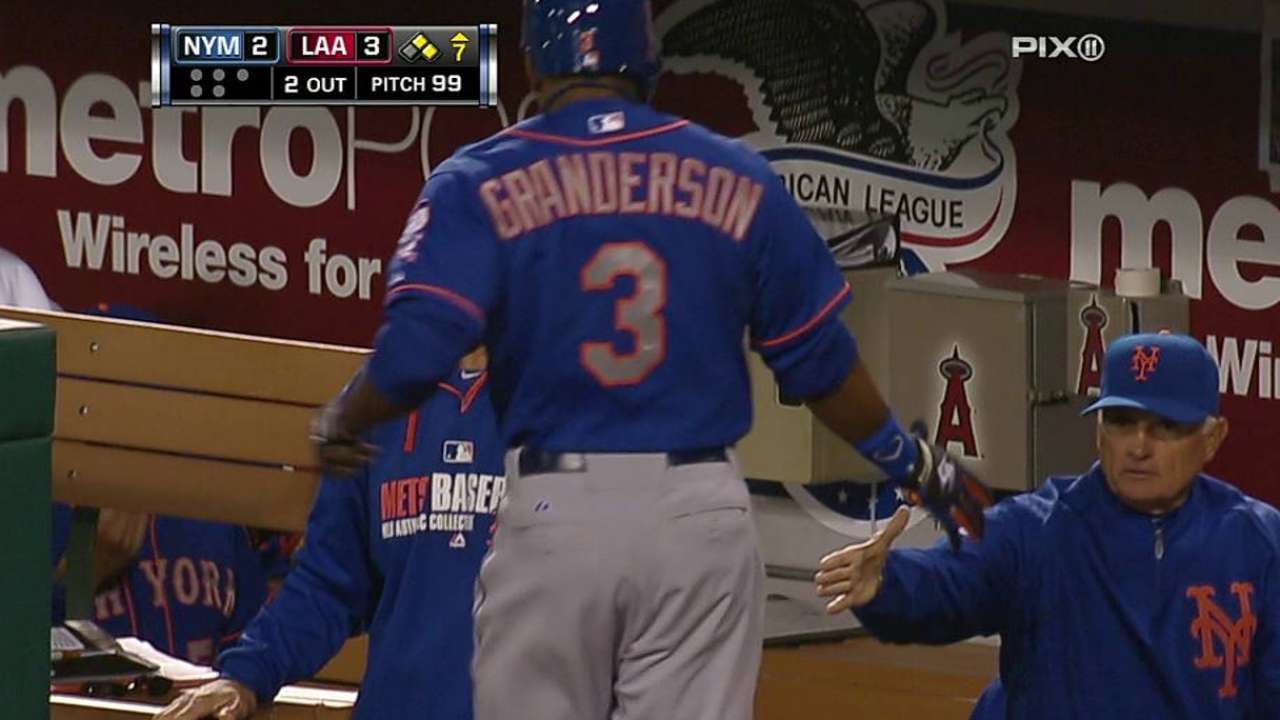 DENVER -- Juan Lagares returned from the disabled list on Thursday and went directly to the extensive center field in Colorado, adding a productive bat and a great glove as the Mets opened a four-game set with the Rockies.
"He's been playing every day for the last few days," manager Terry Collins said of the center fielder's rehab work. "Coming into here and going into Florida [next series vs. the Marlins], in those two parks, you want to have absolutely the best center fielder you can put out there. They got to cover a lot of ground."
Kirk Nieuwenhuis was optioned to Triple-A Las Vegas after two weeks on the big league roster during Lagares' absence. Nieuwenhuis hit .222 (4-for-18) with a homer and five RBIs in nine games, adding three starts.
Lagares returned from a pulled right hamstring that sent him to the DL. He played in two extended spring training games in Port St. Lucie, going 2-for-7 with both of his hits doubles. He was 2-for-5 in Triple-A Las Vegas.
"I'm going to be careful of his legs," Collins said, noting that he wouldn't be an everyday player immediately. "I don't want to create a bigger problem than what I got. It's just nice to have him back."
Lagares was hitting .314 (16-for-51) with the Mets before his injury, and he could spark a trio of outfielders who are off to sluggish starts at the plate. Chris Young started in left field on Thursday, hitting .205 (8-for-39) with two homers and six RBIs. Curtis Granderson was in right field, hitting .136 (12-for-88) with a homer and seven RBIs, and former Rockies outfielder Eric Young Jr. was on the bench for his return to Coors Field. Young is hitting .215 (20-for-93) with 12 stolen bases, second in the Majors.
"Young would be a guy that you'd like to have to come off the bench," Collins said, hinting at a possible role as he juggles four capable starting outfielders. "He's got versatility. The fact that he can play center, he can play left, he can play second.
"The other thing he brings is that it's always amazing how many times late in the game the pitcher comes up to lead off an inning. He's the ideal guy to go hit in that spot. He can switch-hit, when he gets on things happen. It's nice to have those kind of guys over there."
Collins said it was "hard to say" if any one of his four outfielders would get the lion's share of the bench time. He explained that he thought Chris Young was hitting the ball well recently, slugging .714 over his last four games with an at-bat.
"I don't mind [juggling] for a while," Collins said. "In the long run, you've got to have three guys you're going to run out there. To pick and choose your spots, and who should play when, you can do that right now. But I think you're going to look up and you're going to want to have three guys that are primarily your guys that are going to be out there."
Owen Perkins is a contributor to MLB.com. This story was not subject to the approval of Major League Baseball or its clubs.