Marlins rally to finish sweep of Braves, reach .500
Cishek escapes eighth, closes after clutch hits by Stanton, McGehee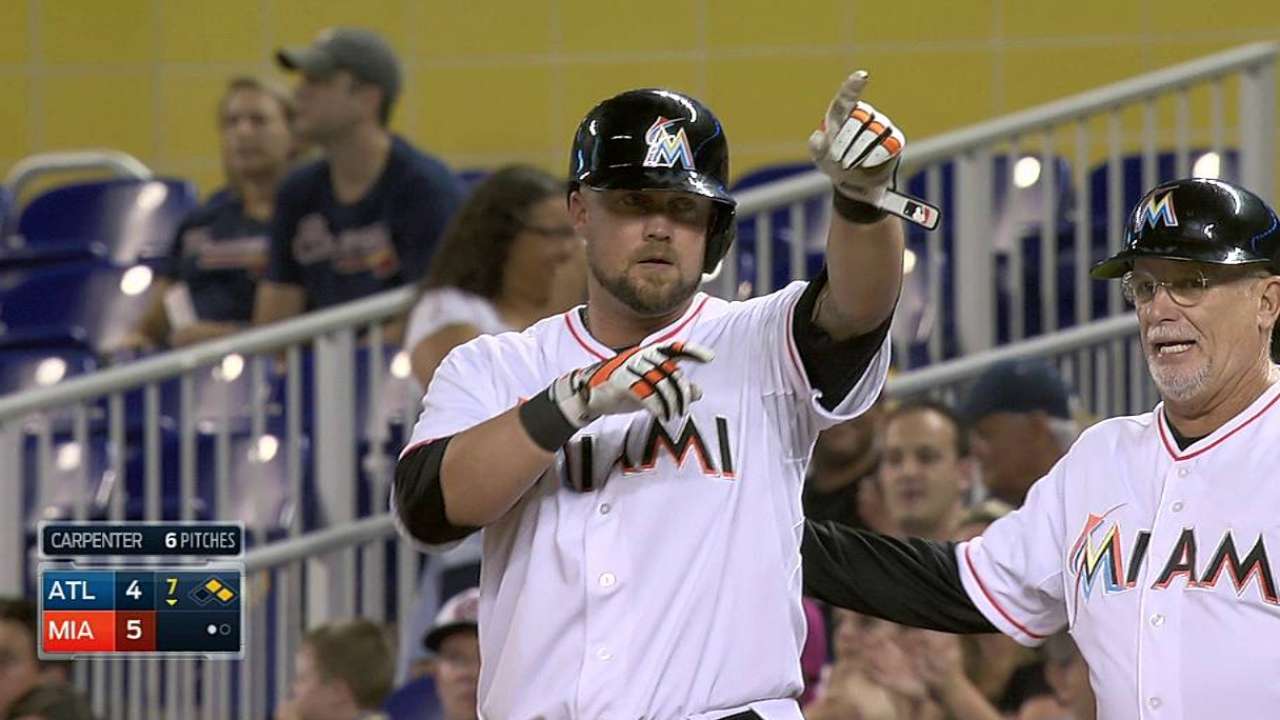 MIAMI -- The Marlins didn't need Giancarlo Stanton's power, instead capitalizing on his placement of a crucial RBI single that helped pull off a 5-4 comeback win over the Braves on Thursday night at Marlins Park.
Stanton and Casey McGehee both slapped run-scoring singles in the seventh inning that proved the difference on a night the Marlins completed their first sweep at home over the Braves since June 13-15, 2006. They also reached .500 for the first time this season since they were 5-5, while improving to 12-4 at home.
"It's huge for us," manager Mike Redmond said. "We've had a few rough times on the road where we've lost some eight-inning games. This is a special group. These guys keep battling and keep pushing forward and moving on and really picking each other up, playing with a lot of energy out there."
After pulling off two blowout wins to open the series, Miami turned to Steve Cishek for his first four-out save since Aug. 26, 2012, at Dodger Stadium.
"We're back at .500, and it's a division sweep and they're at the top of our division," said Cishek, who threw 20 pitches and closed out his sixth save in seven attempts. "Even when we played them at their place, it was one-run games for the most part."
A week after dropping two of three at Atlanta, scoring four runs in the series, Miami's offense hammered out 23 runs in three games. The Marlins' hitting was so on the mark, it had Braves manager Fredi Gonzalez checking television camera areas to see if the Marlins were stealing signs.
Redmond brushed off those accusations.
"Just give us a little credit," Redmond said. "I haven't heard anything. We're out there playing the game the right way. Guys are battling, competing. That's how we're winning ballgames."
The drama picked up in the later innings of the series finale, and unlike at Atlanta a week ago, Miami's bullpen was able to execute the necessary pitches. Mike Dunn, who threw a perfect seventh inning, collected the win.
Atlanta threatened in the eighth off A.J. Ramos. Justin Upton doubled to lead off the inning, and after Chris Johnson drew a two-out walk, Cishek was called in before the ninth for a save for the first time this year. Andrelton Simmons drew a walk, but Cishek stranded the bases loaded by striking out Ramiro Pena.
"Simmons is a really good contact hitter," Cishek said. "So really, I was trying to strike him out, but also at a 3-2 count, I don't think he's looking slider. If I miss, I hope to miss off the plate a little bit or get a weak ground ball. My slider has been doing that this year. It's a good pitch for me, and he's a great fastball hitter."
The offense was the story of the series, and Miami collected 10 more hits and the necessary runs in the seventh inning off hard-throwing reliever David Carpenter.
Stanton, whose 31 RBIs were the most in Miami history prior to May 1, drove in the game-tying run. McGehee followed with his own RBI single, which proved to be the game-winner. Both runs were charged to lefty Ian Thomas, who yielded singles to pinch-hitter Reed Johnson and Christian Yelich.
"It was a great at-bat by Giancarlo," Redmond said. "He doesn't hit a ton of balls to second base, but he really stayed on that and just drove it. You get those hits when you're going good. It's good to see guys come up in big situations and get big hits."
Garrett Jones hit a second-inning home run for Miami, which built an early 2-0 lead.
Neither starter factored into the decision. Henderson Alvarez gave up four runs on eight hits, and he allowed two home runs in a game for the first time since 2012. Evan Gattis and B.J. Upton each took the Miami right-hander deep.
Miami pushed across three runs on Ervin Santana in six innings.
It was one of those rare nights where Alvarez was victimized by the long ball. Before Upton and Gattis each went deep, the Miami right-hander had gone 23 straight starts without allowing a multi-homer game. It last occurred when he was with the Blue Jays on Sept. 24, 2012, against the Orioles. In the 23 starts since, Alvarez yielded four homers.
Santana got the third inning rolling for Atlanta with a single to left. A misplay by Miami, which led to a replay challenge, allowed Jason Heyward to reach on an infield single. Heyward chopped a grounder to Jones at first. Jones flipped to Alvarez, who was racing to cover first base. Alvarez ended up sliding toward first as Heyward made a head-first slide. Initially, first-base umpire Jim Reynolds ruled out.
Gonzalez challenged, and after a review, the play was overturned. Two pitches later, the Braves cashed in with Upton's lead-changing, three-run home run.
On the play at first, Alvarez was shaken up, falling on his right shoulder. The incident may have impacted his sequence in the Upton at-bat.
"I fell on my shoulder, and it kind of affected me on the next batter, because I wasn't sure I could throw at full strength and throw the ball hard," Alvarez said in Spanish.
In the win, McGehee drove in two runs, Nos. 300 and 301 in his career. And the Marlins were able to make a statement against the Braves.
"They played well," Braves third baseman Johnson said. "They kicked our butts the first couple of nights and they came up with timely hitting tonight and grinded one out. We just have to regroup."
Joe Frisaro is a reporter for MLB.com. He writes a blog, called The Fish Pond. Follow him on Twitter @JoeFrisaro. This story was not subject to the approval of Major League Baseball or its clubs.