Bucs drop Game 2 of twin bill after lead gets away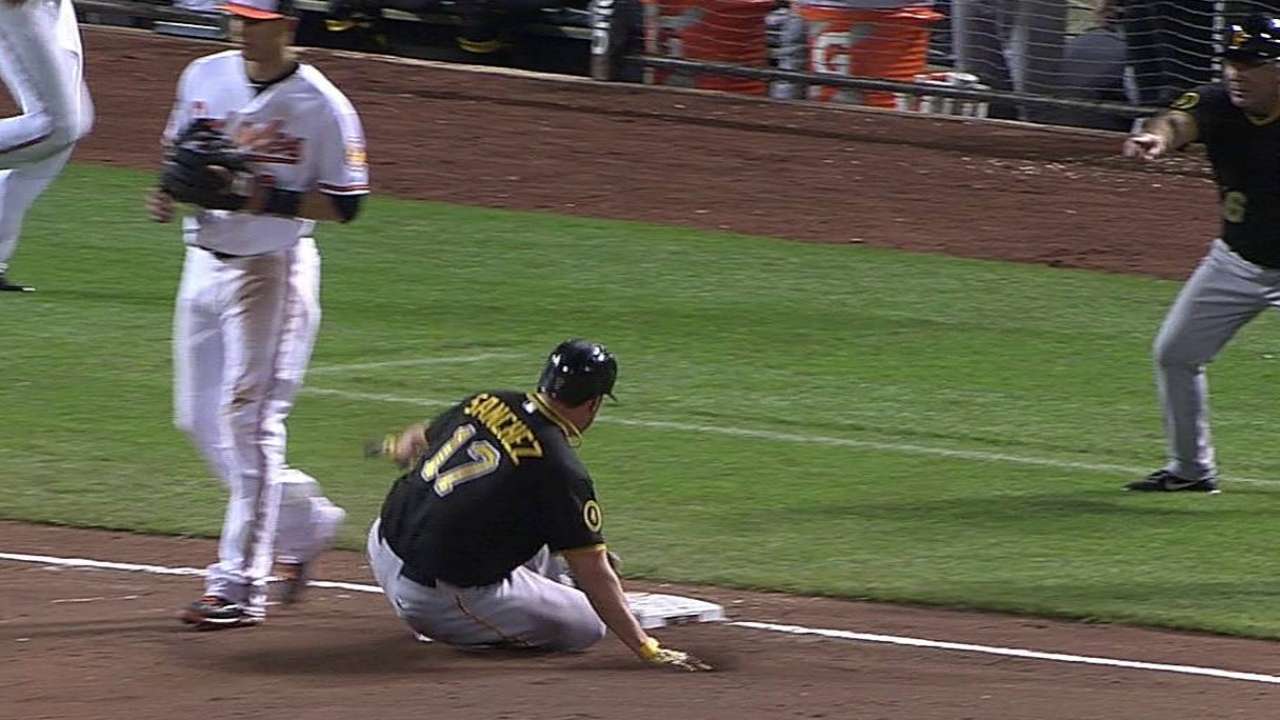 BALTIMORE -- After a long day of baseball and another heartbreaking loss, Ike Davis stood in front of his locker shortly after 1 a.m. ET and was still searching for ways the Pirates could snap out of their early-season doldrums.
The scene unfolded moments after reliever Stolmy Pimentel allowed a game-winning home run to Matt Wieters in the 10th inning, and the Orioles swept a doubleheader with a 6-5 victory on Thursday.
The Pirates, who finished the road trip 1-4, now return home for nine games, starting with a weekend series against the Blue Jays. Pittsburgh has gone 3-10 in its past 13 games.
"It's been rough," Davis said. "Tomorrow is a new day. Hopefully, we can get some sleep and come out swinging and regroup a little bit. As long we can give ourselves opportunities the whole season, we're going to score runs."
Starter Brandon Cumpton allowed four runs on seven hits with four strikeouts and no walks over 5 2/3 innings. He benefited from solid defensive plays, particularly from the left side of the infield, with shortstop Clint Barmes and third baseman Pedro Alvarez making diving stops.
First baseman Gaby Sanchez went 4-for-6, including an RBI triple in the fifth, and finished a homer from the cycle. Davis, who served as the designated hitter, snapped out of an 0-for-21 skid with two hits and an RBI for the Pirates, who lost the first game of the doubleheader, 5-1.
Pittsburgh put early pressure on Baltimore starter Chris Tillman, who was hampered by a shaky first inning, during which he threw 49 of his 112 pitches. He allowed three runs on six hits with eight strikeouts and three walks over just 4 2/3 innings.
After the first two games of the series were rained out, the opening game of the doubleheader was delayed 20 minutes midgame and the second started almost an hour late because of downpours. Orioles manager Buck Showalter thought that had some effect on Tillman.
"I know he's real disappointed, because Tilly's going to be one of those guys who's really going to benefit from getting on a schedule of five days," Showalter said. "We knew coming in [that April and May] were going to be a real challenge, getting any consistency. [To] sit around as long as we have the last three or four days and come out and swing the bats and make the pitches our guys made, I can't tell you how hard that is."
Baltimore's Nick Markakis had two hits and homered for the second consecutive game.
Pittsburgh stranded 28 runners over the two games.
"We keep fighting and fighting and putting ourselves in scoring position, but we haven't been able to cash in the way we need to," manager Clint Hurdle said. "We keep showing up. The bats were better throughout the series. We had men on base throughout the game. We're still looking for that big hit."
The Pirates had a chance to open a commanding lead by loading the bases with one out in the first. After Sanchez popped out to second to end a 13-pitch at-bat, Tillman did Pittsburgh a favor by walking Neil Walker and Starling Marte to provide a two-run margin, but Barmes struck out looking to end the threat. The Pirates fouled off 16 pitches in the inning.
Meanwhile, Cumpton was cruising, going 3 1/3 innings without allowing a hit before giving up consecutive singles to Nelson Cruz and Adam Jones with one out. However, he got out of the inning unscathed when Wieters lined out to center and Steve Pearce struck out.
The Pirates further distanced themselves in the third, when Sanchez hit a two-out RBI triple that scored Andrew McCutchen and ended Tillman's night. Pittsburgh then increased the lead to four runs in the sixth on an RBI single by Davis off Evan Meek.
The Orioles finally got hot in the sixth, and they tied the score on a double by Jones -- which right fielder Travis Snider narrowly missed on a diving attempt -- and RBI singles by Wieters and J.J. Hardy.
Pittsburgh responded an inning later. Sanchez led off with a double and later scored on a single by Marte off Ryan Webb, but a solo homer by Markakis in the bottom of the inning knotted the score again at 5.
"We're getting the hits," Davis said. "We're hitting the ball hard, but they're getting caught. We scored five runs. If we score five [runs on] nine [hits], we feel like we're going to win here. Obviously, we faced some tough pitching today."
After neither team could put away the game after nine innings, both managers searched for the best matchup. Hurdle thought Pimentel made a good pitch to Wieters, despite the end result.
"From my view, I don't think it was a strike," Hurdle said. "If it was, it was at the top of the strike zone. He got the barrel to it."
Wieters was just trying to get on base.
"You don't try and think about hitting one out, because it's tough to do when you do that," Wieters said. "But trying to get on base and trying to hit something hard is something, especially when it gets into extra-inning games. As the catcher you want to be able to try and speed it up, the inning, as much as possible."
Todd Karpovich is a contributor to MLB.com. This story was not subject to the approval of Major League Baseball or its clubs.