Mariners rookie Elias proves too much for Yanks
Lefty allows Ellsbury's first homer in pinstripes, then settles down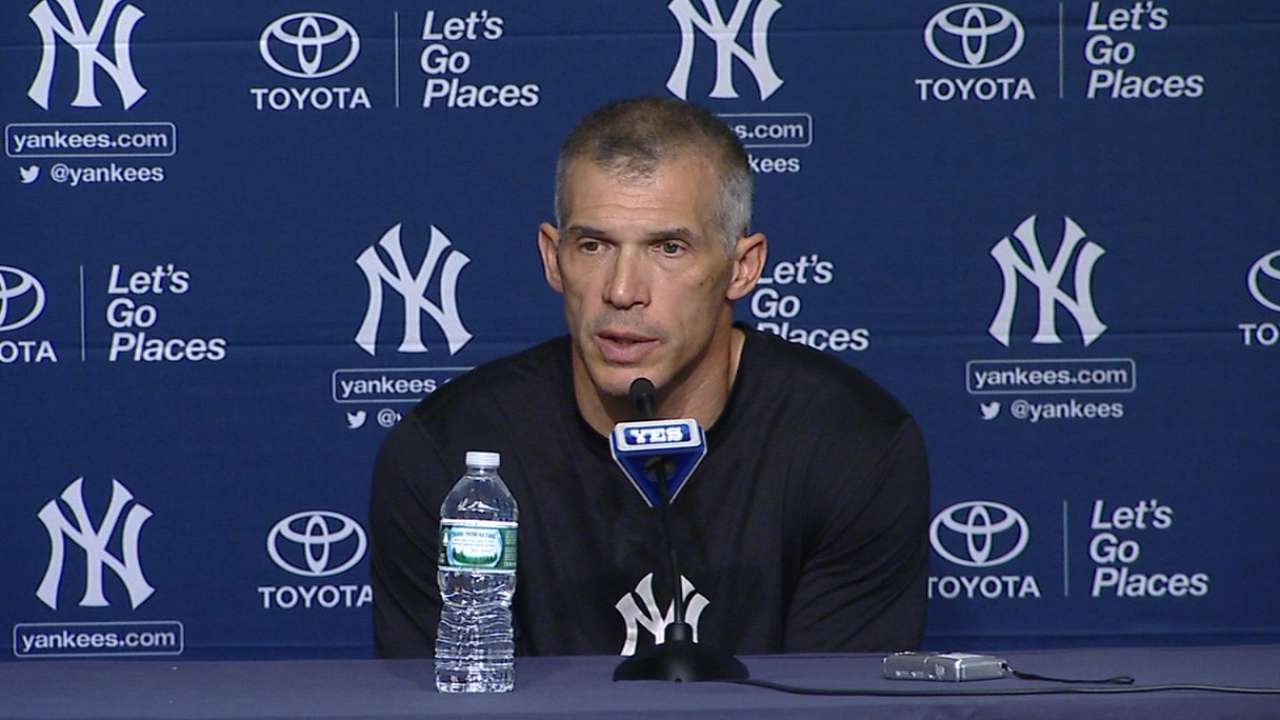 NEW YORK -- The Yankees might have thought they caught a break when heavy downpours pushed Felix Hernandez's start back a day, saving them a look at the former American League Cy Young Award winner. They weren't counting on Roenis Elias to be a pretty tough customer in his own right.
Elias, a 25-year-old rookie from Cuba, showcased an impressive curveball and struck out 10 as the Mariners defeated the Yankees, 4-2, on Thursday night at Yankee Stadium, completing a sweep of a weather-abbreviated two-game series.
"He threw the ball well," Derek Jeter said. "He's not a typical lefty where he's up there trying to trick you. He gets it up there pretty good, and when he gets ahead, he's got a strikeout pitch. He was better than us today."
Jacoby Ellsbury hit his first home run in a Yankees uniform and Brian McCann knocked in a run with a sixth-inning single to account for the production against Elias, who scattered six hits over seven innings in the sharpest of his six big league efforts to date.
Elias had been scheduled to pitch before the rain came on Wednesday, and the Mariners elected to stick with him, saving King Felix to see the Astros on Friday. The scuffling Yanks managed just four at-bats with runners in scoring position as they lost for the third time in five games.
"I don't make too much of it in the first month of the season, but obviously the consistency of the offense is important for us," manager Joe Girardi said. "I believe it's going to get better as the year goes on, but right now we're struggling to score runs, and every team goes through that."
The Yankees' starting pitching was a strength through the first few weeks of the season, but it has since developed into a legitimate concern following a season-ending injury to Ivan Nova and the loss of Michael Pineda for at least three weeks.
Masahiro Tanaka has been electric, but he'll need some help. With CC Sabathia also having been knocked around early this year, Hiroki Kuroda didn't do much to assuage the Yanks' worries on Thursday, as the 39-year-old was tagged with his second consecutive loss.
"I think my split was inconsistent," Kuroda said through an interpreter. "There were some good pitches, but the ones that got hit were bad pitches. ... I think right now because the results are not there, there's a part of me that may be thinking too much."
Coming off an outing in which he allowed eight runs (six earned) by the Angels, Kuroda this time permitted four runs (three earned) and seven hits over six innings, still struggling with his consistency.
"Well, he didn't pitch horribly tonight," Girardi said. "I think tonight was an improvement. I think it's a step in the right direction."
Kuroda had some early support on Ellsbury's homer, which marked the Yankees' first leadoff shot since Aug. 21, 2012, when Jeter homered to start a game against the White Sox's Francisco Liriano in Chicago. But Elias bounced back to strike out the next three Yanks, a sign of the performance to come.
"I thought he used his fastball and his curveball really effectively," Girardi said. "He got a number of strikeouts on his curveball tonight. He has pretty good stuff, that young man. We saw up to 94 [mph] and a pretty effective curveball."
The boos did not seem quite as plentiful this time around for Robinson Cano, who played his second game as a visitor in the Bronx and drove in a pair of runs, extending his hitting streak to nine games with a 1-for-4 showing.
Cano touched a shaky Kuroda for a run-scoring double in the first inning and picked up another RBI in the third inning, connecting for a fielder's choice that drove in Brad Miller after the Seattle shortstop reached on a ball that glanced off a charging Jeter, ruled an error.
"It bounced up," Jeter said. "It's a do-or-die play because you can't really wait. He didn't hit it particularly hard, so you go and get it; an in-between hop and I didn't get it."
Miller dug out a splitter to flare a run-scoring single in front of left fielder Brett Gardner, padding Seattle's lead in the fourth inning, and Michael Saunders followed with a ground-rule RBI double to left-center that hopped the wall.
"You look at the ball Saunders hit; it was off the plate," Girardi said. "They put some balls in play that weren't necessarily strikes when he was expanding the zone, and so I think you've got to say they did a good job in that sense."
The ground-rule double saved Kuroda and the Yankees a run, sending Miller back to third base, but the damage was already done.
After McCann's sixth-inning single, the Yanks didn't manage another baserunner until Ichiro Suzuki's pinch-hit single off Fernando Rodney in the ninth. After advancing on defensive indifference, Ichiro was stranded at second base as Gardner went down looking at a called third strike.
"I'm pretty sure we'll struggle again at some point this year, but you have to try to get out of it as soon as you can," Jeter said. "Just get a few guys on, score some runs and next thing you know we're doing interviews talking about how hot we are."
Bryan Hoch is a reporter for MLB.com. Follow him on Twitter @bryanhoch and read his MLBlog, Bombers Beat. This story was not subject to the approval of Major League Baseball or its clubs.