Humble Tulo takes success in stride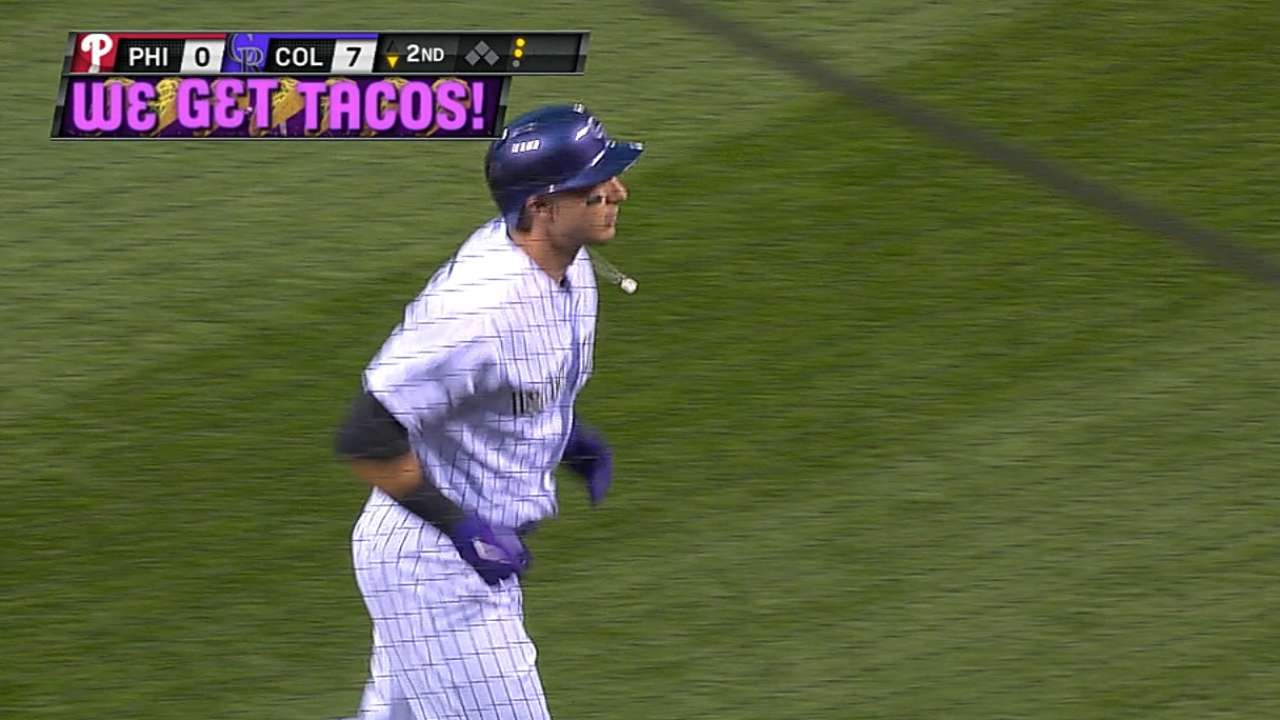 DENVER -- Correlations are so cool that sometimes we look for them even if they're not there. So here goes:
On April 18, Rockies shortstop Troy Tulowitzki rang up a 14-pitch plate appearance against the Phillies' Jonathan Pettibone. It led to a walk, but Tulowitzki homered in his next at-bat. Since the start of that game, Tulowitzki has batted .415 with 11 walks, five doubles, six home runs, 16 RBIs and a 1.514 OPS (on-base percentage plus slugging percentage).
Did that marathon plate appearance lock Tulowitzki in for a couple of weeks?
Tulowitzki deflected the question that night when asked if that was an omen of a hot streak. Even in retrospect, he won't go there.
"I'm not sure," Tulowitzki said. "I come to the park every day knowing how hard this game is, and I try to humble myself as much as I possibly can. I never talk myself into either a slump or talk myself into, 'Man, I'm really going to get hot here.' The moment you do that, you're asking for trouble."
Tulowitzki entered Thursday night's game against the Mets second in the National League with a .364 batting average and leading the league in several categories, including slugging percentage (.727), on-base percentage (.477) and runs (24), so he was hitting before the long confrontation with Pettibone.
The day-by-day thought process helped Tulowitzki during a rare rough patch during the just-completed road trip, which saw the Rockies go 4-2. Tulowitzki homered on his first at-bat in Los Angeles on Friday, then went 0-for-12 the rest of the series.
Rather than panic, Tulowitzki targeted some areas to improve, and went 5-for-6 with two home runs, five RBIs and three walks the first two games at Arizona.
"That L.A. series sticks with you, but more than anything, if we'd have gotten swept there, that tends to bug me," Tulowitzki said. "But the fact we won two out of three makes it a lot easier to take. I come to the park trying to win games, so when we win and I struggle, it's easier.
"When we went to Arizona, my plan of attack is to work. I really did, every day, had some results and stuck with it. Now we're onto a new series."
Thomas Harding is a reporter for MLB.com. Follow him on Twitter @harding_at_mlb. This story was not subject to the approval of Major League Baseball or its clubs.