Nicasio does it all as Rockies take down Mets
Righty twirls gem and drives in three runs; CarGo hurts finger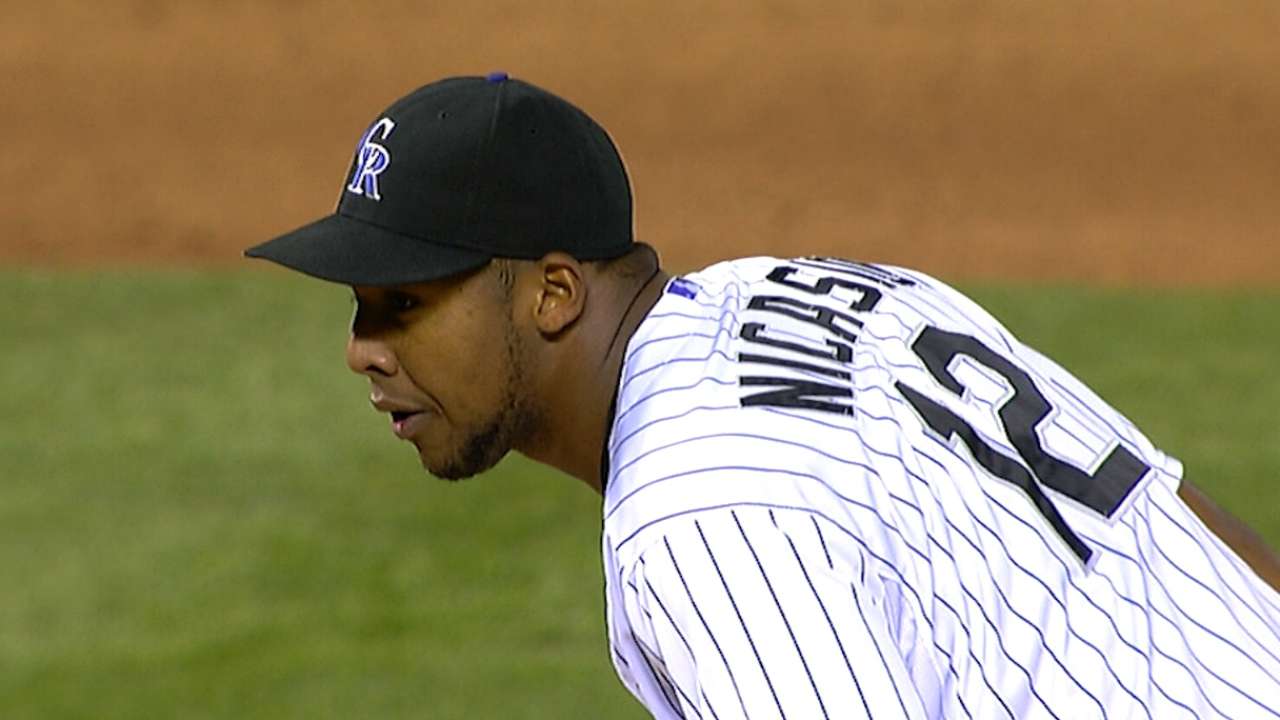 DENVER -- Right-handed pitcher Juan Nicasio reminded the Rockies why he is a member of their starting rotation -- and it's not just to have his bat in the lineup once every five games.
Sure, Nicasio had a big night at the plate, with a career-high three RBIs on Thursday. More importantly, he held the Mets scoreless for seven innings, gave up three hits and struck out two as the Rockies staved off a late Mets charge for a 7-4 win in front of 22,989 at Coors Field.
Carlos Gonzalez homered, for the second straight game, off Bartolo Colon (2-4) in the first inning, but left in the fourth with a finger injury. Corey Dickerson's three hits included an RBI triple, and Nolan Arenado ran his hit streak to 21 games -- tied for the fourth-longest in Rockies history.
Gonzalez was diagnosed as a contusion of the left index finger sustained when he fouled off a pitch, but neither he nor the Rockies believe it to be serious, perhaps allowing Nicasio (3-1) to enjoy his big night a little more.
Nicasio drove in two runs with a single off the right-field wall in the second and added a sacrifice fly in the fourth. And he wasn't bad on the mound, either. Using mostly his fastball and slider, his 95-pitch gem helped the Rockies win for the 11th time in 15 games and improve to 9-4 at Coors Field.
"I threw a lot of sliders for strikes," said Nicasio, who turned to his split-finger sparingly. "But today I was good because I had command of my fastball first, down in the zone. When I'm pitching well, I have command of my fastball down."
Manager Walt Weiss liked Nicasio's aggressive approach.
"His slider worked well for him tonight and he mixed it up -- he didn't just use it as a finish pitch," Weiss said. "He got some early strikes with it, and it got hitters off his fastball.
"It's a good step for him. We've seen Juan real good in the past. We saw him good early. Hopefully, he gets on a roll here."
Before this week, Nicasio's spot in the rotation had come into question. Two short starts in Rockies losses -- including a 4 1/3-inning struggle against the Dodgers in his last outing -- made him the possible odd man out with Jhoulys Chacin (right shoulder strain) set to make his season debut on Sunday.
However, Nicasio's spot became safer Tuesday when Tyler Chatwood suffered a right elbow strain that landed him on the 15-day disabled list. And on Thursday, Nicasio returned to the pitching that helped him earn a job in the first place.
"I was not nervous," he said. "In Los Angeles, I lost command of my fastball."
It started precariously. Mets leadoff hitter Juan Lagares doubled off the left-center-field wall to start the game, Daniel Murphy lined to third baseman Arenado and Rockies shortstop Troy Tulowitzki had to dive for David Wright's liner before doubling Lagares off second. Lucas Duda, the first hitter in the second inning, flied to the center-field warning track, and Chris Young followed with a single.
But after that, Nicasio (3-1) gave the Mets nothing but a walk to Eric Young Jr. in the sixth and a one-out single to Duda in the seventh. Nicasio threw 95 pitches and matched his performance in the April 4 home opener for longest start this season.
"From the way he pitched in L.A. until now, I don't know what it is, but today it just seemed like he was really coming after people," Arenado said. "He wanted to compete. He wasn't afraid to throw everything at them. That was the best thing about him. And he got a knock.
"Today he was saying before the game he was going to bring it today. He actually did that."
Arenado's third-inning single tied him with Larry Walker's 21-gamer in 1999. The other longer streaks were by Michael Cuddyer, 27 games from May 28-June 30 last season; Dante Bichette, 23 games in 1995; and Vinny Castilla, 23 games in 1997.
The Rockies scored seven runs on 10 hits in 4 2/3 innings against Colon.
"You look on that board and there are a lot of pretty good hitters in their lineup," Mets manager Terry Collins said. "This is one of those nights when he just didn't have his stuff."
Chad Bettis replaced Nicasio to start the eighth inning and gave up four runs on four hits, including Travis d'Arnaud's three-run homer in the ninth.
Thomas Harding is a reporter for MLB.com. Follow him on Twitter @harding_at_mlb. This story was not subject to the approval of Major League Baseball or its clubs.