Cingrani to DL with mild shoulder tendinitis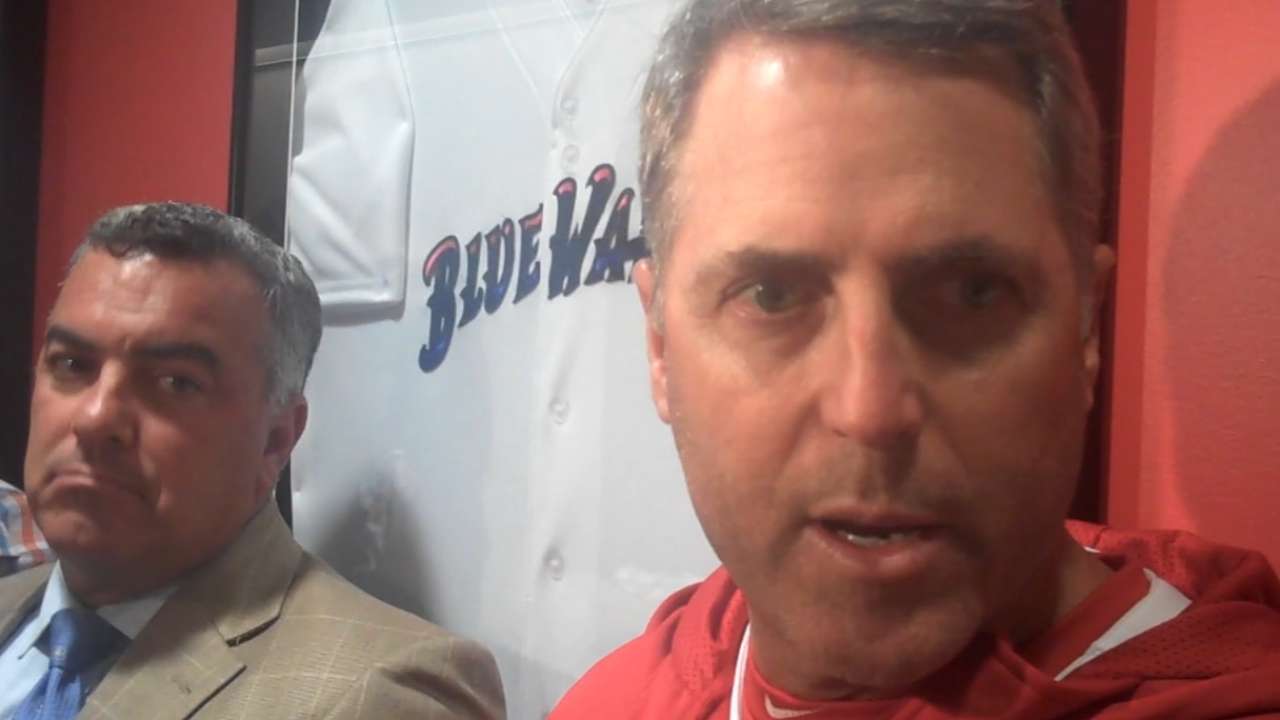 CINCINNATI -- The Reds placed left-handed starting pitcher Tony Cingrani on the 15-day disabled list Thursday with mild left shoulder tendinitis and recalled reliever Curtis Partch from Triple-A Louisville.
It was a roster move that caught Cingrani off guard, and he expressed his displeasure.
"I am fine right now. It's just a little tendinitis or something. I'd keep throwing, but it's their call," Cingrani said. "I don't agree with it. But that's what they want to do because they don't want me to injure myself. So I understand. I think I can keep throwing and be fine. They're exercising caution."
Cingrani, 24, started Wednesday and received a no-decision after pitching four innings in Cincinnati's 9-4 loss to the Cubs. During that short outing, where he allowed three runs and six hits, he threw 79 pitches and showed noticeably decreased fastball velocity in his final inning.
"He hasn't been real acute with his command either," manager Bryan Price said. "His delivery has kind of wavered a little bit. Upon further investigation, we realized he was having a little bit of discomfort in his left shoulder."
Because of three scheduled days off over the next 12 days, the Reds will go with a four-man rotation until they need Cingrani's spot again on May 17 at Philadelphia.
"It's not a good thing, but the timing for something like this to happen couldn't be better," Price said.
Price acknowledged that Cingrani could still pitch through the injury because it wasn't serious.
"But all things considered, we don't want 60 or 70 percent of Tony Cingrani if we can have closer to 100 percent," Price said. "We're going to take advantage of this spot in the schedule to get him right. We also needed to fortify our bullpen a little bit after yesterday's game. It just seemed to make sense to do it now."
Cingrani is 2-2 with a 3.34 ERA in six starts this season. His first start was seven scoreless innings on April 2 against the Cardinals. But he has struggled in a few of his outings since, including two starts where he lasted four innings.
"You guys could see what's going on. I'm not myself. You could see that every time I go out there," Cingrani said.
This will be Partch's second stint with the Reds this season. He worked 4 1/3 scoreless innings with one hit, three walks and three strikeouts before he was optioned to Louisville on April 19.
Mark Sheldon is a reporter for MLB.com. Read his blog, Mark My Word, and follow him on Twitter @m_sheldon. This story was not subject to the approval of Major League Baseball or its clubs.