MLB.com Columnist
Jonathan Mayo
Pipeline Inbox: Does Aiken measure up vs. elite lefties?
Jonathan Mayo responds to fans' questions about baseball's top prospects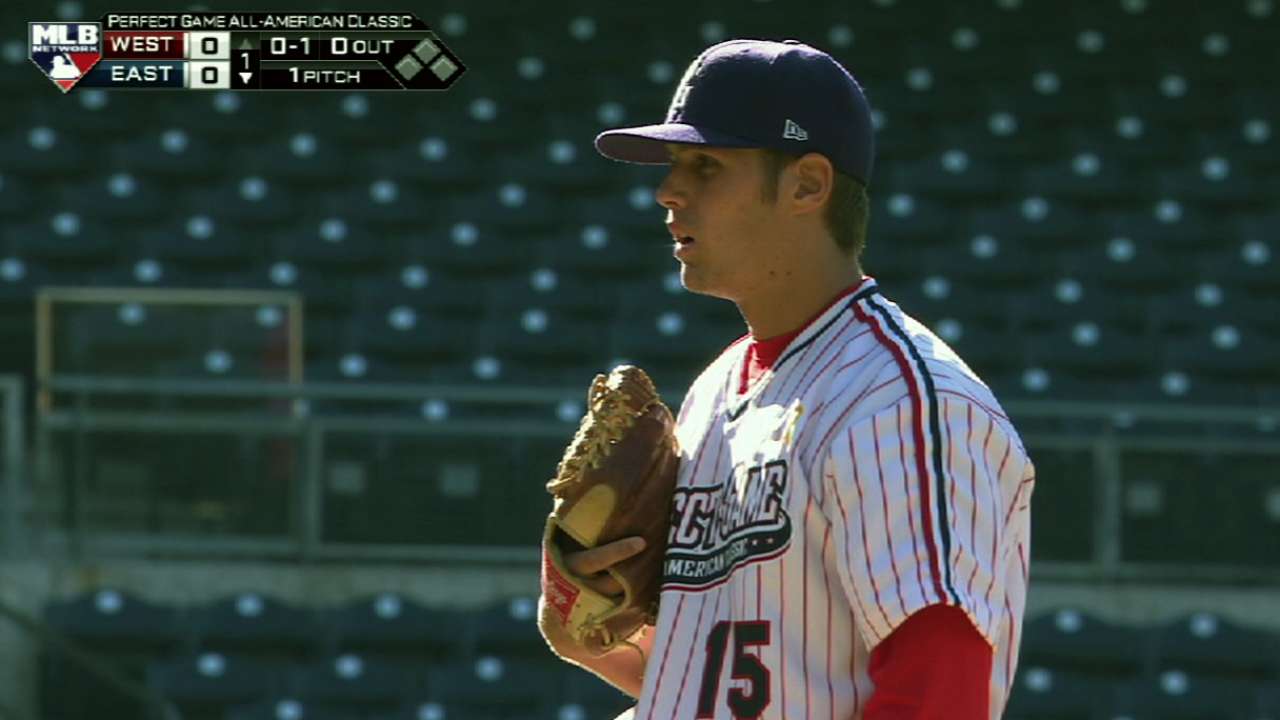 The Draft season is officially upon us at MLBPipeline.com. Of course, scouts would be quick to tell you that this Draft season started back in February, with the beginning of the amateur season, or the previous summer during showcases, but I digress.
But for us, it really started up with the release of our Top 100 Draft prospects list on Tuesday. In honor of that launch, the first two questions in this week's Inbox are Draft-related before moving on to a pair of Minor League prospect queries.
How does Brady Aiken compare with top left-handed pitching prospects like Henry Owens and Andrew Heaney?
-- Johnny, Atlanta
Aiken is the freshly minted No. 1 prospect on our Draft Top 100 list. The SoCal left-hander has probably done more than any other 2014 Draft prospect in terms of separating himself from others in the class. We had Aiken ranked at No. 9 overall in the fall as the top high school southpaw in the class, on the cusp of being a top 10 pick.
Now, Aiken is atop the board, ahead of N.C. State's Carlos Rodon as the best pitcher in the class, and ahead of Tyler Kolek in a comparison of prep arms. Some of that has to do with Aiken's increased velocity, to go along with the plus pitchability that he has always been known for. His maturity has enabled him to dominate all spring and make him look much more like a front-line starter in the future than he did even last fall.
Aiken is definitely ahead of where Owens was when he came out of the California high school ranks. Owens was thought of highly, but a lack of plus stuff, combined with what was thought to be a lack of projection, tempered enthusiasm a little. Heaney is a little different, seeing that he was a college draftee in 2012 out of Oklahoma State and was three years old than Aiken is now. But even though Heaney slid because of signability in high school, he was never in the same stratosphere as Aiken is now.
Heaney and Owens lead the Top 10 left-handed pitching prospects list currently. They've had success in pro ball and are both pitching in Double-A, so it might not be fair to compare them to Aiken, who won't turn 18 until August. But one thing we can do is look at their grades:
Aiken: Fastball: 65 | Curveball: 60 | Changeup: 60 | Control: 60 | Overall: 65
Heaney: Fastball: 60 | Slider: 65 | Changeup: 55 | Control: 60 | Overall: 60
Owens: Fastball: 60 | Curveball: 55 | Changeup: 60 | Control: 50 | Overall: 60
These are future grades and Aiken has to go out and do it, but he has a slightly better chance to be a frontline starter than the other very talented southpaws in this conversation.
Where do you see Gareth Morgan going in the 2014 First-Year Player Draft? Could he fall to the Twins in the third round?
-- Jed T., Baldwin, Wis.
Morgan, ranked No. 71 on the Draft Top 100, is one of the more interesting and difficult prospects to figure out. He's from Canada, so opportunities to see him are difficult. Morgan has traveled to warm-weather climates to be seen and has impressed at times, but there is concern about his ability to make enough contact to tap into his considerable raw power.
With a strong arm and that power potential, Morgan does potentially profile well in right field. That profile did lead to a follow-up question from Jed: Could Morgan be a future Giancarlo Stanton?
I understand wanting to make that comparison, but Stanton had a much better feel for hitting than Morgan has now. I talked to one national crosschecker who worried about Morgan's pitch recognition, and whether that's something that can vastly improve enough to allow Morgan to evolve into a Stanton-like impact player.
Whether Morgan lasts to the Twins in the third round remains to be seen. We've got him ranked right now at No. 71. While that's not a projection, it should be noted that the 71st pick is in Competitive Balance Round B, just ahead of the third round. There's a chance a team ahead of Minnesota will buy the bat.
Is there any development left for Oscar Taveras in the Minors? Do you think he should be called up now?
-- Sammy L., Dubai
Taveras, the No. 2 overall prospect on our pro Top 100 list, has pretty much proven he can hit any pitching thrown at him. He's at it again so far this year, hitting .322/.378/.544 through the month of April in the Pacific Coast League.
This shouldn't come as a surprise to anyone who's watched Taveras hit while on his way up the organizational ladder in a hurry. He now carries a career line of .320/.377/.520 in just over 1,500 at-bats in the Minor Leagues (including the Dominican Summer League). So why isn't Taveras up in St. Louis?
There are a couple of reasons. While there's likely to be no one who doubts Taveras' ability to hit big league pitching, he still hasn't logged that much time at the upper levels of the Minors. He only appeared in 46 games in 2013 because of an ankle injury that also slowed his progress a bit this spring. Taking that, along with the fact Taveras' '11 season was also injury-shortened, and you realize that he has had only one year of full-season ball, in '12, during which he played full-time. Yes, he's raking in Triple-A at age 22, but there's nothing wrong with letting him get some more time there. The Cardinals have typically done a very good job with their young players to ensure that once the call comes, they can stay (Kolten Wong's recent demotion serves as an exception).
The other reason not to call Taveras up is opportunity. He won't come to St. Louis until there's an everyday spot in the lineup for him. Taveras is not about to supplant Matt Holliday or Allen Craig in either corner. Taveras hasn't played much center this year, partially because of his ankles, so it might be unfair to ask him to come up and move to center full-time, right out of the gate. Randal Grichuk got the call because he's a right-handed hitter and could potentially figure into a platoon with the lefty-swinging Jon Jay, something that's not a consideration for the also left-handed Taveras.
Any chance Mookie Betts is in the top 10 midseason prospect rankings?
-- Brian C., Wilmington, Mass.
I had to ask Jim Callis if it was OK for me to answer this question. After all, he's the one who touted Betts as the best-second base prospect in the game. Jim is a magnanimous sort, so he gave me the go-ahead.
It would be difficult to find another prospect off to a better start than the Red Sox second baseman. Playing in Double-A for the first time -- and after just 51 games in the Class A Advanced Carolina League in 2013 -- Betts is the Minor League's best hitter right now. In 22 games for Portland in the Eastern League, he tops all Minor Leaguers with his .430 average. Betts leads the Eastern League in on-base (.481) and slugging (.688) percentage. He even has 10 steals to boot.
Does all of this mean that Betts will crack the Top 10 when we re-rank later in the season? We'll have to see how things unfold. There's no question he'll make a big leap up from his current spot at No. 58 on the Top 100. And the Top 10 second-base rankings are likely to change as well.
I did some digging, and as far as I can tell, the last time a second-base prospect hit the Top 10 of any list was our midseason rankings back in 2005. Rickie Weeks of the Brewers was the No. 3 prospect (he was No. 7 on the preseason list that year).
Jonathan Mayo is a reporter for MLBPipeline.com and writes a blog, B3. Follow @JonathanMayoB3 on Twitter. This story was not subject to the approval of Major League Baseball or its clubs.