Call at home looms large in Red Sox's loss
Peavy gives up just two runs, but offense comes up short vs. Rays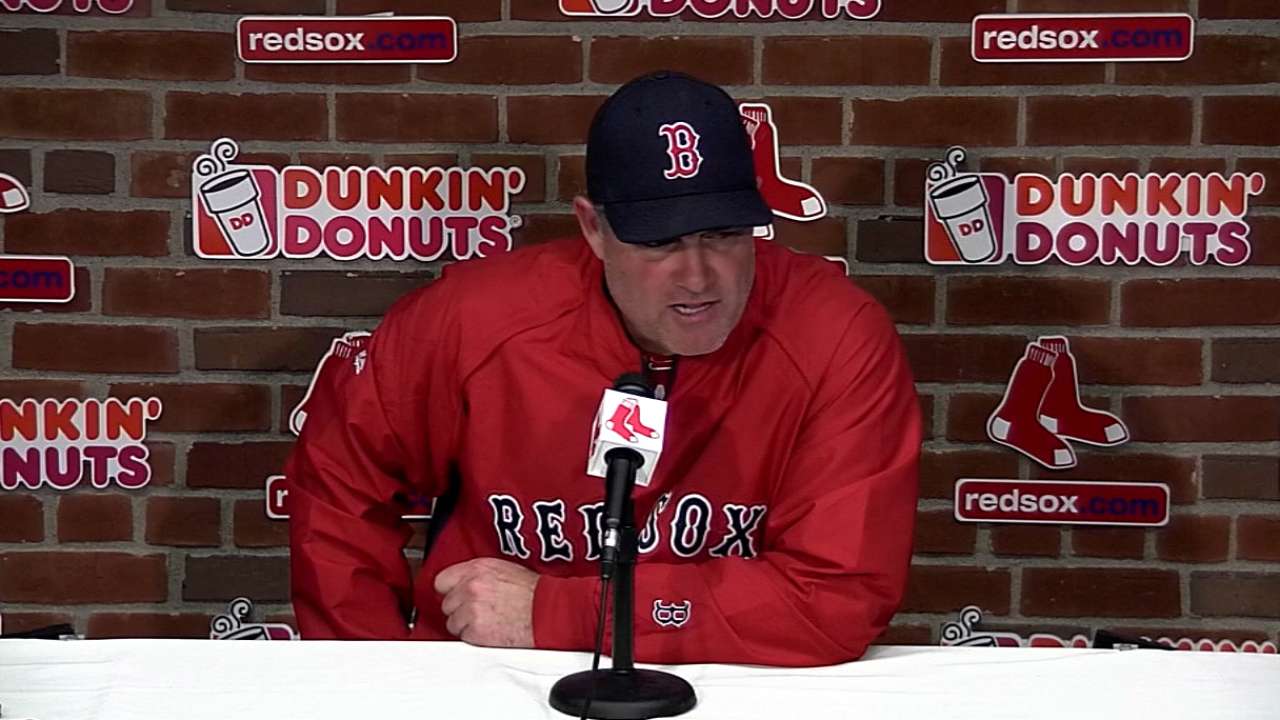 BOSTON -- Did Dustin Pedroia's left foot touch home plate? That was the burning question after the Red Sox suffered a 2-1 loss to the Rays in Game 1 of Thursday's day-night doubleheader at Fenway Park.
With one out in the bottom of the seventh, David Ortiz lofted a double high off the Green Monster and Pedroia tried to score from first with what would have been the tying run.
Pedroia clearly beat the throw to the plate, but he was called out by first-base umpire Toby Basner, perhaps because his foot never touched home on the slide, or the umpires didn't see his foot touch home.
"I slid at the back part of the plate, that's basically it," said Pedroia. "I thought so. I haven't really seen the replay, just what you see on the board and stuff. When it happened during the game, yeah, [I thought I was in], that's why I was so frustrated that they called me out."
Red Sox manager John Farrell challenged the call. After a delay of one minute and 52 seconds, the call stood, meaning there wasn't enough evidence to overturn it.
"I thought not only did Dustin beat the throw, beat the tag, but felt like his left foot made some contact with home plate," said Farrell. "Our video internally showed that that was the case and upon review, the call came back, and it stood. [The umpires] felt like there wasn't conclusive evidence to overturn the call on the field."
Third-base coach Brian Butterfield was outraged by what he thought was a missed call, and he was ejected from the game. The Red Sox slipped to 1-for-5 on replay challenges this season.
Yeah, I think that's a little frustrating," said Pedroia. "There's really nothing more you can say. I just don't like the whole inconclusive deal. With replay you're either out or safe -- I don't know what inconclusive means. Maybe it means someone doesn't want to make a decision. We all make decisions every day. Some of them hard; some of them are not. You have to make them though."
The Rays were pleased that their defense executed a critical play, with Matt Joyce firing to shortstop Yunel Escobar, who in turn made a strong throw to catcher Jose Molina.
"Matty's been playing great in the outfield, plays it perfectly, barehands it, throws it perfectly well to Escobar," Rays manager Joe Maddon said. "Escobar made a great throw to the plate. ... Jamo just rode him out of the play. From what I understand, he never touched the plate and that was a big part of that call."
Jake Peavy gave Boston 6 1/3 innings, giving up three hits and two runs. He walked five and struck out four.
After the game, the righty was thoroughly frustrated that Pedroia was called out and that the call wasn't reversed.
"Anytime you lose, it's frustrating. It's really frustrating when you lose and you feel like we did score two runs in the ballgame," said Peavy. "That's the thing I'm having a hard time with right now."
The Red Sox broke out first when Jonny Gomes ripped a two-out RBI single up the middle in the bottom of the first to score Pedroia.
Peavy kept it there until the third, when David DeJesus curled a home run around Pesky's Pole in right to tie the game.
In the fourth, Peavy had a momentary loss of control, walking three straight batters, the last of which forced in a run to give Tampa Bay a 2-1 lead.
Desmond Jennings walked to open the fourth and took third on Joyce's ground out. Peavy struck out Evan Longoria, but he then walked James Loney. After getting ahead of Wil Myers 0-2, Peavy walked him. DeJesus drew the walk that forced in what proved to be the game-winning run.
"I let it get away from me a little bit," said Peavy. "I was being real careful with Loney. I had no problems putting him on to face Myers there, the right-handed hitter, because you knew, with the way the game was playing out, that a run could possibly be the game. With the games we play with Tampa [Bay], we all know how tight of games we play.
"I was trying to do everything I could to save that run. I got a big strikeout of Longoria. I put Loney on to face Myers, got ahead of him 0-2 and then tried to make too good of pitches and pulled the ball away."
The Red Sox would have plenty of chances to even the score or even go ahead, but they couldn't come through with the big hit. Boston was 1-for-8 with runners in scoring position and left 11 on base.
"I think our approach at the plate has been very consistent," said Farrell. "We're producing opportunities and yet cashing in on them has been a little bit different than that. If we're leaving 11 men on base, we're creating opportunities."
Ian Browne is a reporter for MLB.com. Read his blog, Brownie Points, and follow him on Twitter @IanMBrowne. This story was not subject to the approval of Major League Baseball or its clubs.