Montero's HR in 10th caps D-backs' late charge
Prado, Owings deliver big hits with two strikes in ninth-inning rally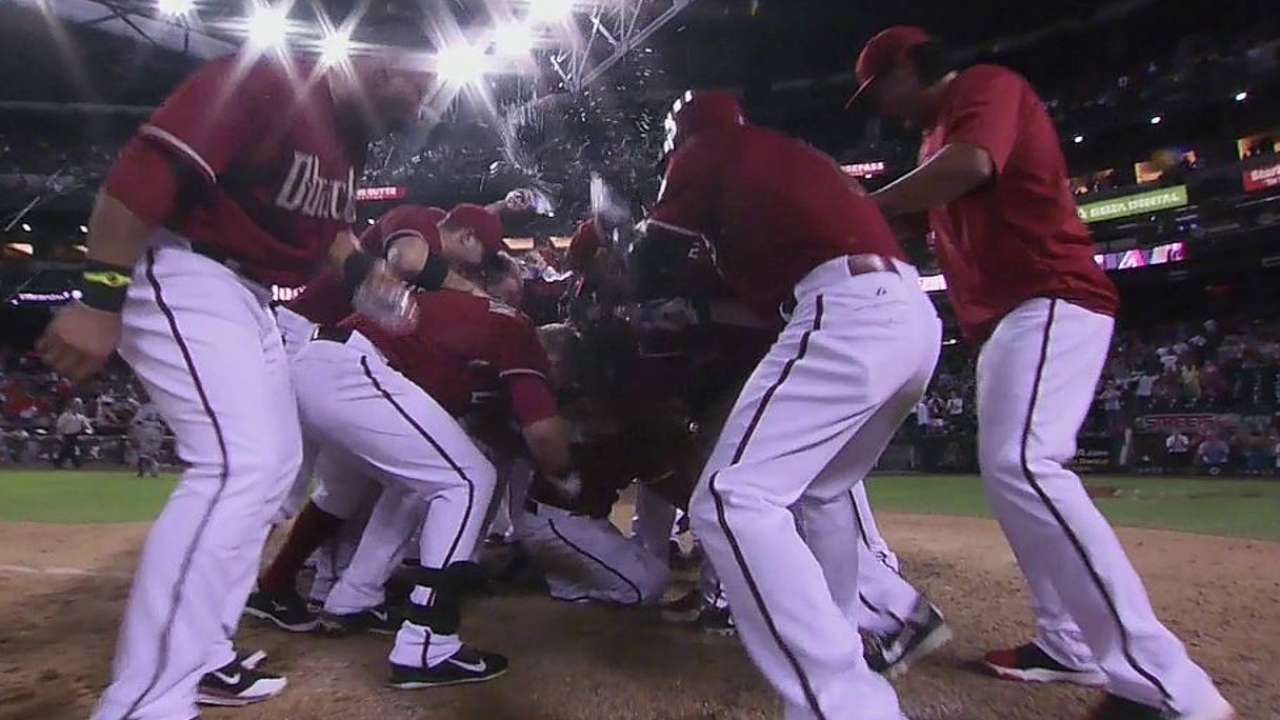 PHOENIX -- With his first swing to lead off the bottom of the 10th, D-backs catcher Miguel Montero tried to do too much.
"The first couple of pitches, couple of swings, it was typical -- swinging pretty hard at it trying to launch one," Montero said.
With the count 1-2, he went into defensive mode at the plate, just trying to make contact and put the ball in play.
So, naturally, that was when he ended up launching one -- a towering home run to right that led the D-backs to a 5-4 walk-off win over the Rockies on Wednesday night at Chase Field.
"I was trying to do a little too much on the first couple of swings, and the third one was the charm," Montero said. "It's a funny game."
Forgive Montero for not realizing that there were only two swings and not three, because there haven't been many laughs at Chase Field this year, as the D-backs won for just the third time in 18 home games.
This one felt good, and not just because it snapped a four-game losing streak, but because it seemed so improbable.
The D-backs' offense could do little with Rockies starter Jordan Lyles, who held Arizona to one hit through five innings.
Meanwhile, the Rockies were building a 4-0 lead against Josh Collmenter, and though that seemed like it would be enough, manager Walt Weiss knew better.
"I felt like we needed to add on," Weiss said. "Collmenter did a good job of settling in and keeping us there. [Trevor] Cahill came in and did a good job. I felt like we needed to tack on a few there."
Still the Rockies carried a 4-2 lead into the ninth inning.
In fact, they held that lead with two outs, a runner on first and an 0-2 count on pinch-hitter Chris Owings.
But Rex Brothers could not put away Owings, who lined a double to right to put runners on second and third. Brothers loaded the bases when he hit Gerardo Parra with a pitch.
Yet again the Rockies were in control when Brothers got ahead of Martin Prado 0-2.
"I just went to home plate with the plan that I had the whole game -- just thinking about that at-bat," Prado said. "I wasn't thinking about the last four at-bats that I had. It was me just thinking this is going to be my last at-bat. I was just going there trying to find a good pitch to hit. He threw me a fastball down the middle and I took it. He made a good pitch after that and I fouled it off. He threw a slider, and fortunately for me, I could handle that pitch."
Indeed, Prado laced it back up the middle to score a pair of runs and tie the game.
"That was the game right there, the ninth-inning rally," Montero said. "We had probably three guys with two strikes and they battled and they got the hits. Parra got the hit-by-pitch, it was a tough at-bat against a lefty and Martin, an 0-2 count and he put a good swing on it and back through the middle. So that was pretty much the game right there."
But there was still work to be done, and it looked like trouble for the D-backs when pinch-hitter Corey Dickerson blooped a double to left to open the 10th against closer Addison Reed.
A sacrifice bunt moved Dickerson to third, but Reed struck out Drew Stubbs and got Carlos Gonzalez to line out to center to end the threat.
Though it was Montero that came up with the game-winner, it was Prado that everyone felt the best for in the clubhouse.
Prado has not had a great month at the plate, and he has put so much pressure on himself to do well that manager Kirk Gibson and some of his teammates have encouraged Prado to take it easy.
"I feel like in situations like that, everybody in this locker room needs me in that moment, so I'm trying to do the best that I can to make the pitcher have a tough time," Prado said of his mindset going into the ninth-inning at-bat. "When you give the pitcher a tough time, they know that and your teammates respect that. I hope they respect that every time I go there, I want to step up for my team."
Wednesday he did just that.
Steve Gilbert is a reporter for MLB.com. Read his blog, Inside the D-backs, and follow him on Twitter @SteveGilbertMLB. This story was not subject to the approval of Major League Baseball or its clubs.