Braves can't rally after Harang's first tough start
Vet enters with 0.85 ERA, allows nine runs; Atlanta stifled by Eovaldi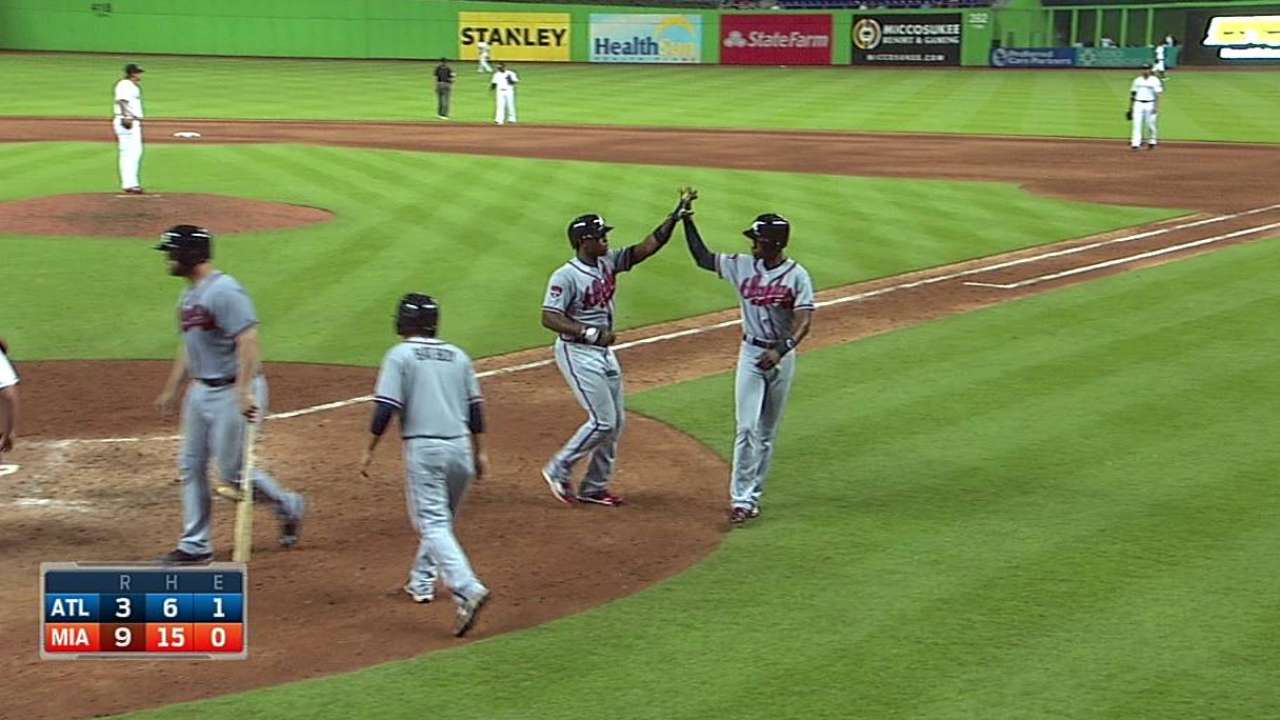 MIAMI -- As Aaron Harang spent most of this season's first month defying all expectations and serving as one of baseball's biggest surprises, he knew his improbable run of dominance would eventually end. But he did not necessarily envision the conclusion to be as horrific as it proved to be.
When Harang signed with the Braves on March 24, no sane individual predicted he would go through most of April with Major League Baseball's best ERA. Instead, he was supposed to more closely resemble the pitcher he was on Wednesday night, when he endured one of the worst starts of his career and allowed the Marlins to roll to a 9-3 win over the Braves.
"They were way too comfortable," Harang said. "It seemed like they all hit like Ted Williams today."
Exactly one week after limiting the Marlins to one run over six-plus innings, Harang saw this same Miami lineup torch him for a career-high nine earned runs and 10 hits, including two home runs, in 4 2/3 innings. In the 31 2/3 innings he completed during his previous five starts of this season, the 35-year-old hurler had allowed just three runs and 15 hits.
In a span of approximately 90 minutes, Harang saw the Major League-leading 0.85 ERA he had carried into the day balloon to 2.97. This marked just the second time in 325 starts that he allowed nine runs in a start. The only other occasion was on April 3, 2006, when three of the runs he surrendered to the Cubs were unearned.
"He's got to be so perfect, and early in the game, he wasn't getting any corners [from home-plate umpire Sean Barber]," Braves manager Fredi Gonzalez said. "Not that you're begging for that. But he pitches off the plate a little bit and he wasn't getting those pitches. So he had to throw the ball over the middle of the plate in hitter's counts. ... Sometimes you match up well against a team and sometimes it can help you if you have a little different umpire behind the plate."
Gonzalez was not blaming Barber as much as he was pointing out that a tighter zone might have influenced the results. Harang felt his inconsistent command might have had more to do with the fact that he had to alter his preparations as he made this start with two extra days' rest.
"That's a big change when all of the sudden you go five days [between starts] and then all of the sudden you're back on seven days, back to a college rotation," Harang said. "But it just happens because of multiple off-days in a week."
While getting extra rest might benefit Alex Wood as he progresses through the season, he too might have been affected as he allowed a season-high seven runs in five innings in Tuesday night's series opener.
The Marlins have positioned themselves for a potential sweep of this three-game set by tallying 16 earned runs against Wood and Harang the past two nights. Atlanta's rotation entered this series having surrendered just 28 earned runs in this season's first 24 games.
Along with seeing their rotation's ERA rise from 1.57 to 2.32, the Braves have been outscored 18-3 during the past two days. They were shut out by Jose Fernandez on Tuesday night and limited to one run in the seven stellar innings Nathan Eovaldi provided the Marlins on Wednesday.
"We've got our butts whipped the past two nights, plain and simple," Braves third baseman Chris Johnson said. "There is no other way to describe it. We're getting beat in every aspect. It's not just Eovaldi and Fernandez. We're big league hitters. We should be able to [score] some runs against these guys."
Justin Upton's two-run homer off Brad Hand in the ninth inning concluded another of his impressive Aprils and made Wednesday's final score look much closer than the game felt. Upton ended up hitting .326 with eight home runs and a 1.041 OPS in April.
While Upton will be a candidate for the National League Player of the Month Award, Harang's candidacy for NL Pitcher of the Month honors quickly evaporated as the Marlins began the bottom of the second inning with four consecutive hits, including Marcell Ozuna's three-run home run. The righty had allowed as many as three hits in just one of his previous 33 innings this year.
"I don't know if [Harang] was having command problems, or just wasn't getting the call away," Marlins manager Mike Redmond said. "But we did a nice job working the counts and getting in some good hitters' counts. We got some big hits. He's been lights-out. He pitched great in Atlanta."
Former Braves prospect Jarrod Saltalamacchia doubled in the second inning and added a sacrifice fly that scored Giancarlo Stanton in the third. The Marlins added to their lead when Christian Yelich recorded his first home run of the season -- a two-run shot in the fourth inning.
"I just felt like I wasn't as sharp early on," Harang said. "I was falling behind early in the count and having to come back a little bit more to the middle of the plate than I would have liked. When you fall behind, it puts you in a hole right away."
Harang surrendered hits to three of the five hitters he faced in the fifth inning. After returning to the dugout, his frustration-filled evening got worse as one of the two runners he left on base scored on a Adeiny Hechavarria double off right-handed reliever David Hale.
As Harang walked off the mound, he expressed some frustration as he spoke to catcher Evan Gattis. But he said his words were not aimed at anybody in particular as much as they were just a sign of how baffled he was to have been beaten so soundly by a team he had handled with ease last week.
"Five days ago to now, that's a totally different team," Harang said. "I felt like I wasn't as sharp and they were taking some comfortable hacks."
Mark Bowman is a reporter for MLB.com. This story was not subject to the approval of Major League Baseball or its clubs.