Escobar delivers game-winning hit to secure series
Ventura turns in another fine start and Hosmer doubles twice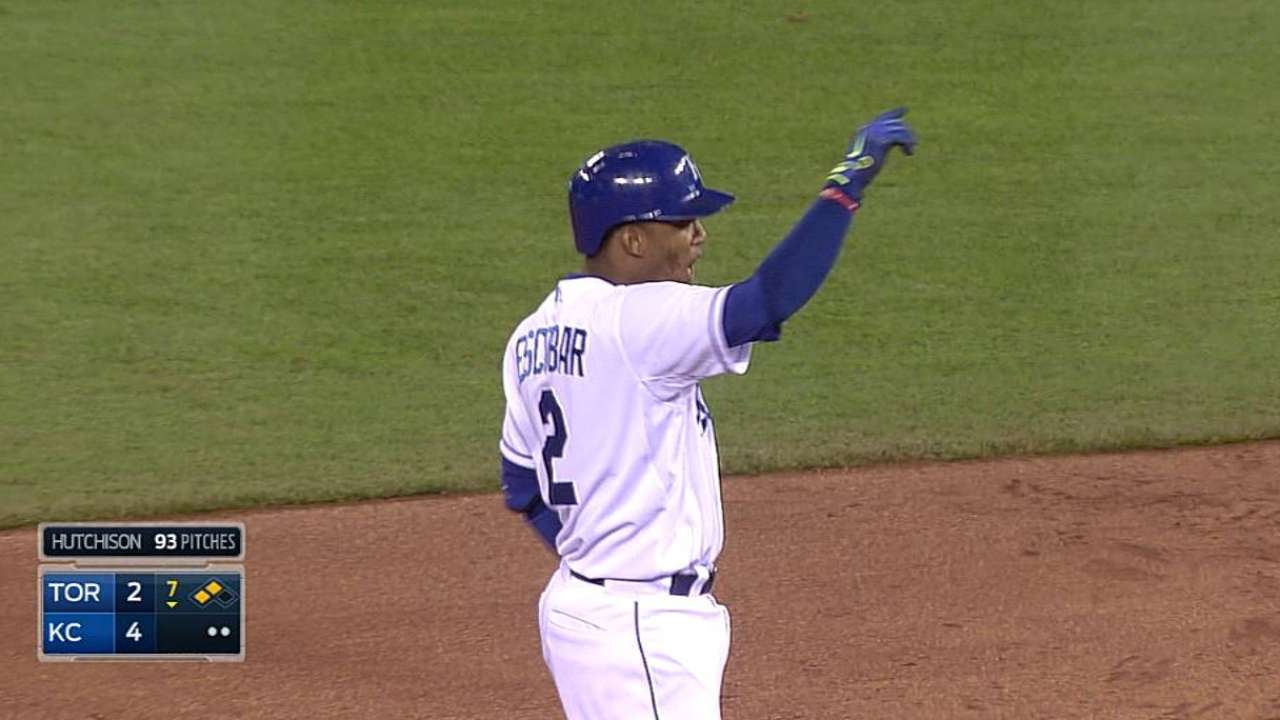 KANSAS CITY -- Esky is proving very pesky.
Alcides Escobar ripped off a two-run double to lift the Royals over the Toronto Blue Jays, 4-2, on a 53-degree Wednesday night with 11,175 fans at Kauffman Stadium. The victory was the Royals' fourth in five games.
Escobar, after a poor start, has been harassing opponents with his bat as well as his glove. In his last 14 games, he's hit .340 (16-for-47) with seven extra-base hits.
"He's always been a big part of our club because of his defense," manager Ned Yost said. "He saves runs in the field. So you add what he does offensively with what he does defensively and it makes him a special player."
His two-run double came with two outs in the seventh inning and broke a 2-2 tie against Blue Jays starter Drew Hutchison.
"That was a good hit in the best situation of the game," Escobar said. "That's a perfect situation with two outs."
Billy Butler led off the inning with a single to left and Jimmy Paredes ran for him.
"I really don't like pinch-running for Billy in the seventh but I knew we had to have some action there leading off the inning," Yost said.
Action he got. After Alex Gordon flied out, Paredes stole second when Salvador Perez swung and missed on a hit-and-run play. Then Paredes also swiped third base.
"My first two steals," Paredes said happily.
Perez drew a walk and Mike Moustakas fouled out. That brought up Escobar, who drilled a 1-2 fastball down the line and into the left-field corner while both runners scored, Paredes from third and Perez all the way from first.
"As impressive as Esky's double was, I was just as impressed with Salvador motoring around those bases," Yost said. "He looked like he was flying."
That made it 4-2 and that held up.
There was no victory, though, for rookie whiz Yordano Ventura although he pitched five shutout innings, giving up just two hits with two walks. The problem was his pitch count piled high and he was taken out of the game at 92 pitches. Only 57 were deemed strikes.
This was a complete contradiction to Ventura's last start when he pitched eight shutout innings at Baltimore and threw 113 pitches with almost a 2-to-1 ratio of strikes (75) to balls (38).
"It was cold out there and naturally it was a little bit more difficult to command but I tried to do the best I could with it and tried to keep attacking," Ventura said, through translator and Royals pitcher, Jeremy Guthrie.
Yost thought perhaps Ventura was overamped because of the Blue Jays' prominent Dominican Republic players like Jose Bautista, Edwin Encarnacion, Jose Reyes and Melky Cabrera.
"Young players like Yordano from the Dominican, they've got a lot of big Dominican players over there and I think he was really amped up a little bit against his countrymen and got into a lot of deep pitch counts. That might not be the case but that's what it looked like to me," Yost said.
"No," Ventura said. "My biggest focus was to go out there and throw strikes and try to keep the team close and help the team win, which is what we ended up doing."
Anyway, out Ventura came while leading 2-0, and left-hander Danny Duffy took over with strange results and a quick exit. With his first pitch, Duffy hit Cabrera who went down in a heap with a bruised left shin and had to leave the game. He's listed as day to day after X-rays were negative.
After the injury delay, Duffy walked Bautista on five pitches and was promptly replaced by right-hander Aaron Crow. He struck out the side but mixed among the strikeouts were RBI singles by Encarnacion and Juan Francisco to tie the score 2-2.
"I've thrown like 14 pitches in two outings and didn't record an out," Duffy said. "So as frustrating as it is personally, we came away with a win tonight. The only thing I'm really upset about is that Yordano didn't get the well-deserved win. He battled through five innings and I cost him the 'W.' "
The rest of the bullpen had its own little acts of drama but escaped unscathed.
In the seventh, Kelvin Herrera had the first two runners reach base -- Chris Getz doubled and Reyes walked -- but he got three quick outs. In the eighth, Wade Davis had the bases loaded but also struck out the side and left them stranded. In the ninth, Greg Holland eased past a two-out double by Encarnacion to get his seventh save.
"You play 162 games, you're going to see a lot of things happen but that's the mark of a good bullpen," Holland said. "I think we've learned over the last couple of years, with basically the same bunch down there, how to compete and to deal with tough situations. It's something we're getting better and better at."
All in all, the Royals' bullpen managed to "hold the fort" as Yost put it.
"They throw some pitching at you," Blue Jays manager John Gibbons said. "They've got some big-time arms and they've got a real shot at this division."
And, in fact, after their third straight win the Royals found themselves two games above .500 and second in the American League Central, 1 1/2 games behind the Detroit Tigers.
And guess who's coming to town this weekend?
Dick Kaegel is a reporter for MLB.com. This story was not subject to the approval of Major League Baseball or its clubs.