Indians fall as McAllister struggles on short rest
Cleveland only able to push across one run against dominant Wilson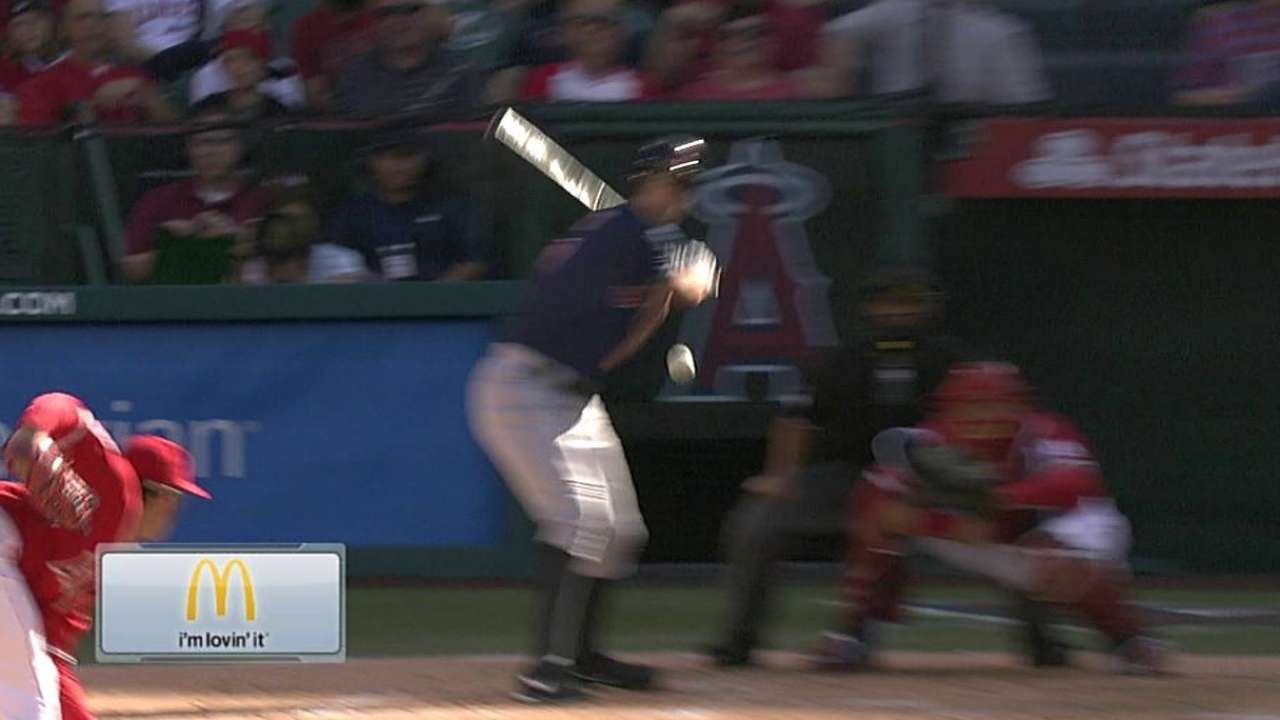 ANAHEIM -- There is no way to erase what took place over the past six games, but the Indians will at least have a day to try to forget about it. Thursday's scheduled off-day could not have come at a better time for the reeling Tribe.
It is only one month, but April is in the books and it was ugly for Cleveland.
On Wednesday, the Indians took a 7-1 defeat to the Angels on the chin to complete a disappointing month and put a final touch on a disheartening 0-6 trip through San Francisco and Anaheim. Los Angeles lefty C.J. Wilson carved up Cleveland over eight innings in its latest loss, which made for a quiet clubhouse before the trek to the airport.
"Things aren't really going the way that we'd like right now," Indians first baseman Nick Swisher said. "But there's no quit in this team. There's always fight. We've got a nice off-day tomorrow. It's big-time needed. Hopefully, we just go home, relax a little bit, get our minds right and get ready to go."
Pitching on short rest, Indians starter Zach McAllister was not sharp in an abbreviated effort, though his defense once again hindered his performance. Cleveland catcher Yan Gomes made a costly throwing error, Wilson handcuffed the Tribe's lineup and the Indians' typically-solid bullpen could not keep the score close.
It was one of those days for Cleveland, which has had a lot of them of late.
Over the past six losses, the Indians posted a .183 (35-for-191) team average, which included a .167 (6-for-36) showing with runners in scoring position. Cleveland managed only 13 runs on the trip (2.2 per game) and stranded 36 runners. The pitching staff struggled as a whole, posting a 5.55 ERA (30 earned runs in 48 2/3 innings).
Along the way, other setbacks were added to the pile of problems. The Indians pulled struggling starter Carlos Carrasco out of the rotation and put him in the bullpen, and the team saw All-Star second baseman Jason Kipnis exit Tuesday's game with a right abdominal strain.
The Indians ended April in last place in the American League Central with an 11-17 record.
"My feelings about our team don't change on a road trip," Indians manager Terry Francona said. "It was a really tough trip. There's no way around it. We're going to have to be strong enough now to go home and be able to look at our record for a little while and not be happy with it, knowing that the best way to remedy it is to play better.
"We're going to have to be strong, because this was a tough trip. Not a lot went right for us."
The Indians asked McAllister to start on three days' rest and he accepted the assignment, having only logged 75 pitches in his outing against the Giants on Saturday. In 4 1/3 innings against the Angels, the big right-hander was charged with five runs (four earned) on four hits, ending with five strikeouts and four walks.
"I didn't have the command that I would've liked," McAllister said. "But, as far as the way my body felt and my arm felt, I felt extremely good out there."
L.A. first broke through against McAllister in the second inning, when Hank Conger drilled a 2-2 offering into the right-field seats for a two-run home run, putting Cleveland behind, 2-1. In the third, Howie Kendrick singled and stole second, but advanced to third when Gomes fired the ball wildly into center field for his seventh error on the season.
Albert Pujols brought Kendrick across the plate with a sacrifice fly, giving the Angels a 3-1 lead.
"There's times when he knows he has to be perfect," Francona said of Gomes. "If a guy has a good jump, he tries to maybe be a little too quick."
McAllister was pulled from the contest in the fifth inning after issuing a one-out walk to Mike Trout and then giving up a double to Pujols. Two batters later, lefty Marc Rzepczynski relinquished a two-run single off the bat of David Freese. Trout padded the Angels' lead in the sixth inning with a two-run double off Carrasco.
Armed with a 7-1 lead, Wilson cruised to the win. The veteran southpaw allowed only two hits in eight innings, finishing the day with eight strikeouts and one walk en route to a victory. Cleveland's only run against Wilson came in the second inning, when David Murphy singled to center field to score Asdrubal Cabrera.
"[Wilson] was very aggressive with different fastballs," Francona said. "He was cutting it, changing speeds with it. And then off of that, a breaking ball. He was just so aggressive in the zone and working ahead. He was just attacking."
Cleveland sang a similar tune after facing Giants starters Tim Hudson (Friday) and Ryan Vogelsong (Sunday) in the last series, and then in the wake of games against Angels hurlers Tyler Skaggs (Monday), Jered Weaver (Tuesday) and Wilson.
A team can only tip its cap so many times.
"There always are [two sides]," Francona said. "The only side that I really care about is us winning."
McAllister agreed that Thursday's off-day will be well received by the Tribe.
"Definitely," said the pitcher. "This was definitely a rough road trip for us. It'll be nice to be able to get a day of just relaxing and get away from baseball. And then, get rejuvenated and get ready for this next home series."
Jordan Bastian is a reporter for MLB.com. Read his blog, Major League Bastian, and follow him on Twitter @MLBastian. This story was not subject to the approval of Major League Baseball or its clubs.