Rangers rotation comes up empty against A's
Ross allows six earned runs in 3 1/3 innings, Texas makes four errors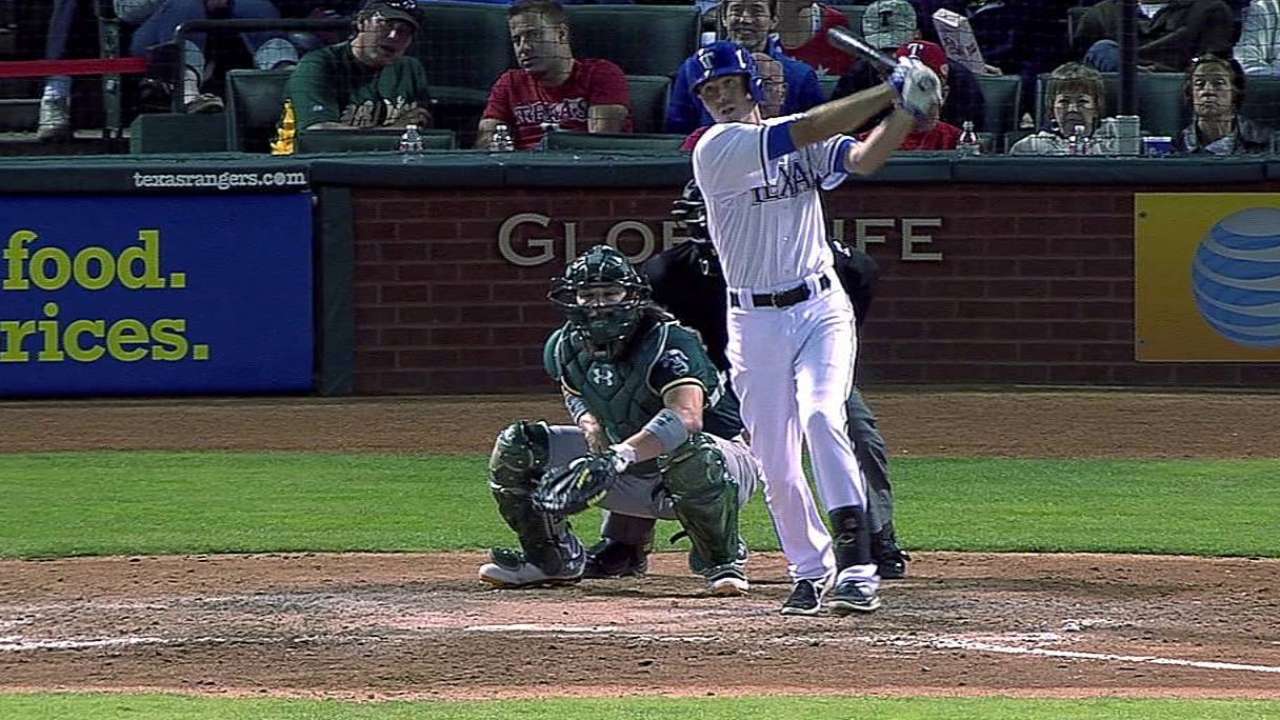 ARLINGTON -- Shortstop Elvis Andrus was 0-for-2 at the plate and committed two errors in the field, one of which probably cost the Rangers four runs. By the sixth inning, manager Ron Washington decided to give Andrus the rest of the night off.
"It was one of those days you want to forget," Andrus said afterward. "It was not a fun game but there is nothing else you can do but turn the page, take tomorrow off, clear your mind and be ready for Friday."
A 12-1 loss to the Athletics on Wednesday night was also one that Robbie Ross would also like to forget quickly. This was a bad one all around as the Rangers suffered their fourth straight loss.
"A tough one," Ross said. "Obviously it's not what I wanted to happen. Obviously I'm trying to make good pitches. It's on me. I've still got to go out and battle."
Manager Ron Washington thought Ross was doing just that despite allowing 10 runs in 3 1/3 innings as the Athletics completed their three-game sweep of the Rangers. The Athletics broke it open with seven runs in the third inning although four scored after Andrus completely whiffed a routine ground ball that should have easily have been turned into an inning-ending double play.
"A Little League play," Andrus said.
"I thought Robbie was out there fighting," Washington said. "If we turn the double play, we get out of the inning down 3-0 and see where it goes. But after that it got ugly."
The Rangers offense was never able to do anything against Athletics starter Jesse Chavez, who held them scoreless through seven innings on a single and a walk while striking out eight. Starting pitching was the difference in this series as the Athletics won all three after getting swept by the Rangers last week in Oakland.
"You never want to get swept at home," Chavez said. "It kind of leaves a bad taste in your mouth. We just came in here with a little added fire, that's all."
In the three-game series, Rangers starters Yu Darvish, Martin Perez and Ross combined for 11 1/3 innings and allowed 22 runs on 25 hits. All three pitched less than five innings and gave up at least four runs. The last time three Rangers starters allowed at least four runs and pitched less than five innings against the same opponent was Aug. 12-14, 2008 against the Red Sox with Scott Feldman, Luis Mendoza and Tommy Hunter on the mound.
Wednesday marked the 15th time in club history that a Rangers starter has allowed at least 10 runs in a start. The record is 12, held by John Burkett, Charlie Hough and Feldman in his 2008 start against the Red Sox.
During the three-game series, Athletics starters allowed three runs on 11 hits and three walks over 21 innings while striking out 18. The Rangers had just two extra base hits in the series -- both doubles -- and have lost four straight home games by a combined score of 41-6. They have also gone six games overall without a home run.
"They beat us," Washington said. "They beat us soundly. We didn't play well enough to win. We didn't play well enough to win but we have to keep going."
Ross started his night with two scoreless innings and also started the third inning by getting Eric Sogard on a fly to center. He then allowed the next seven hitters and 12 of the next 15 to reach base. During that mess, the Rangers committed three of their four errors as the Athletics scored seven in the third inning and three in the fourth.
"When you're getting good at-bats across the board and making guys work, I've often used the analogy of a boxer getting body blow after body blow, to where you soften someone up, and that's what we do well," Oakland manager Bob Melvin said. "It doesn't always happen, but it did this time and against good pitching."
Ross is now 1-2 with a 3.86 ERA in six starts. He has a 10.38 ERA in his two losses and a 1.50 ERA in his other five starts. He also had a streak of 21 1/3 innings without a walk come to an end on Wednesday night.
"I went three innings tonight, that's kind of frustrating," Ross said. "I wish I could have gone longer. This is just a game you want to forget about and keep rolling on."
T.R. Sullivan is a reporter for MLB.com Read his blog, Postcards from Elysian Fields and follow him on Twitter @Sullivan_Ranger. This story was not subject to the approval of Major League Baseball or its clubs.