Rizzo powers Cubs past Reds in series finale
Hits two-run homer, scores three runs as Jackson picks up victory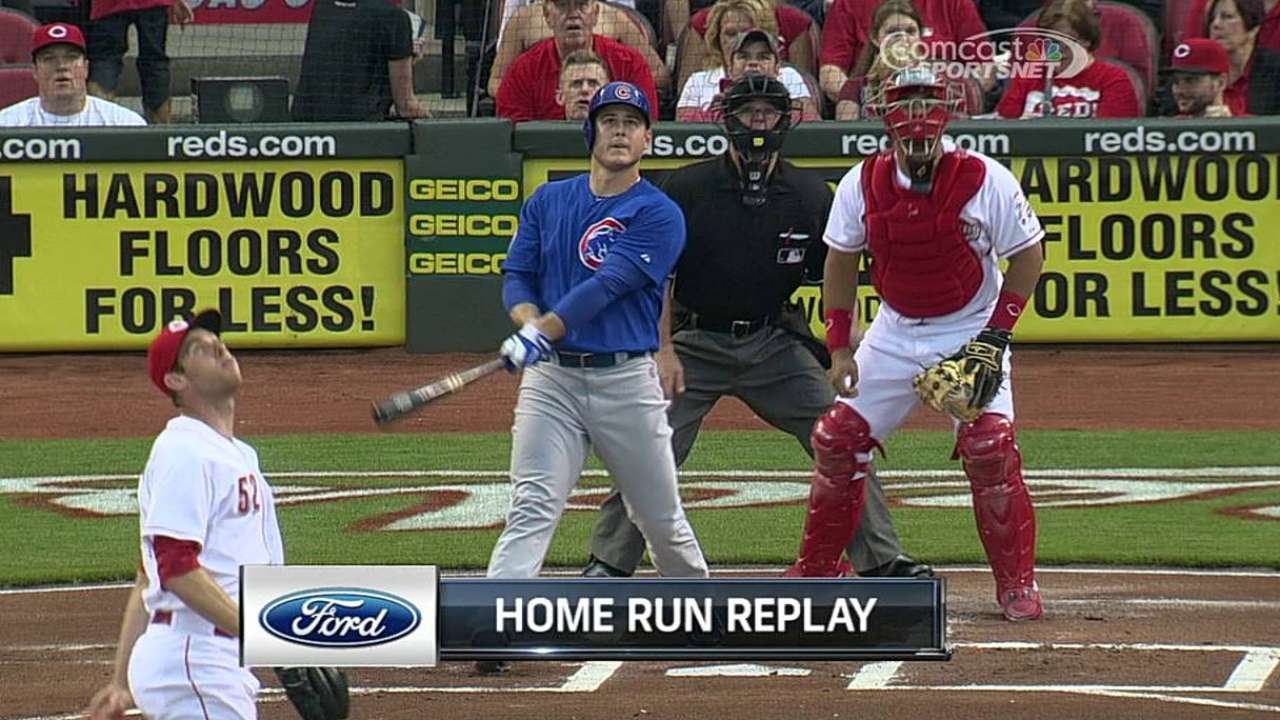 CINCINNATI -- The Cubs starting rotation performed well in April. The bullpen had its early struggles, but has come on nicely of late. The offense? Well, that's been an issue all month, and the main reason why the Cubs are lagging in the standings.
Hitting wasn't so much of an issue, however, on Wednesday night at Great American Ball Park. The Cubs scored early and often off Tony Cingrani and piled on more at the end againnst the Reds' bullpen, leaving town with a convincing 9-4 win and managing a split of the rain-shortened two-game set.
"We've been having a tough time trying to tack on runs and scoring runs in bunches," manager Rick Renteria said. "Today was an example of what a club can do."
The Cubs finished April with a 9-17 record and no series wins, but ended the month on a high note after Cubs' hitters set the tone early against Cingrani.
Emilio Bonifacio led off with a single and scored on Anthony Rizzo's two-run homer. The Cubs added another run in the third on an RBI single by Starlin Castro, who logged two hits on the night and raised his batting average to .308.
The Cubs added four runs in the ninth, including a two-run single by Nate Schierholtz and an RBI double by Bonifacio, making this the closest thing to a blowout that the Cubs have had in a while.
If the Cubs could generate this kind of offense with more regularity, they'd probably be able to move up a few notches in the National League Central standings. Lately, the talk around this team has focused on a need to make sure all facets of the game are coming together at one time. The starters and relievers have more than held up their end. The defense has come around, too.
And on Wednesday, the Cubs got a true glimpse of how much good can happen when the bats come to life.
"This team still has a lot of upside," Rizzo said. "We've shown glimpses of it. A glimpse tonight with our bullpen coming in and locking the game down. It's pretty impressive. If we score runs -- and guys are swinging the bat well -- I think we're going to start winning some ballgames and get back in it."
Say this for the Cubs -- they've been consistent. Their April performance looks pretty close to their first month of the season last year. They had a 3.78 ERA through April in 2013, as compared to a 3.79 this time around. Last year Cubs hitters were batting .235 as April drew to a close. In 2014: .236.
Yet there seems to be more optimism surrounding this bunch than there was a year ago. That's probably due in part to what the bullpen has managed to do in the last couple of weeks, stifling hitters once the game gets to the late innings.
Cubs relievers have combined for 14 scoreless frames in the team's last six games. That includes efforts from left-hander Wesley Wright, who retired Billy Hamilton and Joey Votto in the seventh to stretch his scoreless streak to seven games.
Neil Ramirez and Hector Rondon took care of the final two frames, recording a combined three strikeouts.
"We've got really exciting arms," Renteria said. "They did a nice job."
Starting righty Edwin Jackson had similar praise for a 'pen that made sure no more damage was done after the Reds tagged him for four runs.
"You have confidence in those guys that when you come out of a game they're going to continue to pick up the slack," Jackson said. "Whether there's men on base or if there's nobody on base. The pitching staff as a whole has been pretty good this year. We just have to continue to feed off of each other and have belief in ourselves that we can go out there and get outs."
Usually when a team is getting good pitching but still struggling for wins, there's less reason to panic. That appears to be the case with the Cubs, who sound confident despite their poor record.
"It's definitely going to create a buzz in the division and around the league that the Cubs have those power arms," Rizzo said. "We just have to score runs and let our pitching do the rest."
Alyson Footer is a national correspondent for MLB.com. Follow her on Twitter @alysonfooter. This story was not subject to the approval of Major League Baseball or its clubs.