Rendon's big night boosts Zimmermann in Houston
Homer among four hits, three RBIs; RHP works 6 1/3 shutout innings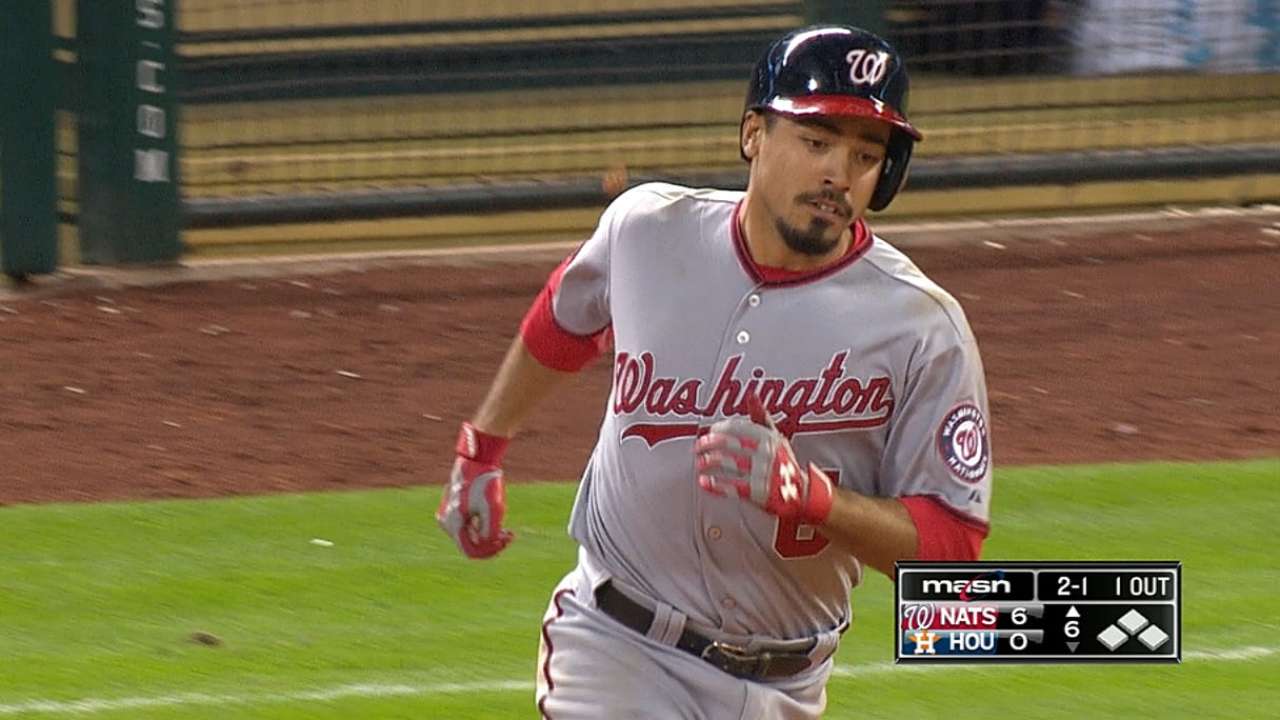 HOUSTON -- Anthony Rendon left quite an impression on the city of Houston during his days as a standout high schooler and then as a two-time All-American at Rice.
With "hundreds" of friends and family in attendance at Minute Maid Park on Wednesday, he added to the legend against his hometown team.
Rendon bopped four hits, including a two-run double and a solo home run, as the Nationals cruised by the Astros, 7-0, to win a two-game series in Houston.
"[Jordan] Zimmermann came out throwing hard and we collected the win, which is what counts," Rendon said. "It's not about me."
Forgive his humility, but for one night, it was mostly about him, the Houston native and former first-round pick who is off to an absolute tear this season.
Of course, the whole offense also overwhelmed Houston starter Brett Oberholtzer, who didn't get much support from his defense, either.
Rendon was at the heart of it, ripping a first-inning double, adding a single in the third inning and doubling Washington's lead to 4-0 with a fourth-inning two-bagger.
He might have been pressing during Tuesday's series opener, when he collected just one hit. Those nerves were gone by the first pitch on Wednesday.
"I had to get the first one out of the way," he said. "Just upset I couldn't get a little more cheering action their way. I was a little too anxious, maybe trying to hit the ball too hard."
He sure hit it hard this time against the team he rooted for growing up about 35 minutes southwest of Minute Maid Park, which he has now played in as a high schooler, collegian and a big leaguer. He sprayed the ball to every corner of the park with his trademark versatility and patient swing.
"There's not many young guys that can hit the ball line to line like Anthony does," said Nationals manager Matt Williams. "He proved it again -- double to right-center, single to right, double to left and a homer to right. Pretty impressive night."
Houston manager Bo Porter echoed that sentiment, even as Rendon's swings put his team in a bind.
"I've known Anthony Rendon since he was 12 years old, and he's a great baseball player," Porter said. "He uses the whole field and tonight, obviously, he swung the bat pretty well."
With every hit, the Houston native's wide cheering section -- adorned with his No. 6 jersey -- erupted into standing ovations all along the third-base stands.
It swelled to a roar in the sixth, when Rendon muscled a tailing, opposite-field liner beyond the right-field fence. After he touched home plate, the infielder smiled toward his cheering section, capping a beautiful night for Rendon in his hometown's unseasonably cool weather.
"Too many [friends and family] to count out in the stands. That Rice education didn't let me count that high," Rendon quipped. "I'm sure my dad will brag about how many people came out soon enough."
He finished the game 4-for-5 with two runs scored, three RBIs and a diving stop at his newly-adopted third base position on a sharp grounder in the sixth. He narrowly missed out on his first career multi-homer game with a flyout to left-field warning track in his final at-bat.
Rendon leads the Nationals in hits (36) and RBIs (20).
Meanwhile, Zimmermann bounced back from some hard-luck losses, needing little of the Nats' prolific offense after managing through 6 1/3 innings. He struck out seven and surrendered most of the seven hits once the game was in hand.
"Didn't feel as good as I'd like," Zimmermann said. "The guys got me some runs early, so I settled down. My first inning, I threw 20-something pitches, and I was trying to battle back to get the pitch count manageable the whole game."
Zimmermann, who became the Nationals' (2005-present) leader in wins (45), lowered his ERA by nearly a full point, a good sign as Washington tries to cobble together a viable starting rotation until Doug Fister can join the team next week.
The Nationals were sound in every phase of the game, a sharp contrast to their foes across the diamond.
Denard Span scored on his third-inning triple as Astros outfielder George Springer committed a fielding error trying to collect the ball three different times before he could toss it back toward the infield.
One inning later, Kevin Frandsen scored from first on a single when the Astros tried to catch Sandy Leon making a wide turn at first. Instead, the throw got away from Jesus Guzman and Frandsen scored.
"I liked the fact we went first to third twice," Williams said. "It put a little pressure on them. That's going to have to continue and be a part of our success."
The Astros posted minor threats with back-to-back hits in the fifth and seventh innings. Zimmermann pitched out of the fifth by inducing a soft liner and striking out 2013 All-Star Jason Castro. Reliever Aaron Barrett cleaned up the seventh-inning jam.
By then, though, Danny Espinosa had already added a solo homer on a fifth-inning shot to left field before Rendon went yard minutes later.
The run total outpaced Washington's already healthy season average and the Nationals finished March and April with 126 runs scored, the most for an opening month in club history.
Washington has won its last six and 10 of the past 11 games against the Astros, with another two-game series against Houston set for June as part of the Nationals' Interleague tour of the American League West.
Chris Abshire is a contributor to MLB.com. This story was not subject to the approval of Major League Baseball or its clubs.