Vazquez named MLBPA international special assistant
Right-hander was very active with the union during his 14-year MLB career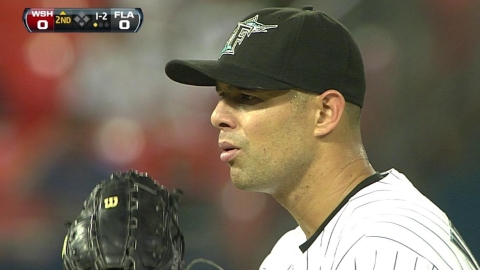 Javier Vazquez is ready for his second career.
Vazquez, who last pitched in the Major Leagues in 2011, was introduced Wednesday as an international special assistant for the Major League Baseball Players Association. Vazquez will work in support of the union's international players and aid in growing the game in his new role.
Vazquez, a native and resident of Ponce, Puerto Rico, pitched in the Major Leagues for 14 seasons and logged a career record of 165-160 with a 4.22 ERA. The right-hander was named to the All-Star team in 2004 and took a special interest in MLBPA affairs when he was an active player.
"Javy's experience and accomplishments as an active player, as well as the commitment he made as an integral part of our union leadership while in uniform, make him an ideal addition to our staff," said Tony Clark, the MLBPA's executive director. "His expertise and desire to impact our International players will be instrumental in accomplishing our goals in the short term and long term."
Vazquez, who began his career with the Montreal Expos, would go on to become an alternate or a player representative to the union early in his career. Vazquez was active during the negotiations of the Collective Bargaining Agreements in 2002 and '06, speaking up for the game's foreign players.
In his new role, Vazquez will work with Major League Baseball International to help increase the sport's profile in other countries, and he'll represent the union at various events throughout the year. Vazquez will likely attend winter ball, amateur showcases and other important events in Latin America.
"I'm excited to join the Players Association as its international special assistant, and I look forward to sharing my experiences and knowledge with today's active players, especially those from Latin America," he said. "I'm eager and committed to helping all players navigate their way through the various stages of their careers, and to helping spread the global popularity of the game and the players."
Spencer Fordin is a reporter for MLB.com. This story was not subject to the approval of Major League Baseball or its clubs.