Weaver earns second win as bullpen gets out of jams
Aybar's four-hit night, Kendrick's key single lead offense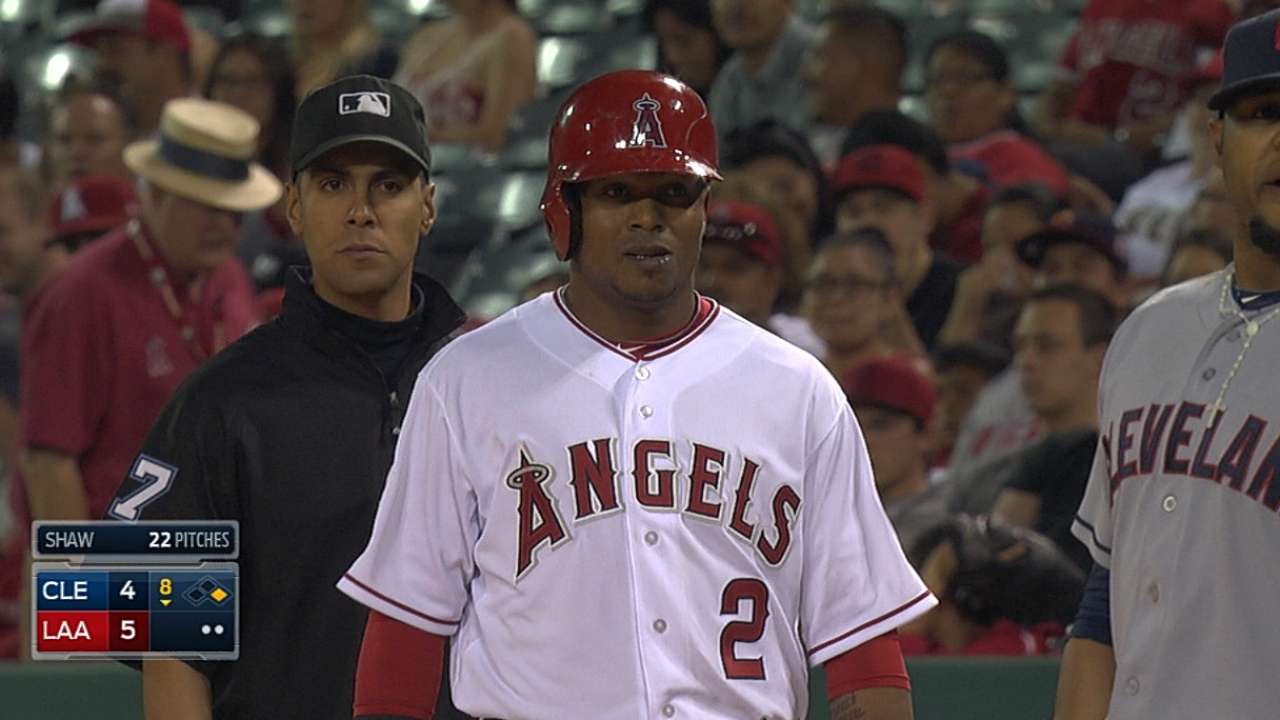 ANAHEIM -- Mike Scioscia's leadoff man du jour had a key, two-out, two-run hit for the second night in a row Tuesday in the Angels' 6-4 victory over the Indians at Angel Stadium.
This time, it was Howie Kendrick with a two-run single in the fifth after a successful replay challenge by Scioscia reversed an inning-ending double play.
"It's not that big of a deal," Kendrick said of leading off. "I go out and put up the same at-bat, with the same approach.
"Tonight was a credit to the guys at the bottom of the lineup for making things happen and getting on base."
Erick Aybar, who got the two-run double from the No. 1 spot Monday that started the Angels on the way back to a 6-3 victory in the series opener, went 4-for-5 Tuesday from the No. 6 spot. In his second four-hit night in the past five games, Aybar drove in the deciding run in the sixth, and scored the insurance run in the eighth.
Relievers Fernando Salas and Joe Smith reprised their Monday roles with clean eighth and ninth innings, respectively. And Angels center fielder Mike Trout robbed Lonnie Chisenhall of a first-inning home run.
Angels starter Jered Weaver didn't have his best stuff but battled through 5 1/3 innings. He also appeared to engage his manager between innings after the Indians got a couple of bunt singles against the Angels defensive shift -- although both Scioscia and Weaver downplayed the encounter.
"We battled, we scrapped," Scioscia said, referring to his offense, which survived 14 runners left on base. "We left some guys on early [eight in the first four innings], but we created, manufactured and got some key hits late."
His bullpen needed to get 11 outs. Salas and Smith got the last six in good form, and Kevin Jepsen got the last two in the seventh to get out of a jam. Before then, though, "it got a little hairy in the middle," Scioscia said.
With the Angels leading, 5-2, Yoslan Herrera came on and didn't retire any of the three batters he faced. Nick Maronde entered and walked Carlos Santana with the bases loaded, then Michael Brantley delivered a sacrifice fly to cut the deficit to one. Jepsen took over and successfully passed the baton to Salas and Smith, who earned his second save in two nights against his former Indians teammates.
Weaver had a shutout until Santana's two-run homer in the sixth, and needed help from reliever Michael Kohn for the last two outs that inning.
"Obviously, I would've liked to get deeper in the game," Weaver (2-2) said. "I made the most of it, and the offense put up some runs."
Scioscia said Weaver "did not have his best stuff tonight. He mixed and matched. I think it speaks volumes how good Weav is, and his ability to get outs."
Only those in the dugout knew the volume of the Weaver-Scioscia exchange after the fifth inning.
"It wasn't [about] anything major ... baseball in general," Weaver said.
"We talked about a couple of things," Scioscia said. "I think Weav was frustrated when the bunts were laid down. He's an emotional guy.
"No, it wasn't an issue."
Asked about the two bunt hits, and an opposite-field double in the fifth against, Weaver said: "Obviously, it's a little frustrating, but that's the new era of baseball nowadays. There's a lot of numbers [involved], and you're trying to out-think guys.
"Sometimes it works, sometimes it doesn't. When it works, you're happy. When it doesn't, you're frustrated."
Earl Bloom is a contributor to MLB.com. This story was not subject to the approval of Major League Baseball or its clubs.