Indians continue to struggle in fifth straight loss
Comeback attempt falls short and Kipnis exits with abdominal strain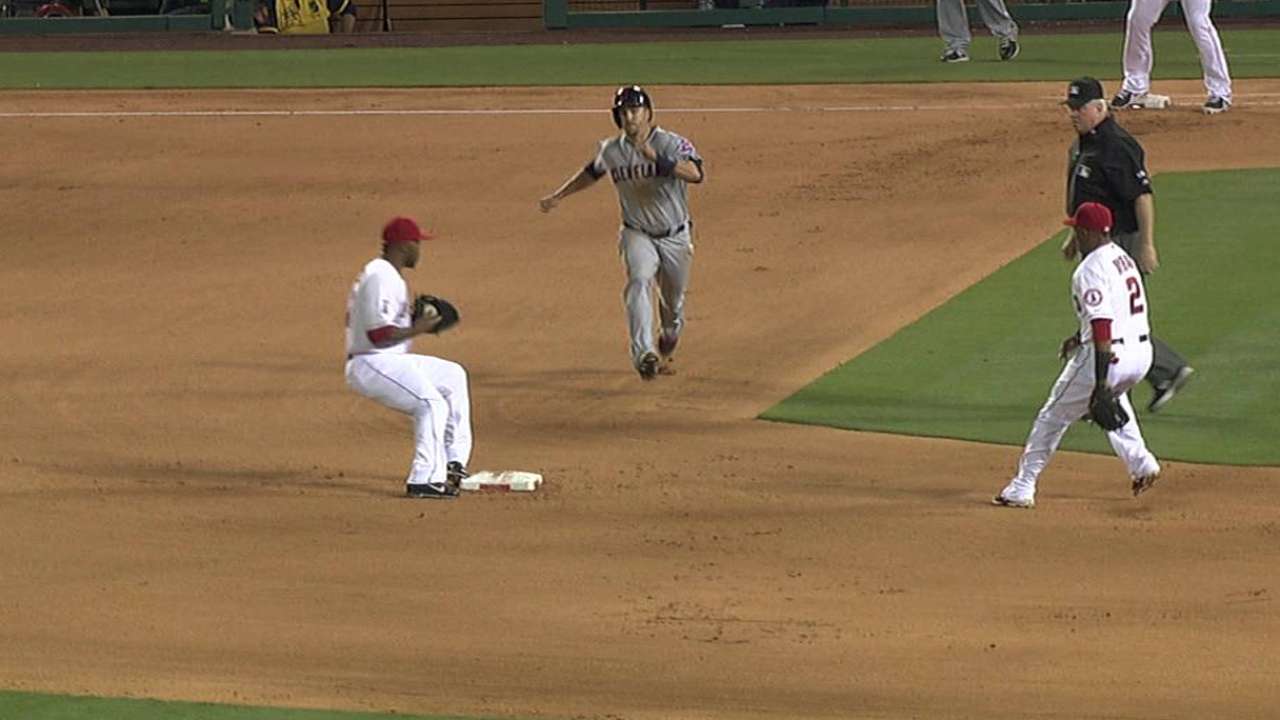 ANAHEIM -- As Jason Kipnis ran out of the batter's box and up the first-base line in the fourth inning Tuesday night, the All-Star second baseman felt like someone punched him in the back. This entire road trip for the Indians has felt like a punch to the gut.
"We've got, really, not much going for us," Kipnis said.
The sharp pain that Kipnis felt turned out to be a right abdominal strain, forcing him to leave an already scuffling offense behind for the trainer's table. Cleveland fought on, but the club could not avoid a 6-4 loss to the Angels, who dealt the Tribe its fifth straight loss with one game to go in this two-city swing through San Francisco and Anaheim.
Starter Corey Kluber bent too far in a stress-filled outing, shortstop Asdrubal Cabrera made another costly error for Cleveland's infected defense and the offense could not keep up with Los Angeles. Losing Kipnis as well added injury to insult, making a bad trip even worse for the Tribe.
"Kip's obviously a huge part of what we do," Kluber said. "Hopefully it's not something too serious. Hopefully it's one of those things where, we had guys go down last year, and we had guys fill in and step up to kind of help out while they were out."
Kipnis -- Cleveland's offensive sparkplug -- felt a jolt in his right side and back on a swing that resulted in a double-play groundout against Angels right-hander Jered Weaver in the fourth inning. The second baseman ran up the line, slowed as he approached first base and could be seen grabbing at his side in obvious discomfort.
"It knocked the wind out of me," Kipnis said. "I couldn't really breathe while I was going down to first base. It wasn't letting go."
While Mike Aviles took over for Kipnis in the field the following inning, Cleveland's star second baseman was in the training room receiving treatment. He is hoping to avoid a trip to the 15-day disabled list, but it seems fair to assume he will miss at least a handful of games. For now, the Indians plan on re-evaluating him Wednesday morning.
"The training staff is hopeful that it's more of a cramping-type thing," Indians manager Terry Francona said. "We'll know a lot more when he shows up [Wednesday] and he doesn't have the adrenaline of the game going and he's had a chance to sleep. We'll know a lot more then."
What Cleveland knows right now is it needs to right its ship.
Many of the issues that have plagued the Tribe through its 11-16 start were present again in the latest loss to the Angels.
Kluber lasted on 4 2/3 innings, allowing 15 baserunners in that span, including an uncharacterictic four walks. The right-hander walked a tightrope for much of the night before Howie Kendrick's two-out, two-run single with the bases loaded in the fifth put Cleveland down, 4-0. Cabrera's fielding error (the American League-leading 25th of the season) paved the way for one L.A. run in the fourth.
The Angels added two insurance runs off the Indians' typically sound bullpen.
Offensively, Carlos Santana launched a two-run home run off Weaver, but that was the only damage done against the righty in his 5 1/3 innings for the Halos. Michael Brantley snapped out of an 0-for-17 slump with a double in the sixth and added a run-scoring sacrifice fly in a two-run seventh, but that was the extent of Cleveland's push.
The Indians went 2-for-8 with runners in scoring position, stranding nine and coming up empty with the bases loaded in the sixth inning.
"Right now, if you look at it, we're trying to stay afloat," Kipnis said. "The offense isn't working. The starters were struggling for a while. The 'pen's been doing great, but the defense hasn't been helping out. When you've got none of those three things working, you've got to try to stay afloat, stay around .500 and kind of just stay in the hunt until you can kind of get that hot streak.
"That's when you've got to make your move. As long as we can stay afloat while we're struggling to get things going, I think we're OK with that."
Consider this just one of those stretches in a long season when things just are not going a particular team's way. Look no further than the first inning, when Lonnie Chisenhall launched what might have been a home run, but Angels center fielder Mike Trout snared it at the top of the wall with an impressive leaping catch.
In the fifth, Cleveland looked to have an inning-ending double-play, but Angels manager Mike Scioscia challenged the out call at first (J.B.Shuck did indeed beat the throw), the ruling was overturned and L.A. went on to score two runs. In the eighth, when Michael Bourn grounded into a double-play to end the inning, Francona challenged, but the ruling stood as called.
That is how things have been going lately for the Tribe.
Kipnis was quick to remind that last year's team, which featured many of the same players as this season's group, weathered plenty of rough stretches throughout the 2013 Wild Card-clinching campaign. That is something the current Indians club can lean on right now.
"You know the ups and downs that come with this team," Kipnis said. "You know that we're streaky. We can get as hot as cold with anybody. Yeah, we're going through a little rough patch right now. We went through worse rough patches last year. Fortunately, it's early right now."
The Indians can only hope Kipnis' injury does not extend the team's struggles.
"It doesn't help," Francona said. "He's obviously a huge part of what we do. We're just going to have to keep our fingers crossed that he shows up [Wednesday] and doesn't feel worse. That would be a very good sign."
Jordan Bastian is a reporter for MLB.com. Read his blog, Major League Bastian, and follow him on Twitter @MLBastian. This story was not subject to the approval of Major League Baseball or its clubs.