Padres shut down by Giants' fill-in Petit
San Diego unable to take advantage of Cain's late scratch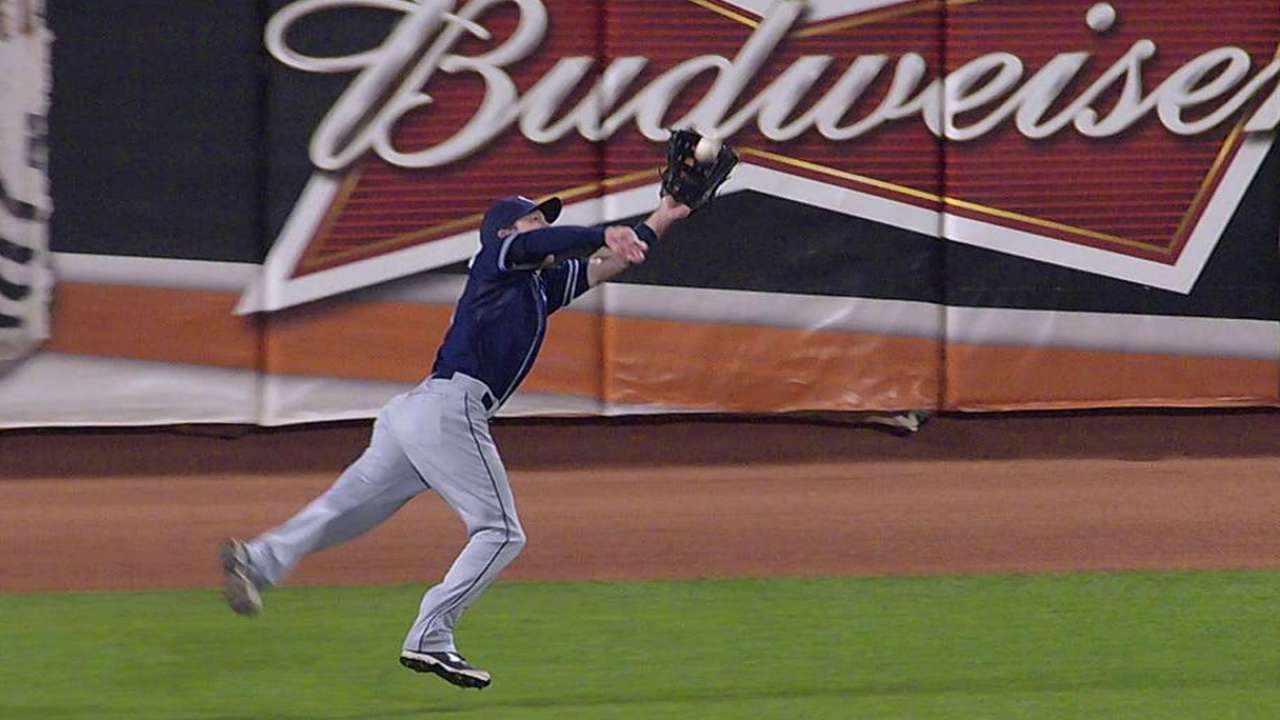 SAN FRANCISCO -- Things were supposed to get easier for the Padres when Giants righty Matt Cain was scratched from Tuesday night's start about an hour before first pitch due to a cut right index finger.
Someone forgot to tell Yusmeiro Petit.
San Francisco's emergency starter outclassed southpaw Eric Stults and San Diego's bats went cold again in a 6-0 loss at AT&T Park.
Even though his team spent most of the day preparing for Cain, Padres manager Bud Black didn't use the late switch as an excuse for the poor performance at the plate.
"I don't think it's tough. Players are conditioned to adjust on the fly," Black said of the pitching change. "We've faced Petit before; he's been around the league for over three years. Our guys know who the opposing pitchers are. We were informed during batting practice, so there's a good hour for our players to readjust. That's part of what players do -- constant mental adjustments today as it unfolds."
Cain suffered his injury in the clubhouse kitchen after batting practice while mishandling a knife. Pressed into starting duty, Petit went on to toss six shutout innings, needing just 72 pitches to complete his outing.
"I don't know this fellow, but I assume it didn't faze him," Black said of Petit. "Based on looking at him from the other side, he looks calm and poised. This guy's a Major League pitcher and he pitched a good game."
Meanwhile, Stults didn't make it out of the third inning. It was clear early on that he didn't have his best stuff. Giants leadoff man Angel Pagan took advantage of a high fastball in the middle of the plate for a homer in the first, before Buster Posey connected on a hanging curveball for another solo shot to make it 2-0 San Francisco after one inning.
Stults continued to get hit hard until the Giants chased him from the mound with a two-run single by Hector Sanchez and an RBI single by Brandon Crawford with two outs in the third. The outing was the shortest of the season for Stults (1-3, 5.34 ERA), who gave up five runs on seven hits and two walks while striking out one.
"Tonight I felt like I didn't execute many pitches down in the zone," Stults said. "I knew they were probably going to be aggressive. They usually come out swinging early."
Stults said he felt like he was "one pitch away" from getting out of the third after retiring the hot-hitting Michael Morse on a 1-2-3 double play, but he couldn't put away Sanchez or Crawford.
"I thought Hector Sanchez's at-bat was the key," Giants manager Bruce Bochy said. "They were on the verge of getting out of the bases-loaded situation when Morse hit into that double play. Hector came through for us. If they get out of the inning, it's still a two-run game and they get a lift."
Once Stults left the game, longman Donn Roach turned in a sterling relief effort, allowing an unearned run on two hits while saving the bullpen. Alex Torres pitched the eighth for the Padres, but San Diego's relief corps should be in good shape for the series finale on Wednesday thanks to Roach.
Black went so far as to call Roach a "savior" for his effort.
"That's my role right now -- being the long guy," Roach said. "That's when I come in, when unfortunately something happens to the starter. I was fortunate enough to play my role today."
Meanwhile, Petit was perfect through his first three frames and faced just two batters over the minimum. He allowed three hits, walked none and struck out four in an outing made all the more impressive given the circumstances.
Everth Cabrera and Chris Denorfia each hit futile singles in the fourth, but San Diego's most memorable hit came from Roach, who drilled a double into right field in the sixth on the only big league pitch he's seen from the batter's box.
"That was one of the hardest balls we hit all night," Black said.
The contest also marked Yasmani Grandal's first start at first base. And while the catcher didn't make any highlight plays, he didn't have any miscues, either.
"I thought he did a fine job," Black said. "Footwork was, at times, a bit unorthodox ... but he didn't look out of place."
Just 24 hours after putting up a season-high six runs, the Padres were shut out for the fourth time. San Diego (13-15) has averaged just 2.68 runs per game, the lowest mark in the Majors.
Alex Espinoza is a contributor to MLB.com. This story was not subject to the approval of Major League Baseball or its clubs.