After three delays, Hamilton, Heisey bring Reds back
Clutch hits help righty Simon earn fourth win in five starts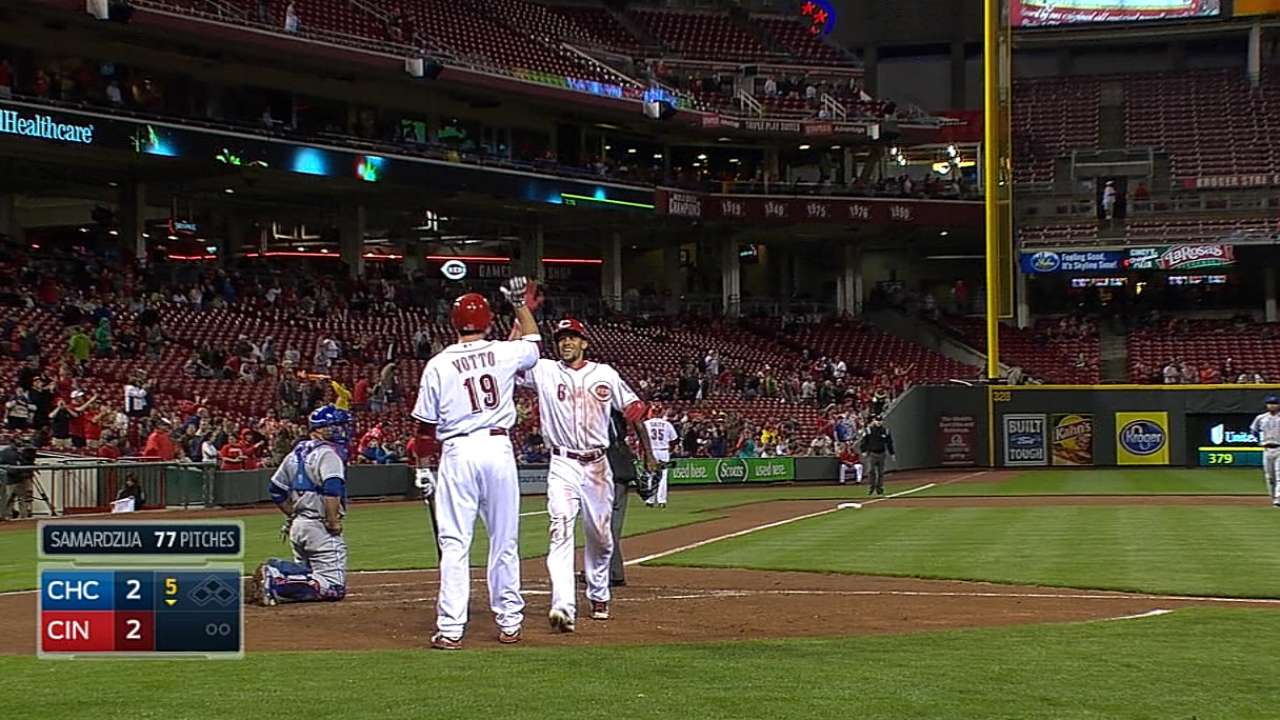 CINCINNATI -- A home run or a pair of infield hits -- which would Billy Hamilton rather have? For the Reds' rookie center fielder and leadoff man, it was no contest.
"Two infield hits, any day. That's my game," Hamilton replied.
On a wet and rainy Tuesday night, Hamilton got all of the above. He reached base four times with two infield singles, a walk and a game-tying first career big league home run during the Reds' 3-2 victory over the Cubs at Great American Ball Park.
Pinch-hitter Chris Heisey's RBI single in the bottom of the sixth inning was the difference maker that snapped the 2-2 tie in a game delayed three different times for a total of one hour and 45 minutes.
Reds starting pitcher Alfredo Simon completed six innings with two runs and five hits while he walked two, hit a batter and struck out five as the Reds snapped a three-game losing streak.
Simon improved to 4-1 with a 1.60 ERA in five starts as he continues to dazzle on the mound in place of injured starter Mat Latos. But he also had to work through some jams, including a 26-pitch third inning where he allowed three hits and a walk. Starlin Castro's two-run single up the middle gave Chicago a 2-1 lead.
"He got a little erratic there and fought his way through," Reds manager Bryan Price said. "That, to me, is the sign of his development. He's gotten himself into some sticky spots early in the game and he's pitched through and kept himself in the ballgame."
It was Simon's first start since news broke on Friday that a woman filed a civil suit against him in Washington, D.C., Superior Court alleging that he sexually assaulted her last year.
First pitch was pushed back by 19 minutes, while the second delay halted play for 15 minutes during the top of the fifth. The third delay lasted one hour and 11 minutes, and this all came after Monday's originally scheduled series opener was postponed by rain.
Wet conditions did not slow Hamilton or prevent him from sparking the team offensively.
Hamilton began the Reds' first inning against Jeff Samardzija with a walk, then stole second base. He took third base on a wild pitch to Joey Votto and scored the game's first run on a Brandon Phillips sacrifice fly.
In the bottom of the fifth, with Cincinnati trailing by one run, Hamilton led off and drove a 1-1 Samardzija pitch into the right-field seats for a no-doubt homer.
"It wasn't one of those wall-scrapers," Hamilton said.
"Especially coming out of that rain delay, I should have taken more time to warm up and I threw it in a spot where he could handle it," Samardzija said. "He's a pretty good hitter. I left it up and in where he wants it, and he put it over the fence. It happens. It was obviously an inopportune time for it. He put a good swing on it and did a good job."
Hamilton hit 13 homers in 502 Minor League games and had one homer for the Reds this year in Spring Training.
"It's nice to know the power is there. The power can be seductive too at times," Price said. "The thing is, I've never seen Billy try to hit the ball out of the ballpark and give away at-bats trying to get the ball into the air. He's been very cognizant of really trying to stay on top of the ball and trying to shoot line drives and hard groundballs through the infield."
Samardzija had two outs in the sixth when Zack Cozart hit a liner to right-center field. Right fielder Ryan Kalish took a poor route to the ball and let it go through to the wall as Cozart motored to third base with a triple.
Pinch-hitting for Simon, Heisey came through with an RBI single on the ground past third baseman Luis Valbuena that put the Reds ahead. On April 2, Heisey won a game with a pinch-hit walk-off RBI single to beat the Cardinals. As a pinch-hitter on April 13 vs. the Rays, he hit a grand slam.
Hamilton followed Heisey with his second infield hit before the third and final rain delay. When play resumed, the Reds bullpen trio of Logan Ondrusek, Sam LeCure and closer Jonathan Broxton each worked a scoreless inning. Broxton earned his fifth save.
Through 25 games, Hamilton is batting .244 with 10 steals in 15 tries. His on-base percentage is still low at .281, but he has shown some of the catalyst moments the Reds hoped he would provide this season.
"I come here every day and try to do something good for the team to help them out," Hamilton said. "When I started the season, I didn't have my mind right. But today, I walk on to the field and get something out of the game -- whether it's a sac fly, a stolen base, a big run and not just hitting, I want to learn something new."
Mark Sheldon is a reporter for MLB.com. Read his blog, Mark My Word, and follow him on Twitter @m_sheldon. This story was not subject to the approval of Major League Baseball or its clubs.