Samardzija remains winless after rain-soaked loss
Castro's two-run single in third all Cubs offense can muster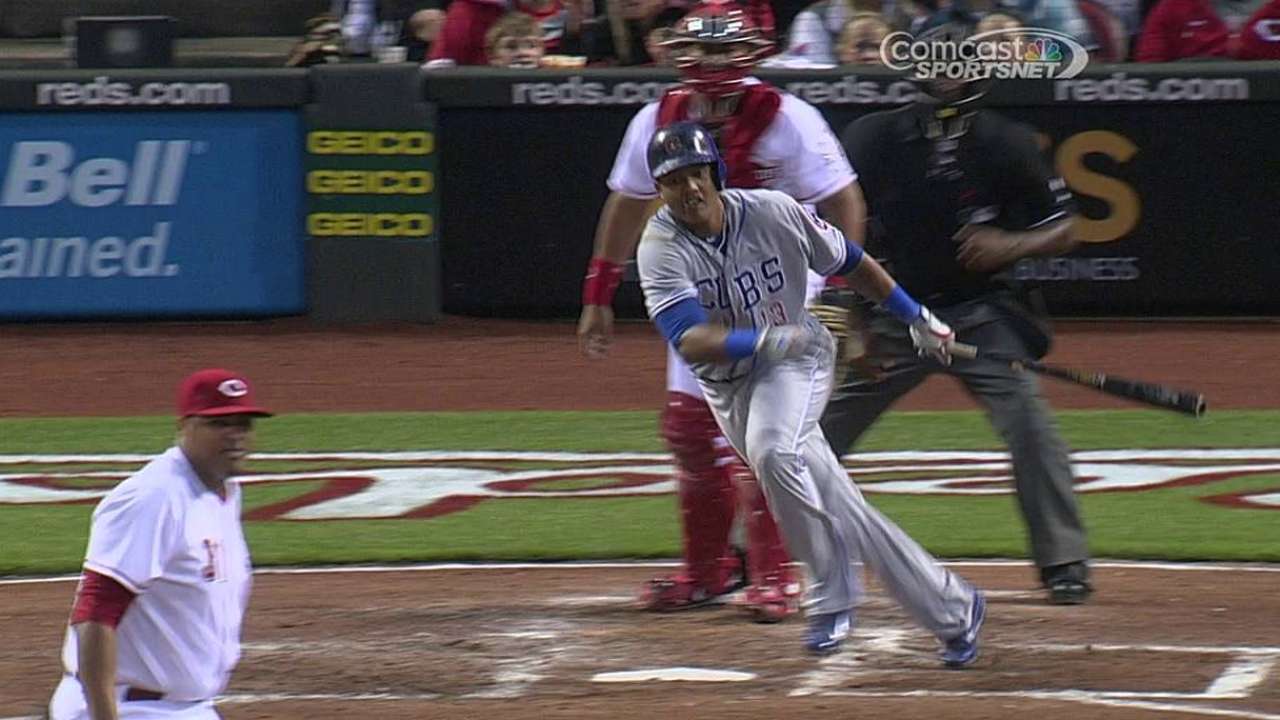 CINCINNATI -- On a rainy, cold Tuesday night at Great American Ball Park, neither the Cubs nor Reds were certain this game would ever reach completion. When it finally did, the Cubs were on the wrong end, having fallen short of getting their ace pitcher a win while dropping a 3-2 decision.
By the time this one ended, Reds rookie outfielder Billy Hamilton had his first career home run, manager Rick Renteria had his second career ejection and the teams had sat through three rain delays.
And, it was almost Wednesday.
Continuing to go "by the numbers": consider Cubs starting pitcher Jeff Samardzija, who has made six attempts this year, all for one win, all unsuccessful. He absorbed the loss in this one, allowing three runs over 5 2/3 innings, running his record to 0-3 and stretching his winless streak -- which started last August -- to 12 games.
It wasn't a great start, but it was a decent one, and one Samardzija had no desire to blame on the rain.
"The conditions were fine," he said. "The grounds crew did a great job with the field. You're just up and down, up and down, up and down. It kind of played into my wildness a little bit."
This game marked the first time this season that Samardzija didn't record a quality start, which requires six innings pitched and three runs or fewer allowed. He walked the first two batters he faced in the first before yielding a run on a Brandon Phillips sacrifice fly. In the fifth, Hamilton led off with a line drive homer into the right-field stands, tying the game at 2.
The early walks bothered Samardzija more than the home run.
"I thought I threw pretty good, but sometimes you're just trying to be too fine," he said. "Especially early in the game -- the leadoff walk, that can't happen. It wasn't any missed calls or anything. It was just me putting Hamilton on, it just starts the game off on a bad note."
Samardzija worked into another jam in a rain-soaked sixth after recording quick outs on Ryan Ludwick and Brayan Pena. Zack Cozart tripled and scored on a single by pinch-hitter Chris Heisey -- just before the skies reopened and delayed the game a third time, for more than an hour.
Samardzija entered this game with an odd distinction that confirms his winless start to this season has been more about bad luck than anything related to performance. It certainly can't be blamed on his pitching, which has been more than good enough to merit a couple of wins.
More than 100 years have passed, according to Elias, since a starting pitcher has made five starts, pitched seven innings or more in all of them, given up two earned runs or fewer in each and had no wins.
The Cubs offense could muster just two runs behind Samardzija, both of which came on Starlin Castro's two-run single in the third inning.
Samardzija, shrugging off any questions about the winless streak becoming irksome, also was nonchalant when asked if he remembered the last time he did record a win after a start.
"I couldn't tell you the time, but I'm just looking forward to the next time," he said. "It's a next opportunity to get a win and you learn something from this outing, come out next time and do what you have to do to get a win."
(For the record, his last win was Aug. 24 of last year. He beat the Padres in San Diego.)
The side show to this game was the incessant amount of rain delays, totaling one hour and 45 minutes. The first delay, which occurred prior to the start of the game, lasted 19 minutes. The second one began at the top of the fifth, but lasted only 15 minutes, which allowed both starting pitchers to resume their mound duties once the tarp came off the field.
"We got word it was going to be a quick run through, but we didn't know how long it would take," Samardzija said. "I just hopped on the bike and stayed warm. I felt good. It was just one of those days -- a wild day."
The final delay, in the sixth inning, was the whopper: one hour, 11 minutes, and it was still raining when play resumed.
"It was starting to subside," Renteria said. "[The umpires] had a real good idea that it was allowing us a window to continue to play. They're pretty good here with the weather. When they pulled us off the first time they were right in sync with what was coming. Everybody wants to get that game in, finish it out. We were just as anxious to continue playing as the Reds were."
The loss, however, guaranteed that the Cubs will close out April without a series win. They've lost seven series and split one. The best they can do in this series with the Reds is split, if they win on Wednesday.
"Today was a 3-2 ballgame," Renteria said. "I think if we keep edging forward at some point, those will start to come. Hopefully they come in bunches, but right now we really do think about how we play one day at a time. Try to figure out to do anything we possibly can to allow us opportunities to score more runs and take advantage of the pitching we're getting, because we are getting really good pitching."
Alyson Footer is a national correspondent for MLB.com. Follow her on Twitter @alysonfooter. This story was not subject to the approval of Major League Baseball or its clubs.