Wood's rematch effort falls flat as Braves drop opener
Lefty allows career-high seven runs in second duel with Fernandez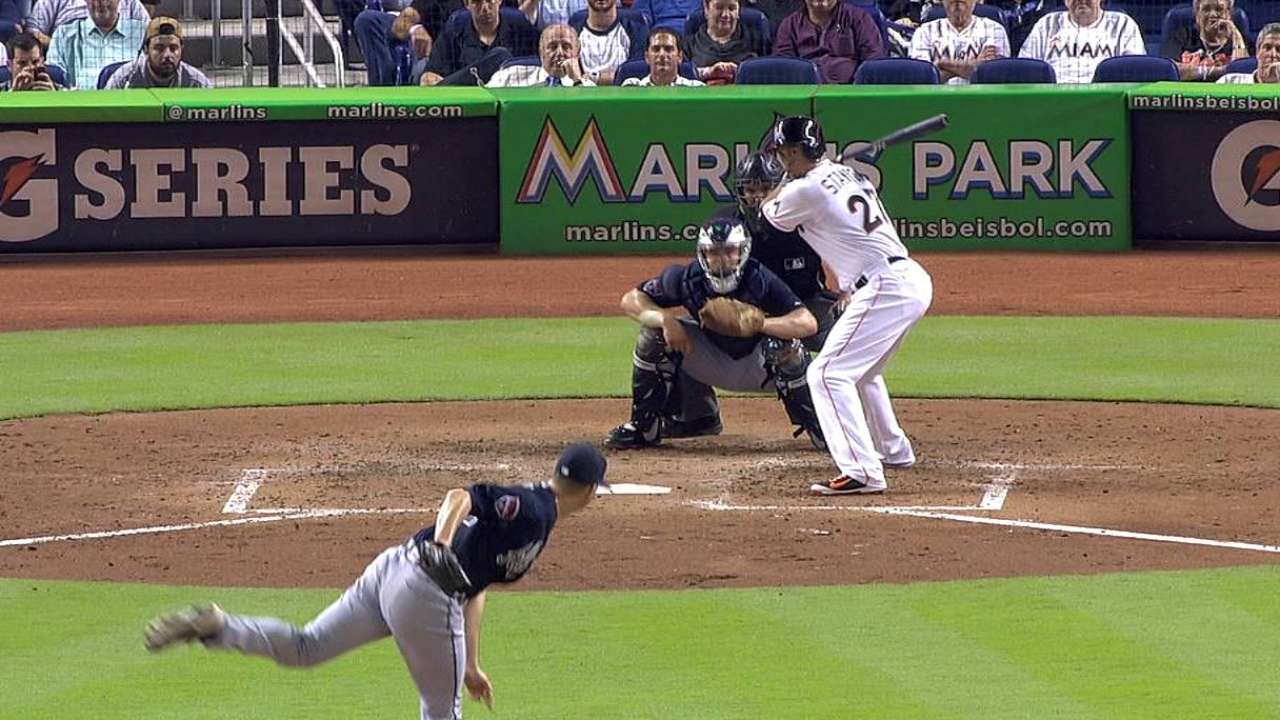 MIAMI -- Like so many other sequels, Alex Wood vs. Jose Fernandez Part II was not nearly as thrilling as the original battle that was staged last week. As Fernandez extended his mastery of the Braves, Wood endured an outing that proved to be much more painful than the tough-luck losses he had suffered in his two most recent outings.
After he and Fernandez combined for 25 strikeouts during last week's initial showdown in Atlanta, Wood exited the enthralling pitchers' duel and said "that's about as much fun as it gets for me."
Wood had a much different opinion after he endured one of the ugliest starts of his blossoming career and watched Fernandez have his way with a makeshift lineup while leading the Marlins to a 9-0 win over the Braves on Tuesday night at Marlins Park.
"You can't really make a whole lot of mistakes," Wood said. "It's safe to say there were a whole lot of mistakes made by me tonight. A few, I wish I had back. But that's baseball."
It was the same sport, but a much different game than these two young pitchers had created with the stellar eight-inning performances they had completed against each other exactly one week earlier. Once the Marlins completed a five-run sixth inning, Wood found himself charged with seven earned runs and 10 hits in just five-plus innings. He notched just two strikeouts, nine fewer than the career-best total he compiled while holding this same Miami lineup to one run over eight innings last week.
"There were a lot of balls over the middle of the plate," Braves manager Fredi Gonzalez said. "That's uncharacteristic of Woody. I'll chalk it up to just one of those starts after three or four really, really good ones. They just got some balls over the middle of the plate and they got hits with some guys on base."
The 23-year-old Braves southpaw had allowed just six earned runs in the 35 innings that had encompassed his previous five starts this year. He had suffered 1-0 losses after lasting eight innings in both of his two most recent starts, matchups against Fernandez and Philadelphia's A.J. Burnett.
"When you face the same guy twice in one week, sometimes you can get to that guy," Braves first baseman Freddie Freeman said. "But it's just one start for Alex. You just need to put that behind you and move on. They got some balls in play and got a rally going. Once they got one, it seemed like that was all Jose needed."
After watching Fernandez notch 14 strikeouts in Atlanta, Braves manager Fredi Gonzalez chose to sit Justin Upton, B.J. Upton, Chris Johnson and Dan Uggla with the hope that the addition of left-handed and contact hitters would lead to better results against the Marlins' ace.
Fernandez might not have been as statistically overpowering as he recorded just eight strikeouts in this sequel. But the 21-year-old right-hander proved every bit as effective as he surrendered two hits and matched the eight scoreless innings he produced in the original battle against Wood.
Through his first four career starts against the Braves, Fernandez is 3-1 with a 0.93 ERA. His lone loss came on Aug. 31, a 2-1 setback determined by Freeman's two-run, first-inning home run. Since then, he has allowed one run in 28 innings against Atlanta.
"We've got to figure out a way to beat Fernandez," Gonzalez said. "Not everybody is Cy Young. You still have to beat Cy Young every once in a while."
The Braves' best scoring opportunity came in the third inning when Tyler Pastornicky walked and advanced to third base on Jason Heyward's two-out single. But Fernandez thwarted this threat when he fielded Ramiro Pena's slow roller up the third-base line and then pumped a throw to first base. Pastornicky bit on the fake and was called out on a close play at the plate.
"That's a great play," Marlins manager Mike Redmond said. "That's an instinctual play. He knew that he didn't have a play at first. He took advantage of the baserunner being aggressive, and that's exactly what the baserunner is going to do. As soon as he throws it, he's going to score. It's a great play."
Wood recorded seven flyball outs his first time through the lineup, and then started to pay the price for leaving pitches up in the zone. Christian Yelich tripled off the left-center-field wall with two outs in the third and then scored when Ed Lucas recorded an RBI single that might have been an out had Justin Upton been playing left field instead of Ryan Doumit. Giancarlo Stanton followed Lucas' single by drilling a curveball over the right-center-field wall for a two-run home run that gave him a franchise-record 31 RBIs in April.
"It was a hanging breaking ball," Wood said. "I tried to go backdoor breaking ball. A guy that strong, even if he hits it off the end of the bat, he's going to put it up in the air. If you make a mistake with something like that, he's probably going to put it out of the ballpark. You can't really afford to make mistakes up here, much less make a mistake to a guy like that."
Wood's night came to an end when he allowed each of the four batters he faced in the sixth inning to reach safely. Casey McGehee drew a leadoff walk ahead of a Jarrod Saltalamacchia double. Marcell Ozuna followed with a two-run single moments before a Jeff Baker RBI single sent Wood to the clubhouse much earlier than he had hoped.
"I didn't really have good breaking ball command and there were obviously a lot of balls left over the plate," Wood said. "They made some adjustments from last week. I think any time you make back-to-back starts against a team that swings it well at home, that's tough in itself."
Mark Bowman is a reporter for MLB.com. This story was not subject to the approval of Major League Baseball or its clubs.