Fernandez delivers repeat stellar performance in rout
Ace tosses eight shutout frames in second straight start vs. rival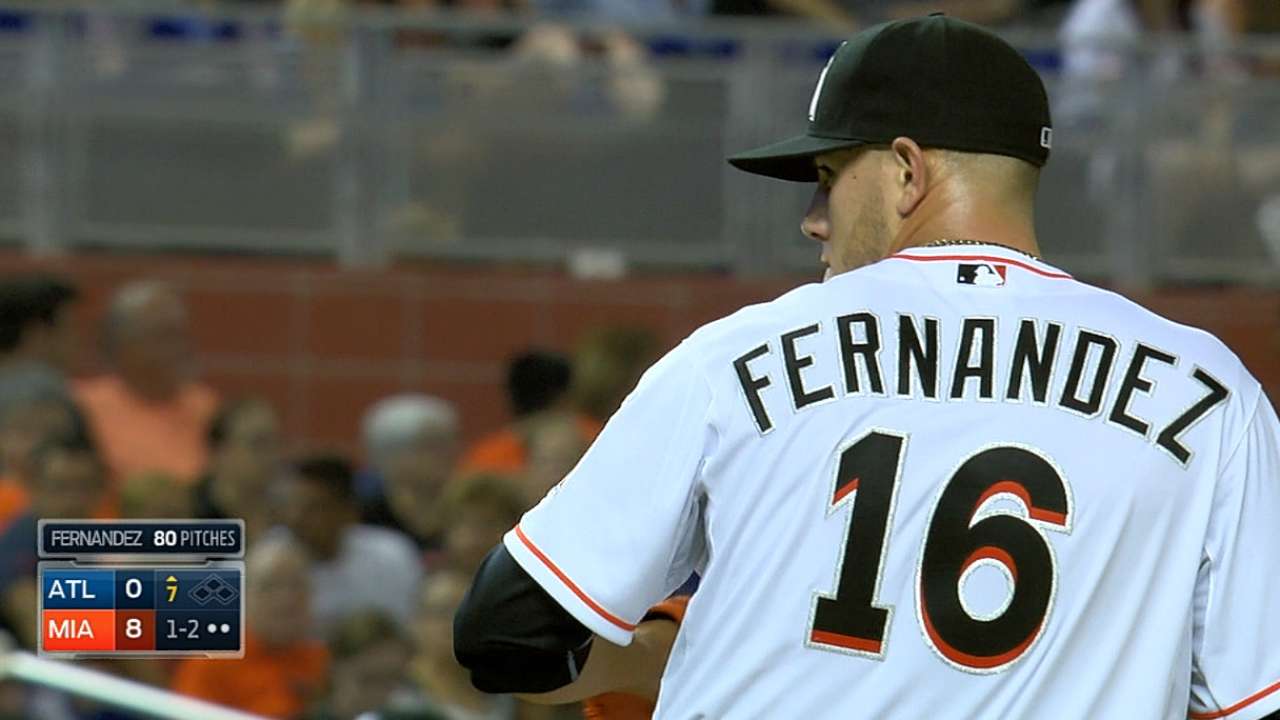 MIAMI -- With ample run support, Jose Fernandez didn't have to go K-crazy on Tuesday night in the Marlins' 9-0 rout of the Braves at Marlins Park.
Instead, Fernandez efficiently cruised along for eight innings, allowing two hits while striking out eight in the rematch with Atlanta lefty Alex Wood.
Tuesday night was billed as a rematch of the brilliantly-pitched, 1-0, Miami win at Atlanta on April 22. Fernandez struck out 14 that night, while Wood fanned 11.
After the Marlins broke the game open with five runs in the sixth inning, the only drama was whether Fernandez would get a chance to toss his first complete big league game. But at 98 pitches, and because Carlos Marmol hadn't pitched since last Wednesday due to a sore right hamstring, the ace didn't come out for the ninth.
"I think, had that game been 3-0, I would have left him out there," Marlins manager Mike Redmond said. "But 9-0, at 98 pitches, he did his job. Plus, we needed to get Marmol in there after his sore hamstring, and make sure he was OK. It seemed like the perfect situation to get him in there. Jose did a great job."
It's becoming common that whenever Fernandez is on the mound, something special could happen, especially at Marlins Park, where the 21-year-old is 12-0 lifetime in 19 starts with a 1.00 ERA.
"My mind is just going out there and getting the hitter out," Fernandez said. "Throwing a pitch and pitch, that's my goal, and hopefully keep my team in the game. The biggest part of the game was the hitters. They scored a bunch of runs and that's always good when we're playing home."
According to STATS LLC and Elias, Fernandez is the second pitcher in the Modern Era to go undefeated in his first 19 career starts at home. The other is David Palmer, who did it in 21 starts from 1979-84.
Another benchmark Fernandez reached is not allowing an earned run in his last 21 2/3 innings at home. In his last nine home starts, he is 8-0 with a 0.43 ERA.
In any game, Fernandez never wants to come out, but he understood why he turned the ball over to Marmol, who combined for Miami's fourth shutout. Three of those have been in Fernandez starts, and he is now 4-1 with a 1.59 ERA.
Postgame, Fernandez was smeared with a pie to the face, and after that he spent time on the field signing autographs.
"Obviously, I didn't want to come out," Fernandez said. "I always want to keep pitching. I thought today was going to be the day [for a complete game], but this is a team. Everybody gets their work done."
High strikeouts were the order of business at Turner Field a week ago. But in the series opener at Marlins Park, the Braves had an aggressive plan early in the count, and it resulted in early contact and often soft outs.
Miami, meanwhile, tagged Wood for seven runs on 10 hits in five-plus innings.
Giancarlo Stanton blasted a two-run homer in the third inning, and Miami broke the game open with five runs in the sixth inning. Marcell Ozuna had a two-run single in the inning, and Fernandez chipped in with an RBI single.
In the seventh inning, Jarrod Saltalamacchia belted a solo homer off Anthony Varvaro.
"We only needed one [run]," said Stanton, who belted his eighth of the season. "Three would have been fine. We put on a few more and kept going."
Fernandez's night ended following an eighth inning in which he struck out the side in order. Pitch No. 98 caught Jason Heyward looking.
The Marlins racked up 13 hits and improved to 10-4 at Marlins Park.
With 31 RBIs, Stanton established a franchise-record for March/April. Moises Alou held the mark with 30 in 1997.
"It's pretty cool, actually," Stanton said. "It's just April. We've got to keep it going."
The Marlins broke through with three runs in the third inning, powered by Stanton's opposite-field, two-run homer. The damage came with two outs, when Christian Yelich snapped an 0-for-12 slide with a triple to center. Ed Lucas lined an RBI single to left, and Stanton provided a bit of breathing room with his eighth homer of the season.
About the only thing Fernandez didn't do well was hustle out a ground ball to short in the sixth inning that was bobbled by Andrelton Simmons.
"That's probably a conversation tomorrow," Redmond said.
Fernandez noted that he thought it was a routine play, and he slowed down. Once the ball was bobbled, he let up, not wanting to risk anything by kicking it into gear halfway up the line.
"I thought it was an easy ground ball, and came out of the box hard," Fernandez said. "I saw he missed it, and I wasn't going to gear up and something would happen and we don't need that. We need me on the mound."
Before Miami got on the board, Fernandez helped himself with a defensive gem to end the top of the third inning. Tyler Pastornicky drew a one-out walk, snapping a string of 18 straight innings without yielding a free pass. With two outs, Heyward's double put runners on second and third.
Ramiro Pena tapped a slow roller down the third-base line. Fernandez fielded it, and faked as if he would throw to first.
Pastornicky took off for home, and Fernandez -- after missing on his swipe tag attempt -- flipped to catcher Saltalamacchia, who applied the tag. Braves manager Fredi Gonzalez discussed with home-plate umpire Manny Gonzalez if a tag was applied late or if the Miami catcher was blocking the plate.
Atlanta opted not to challenge.
"He's a pretty savvy guy off the mound," Gonzalez said. "I don't think he had a play on Pena at first base. He thought maybe with a fake, Tyler would bite and he did. I think it was a pretty good heads-up play by Fernandez."
Joe Frisaro is a reporter for MLB.com. He writes a blog, called The Fish Pond. Follow him on Twitter @JoeFrisaro. This story was not subject to the approval of Major League Baseball or its clubs.