Hamels off his game in home debut vs. Mets
Lefty allows six runs over just 4 2/3 innings in rain-soaked opener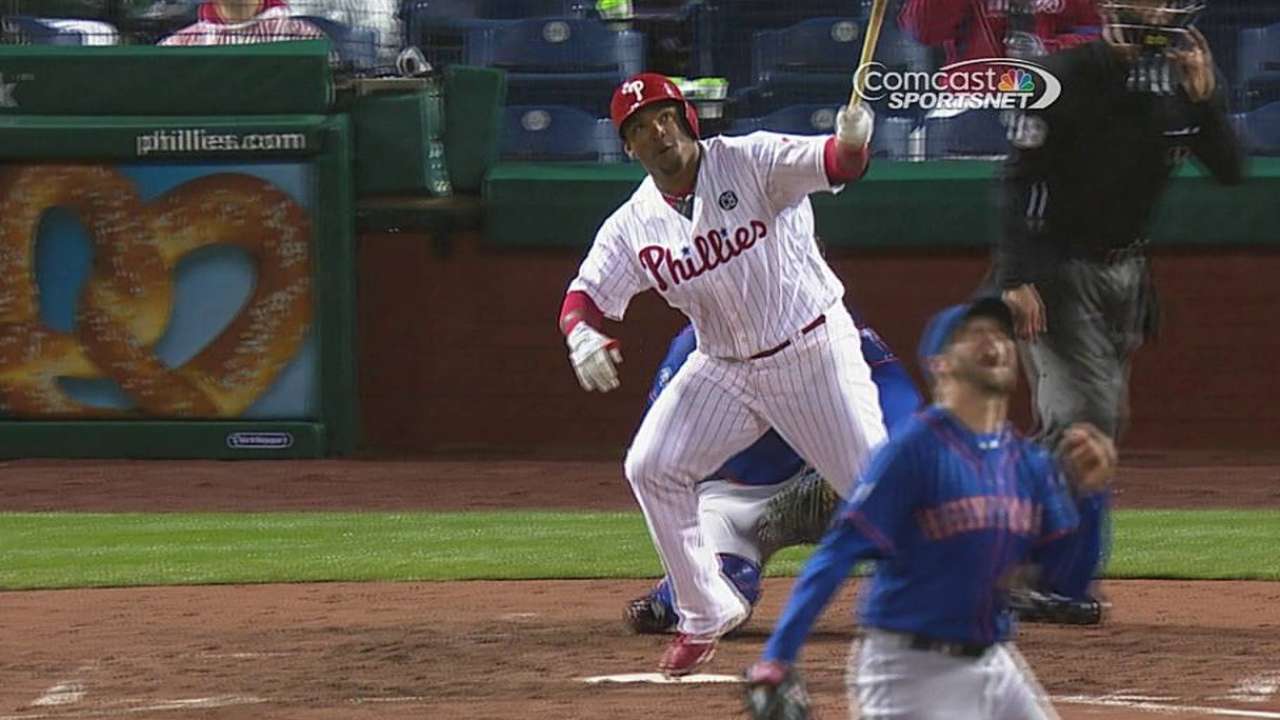 PHILADELPHIA -- It rained hard at times, if not constantly, Tuesday night at Citizens Bank Park. The wind blew even harder with the first-pitch temperature a chilling 46 degrees.
Cole Hamels had to wait 1 hour, 28 minutes to throw that first pitch because of a rain delay. His night only got worse from there in a 6-1 loss to the Mets.
"From my standpoint, I'm truly embarrassed," he said.
He suffered his worst start in nearly three years, allowing eight hits, six runs, five walks, one hit batter and striking out three in 4 2/3 innings against a team that seems to have his number. He is 7-14 with a 4.65 ERA in his career against the Mets. The 14 losses are his most against any team. The ERA is his highest against any current National League team.
"It's an embarrassment because I'm not allowing my teammates to get into the game when you're walking that many guys and allowing the runs to score, you don't give your team a chance to win in that case," Hamels said. "The fans that even stayed today, it's pretty embarrassing because the type of game that I pitched, it's not the type of game I'd like to credit myself on."
The Mets only had a 1-0 lead entering the fourth inning when the bottom dropped on Hamels.
Actually, he said his problems started earlier.
"I was starting to miss locations and not being able to grip any of my pitches, not even my fastball," he said. "And that's the thing we focus so much on in Spring Training and during the season. To being able to grip a four-seam fastball, that's what we work on and I wasn't able to do it -- let alone trying to move to another pitch that I could get away with. I wasn't able to throw any of them."
It showed.
Hamels retired David Wright to start the fourth, but walked Chris Young and Curtis Granderson in succession to put runners on first and second with one out.
He allowed a single to Josh Satin to score Young to make it 2-0.
Hamels then walked Ruben Tejada to load the bases and walked Jonathon Niese to scored Granderson to make it 3-0.
It was the first time in Hamels' career he had walked four batters in one inning. It was the fifth time in his career he had walked a batter with the bases loaded.
It was the first time he had walked a pitcher with the bases loaded.
Hamels threw 37 pitches in the fourth inning.
Just 15 were strikes.
"I've never seen Cole that erratic, and I'm sure a lot of it was the conditions, and it being early in the year because he missed so much Spring Training," Mets manager Terry Collins said. "But he'll be fine, I'm sure."
Marlon Byrd's homer to left in the bottom of the fourth made it just 3-1. It would be Niese's only run allowed in seven innings.
Hamels, who is 1-5 with an 8.33 ERA in his last six starts against the Mets at Citizens Bank Park, continued to struggle with his command in the fifth, allowing three more runs. The final three batters he faced he hit with a pitch, walked and allowed a single to Tejada to score two runs.
"It felt like a cue ball," Hamels said of the baseball. "Today might have been the day to use pine tar. Unfortunately, I don't do that. That might have been the day to learn. It was difficult to grip the baseball and being able to throw strikes and I wasn't able to do that. ... But at the same time, you have to go and compete. I mean Niese was able to deal with it and he was able to get through it just fine. A lot of credit goes to him to be able to do that. You know, just the embarrassment on my side not being able to compete."
It was Hamels' worst start since July 16, 2011, when he allowed seven runs in 4 1/3 innings against the Mets at Citi Field.
"Sometimes you have to battle the elements," Hamels said. "The elements definitely got the best of me today."
Todd Zolecki is a reporter for MLB.com. This story was not subject to the approval of Major League Baseball or its clubs.