Niese overcomes rain, Phillies to take series opener
Southpaw allows one run over seven innings, while striking out five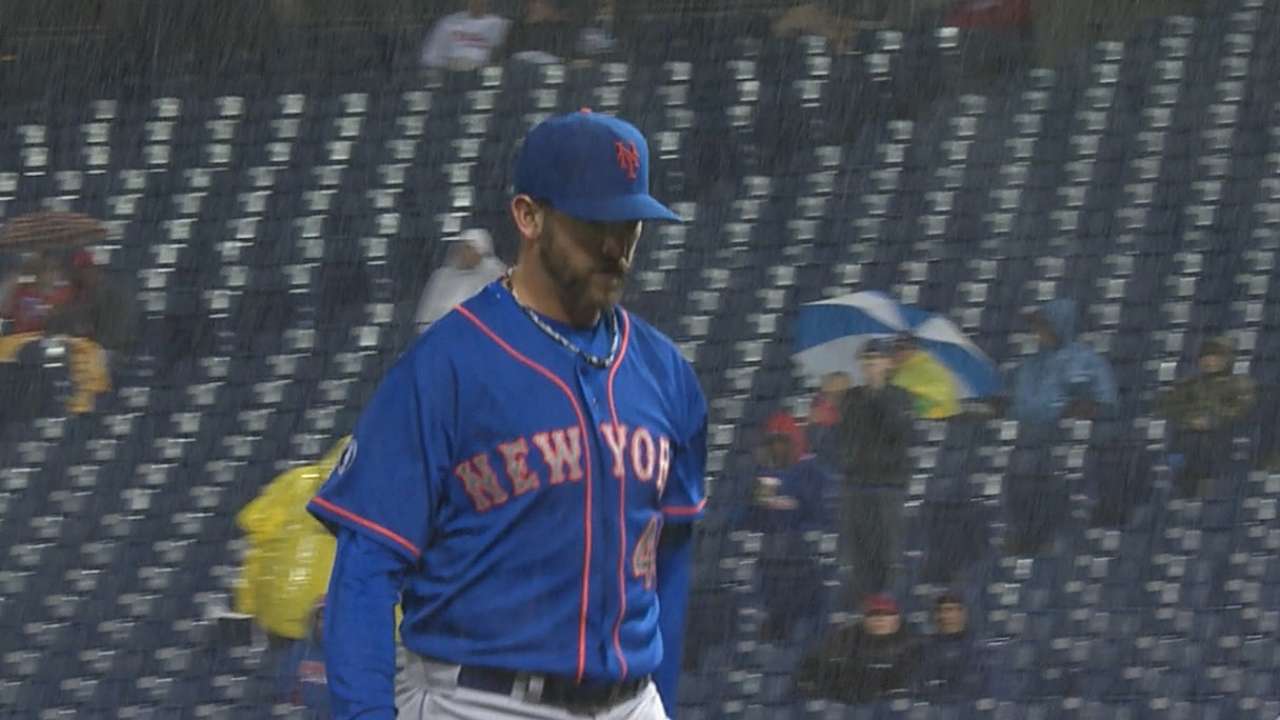 PHILADELPHIA -- Something about the coldest, nastiest conditions appeals to Jon Niese. Something about wind, rain snow, hail, sleet -- whatever, really -- seems to bring out the best in him.
So it was Tuesday, when Niese shrugged off some miserable conditions at Citizens Bank Park to deliver seven strong innings, leading the Mets to a 6-1 win over the Phillies that moved them four games above .500 for the first time since July 14, 2012.
"It's amazing," Mets manager Terry Collins said. "He's done a tremendous job the way he's handled this inclement weather -- not just the cold, but the wet, soft mounds. I'll tell you what, he went out and pitched another great game."
The win also gave the Mets 15 victories in April, their highest total in the season's opening month since 2007.
Much of that was thanks to Niese, who succeeded despite the weather in a way that Phillies starter Cole Hamels could not. Keeping the Phillies off balance with his curveballs and cutters, Niese did not allow his first hit until former teammate Marlon Byrd homered off him with two outs in the fourth. Though he turned relatively mortal after that, giving up three additional hits in seven innings, the Phillies did not score off him again.
"Niese has been effective against us, this club, for a couple years now," said Phillies manager Ryne Sandberg, referring to the left-hander's 3.00 career ERA against the Phillies. "We did hit some balls hard right out of the gate for two or three innings, but didn't have any baserunners on that. He seemed to take that and run with it and really settled in."
Niese did so despite a one-hour, 28-minute delay and a resulting game-time temperature of 46 degrees. The mercury dropped a bit during the game and the actual conditions must have felt even colder than that, considering the steady rain and winds gusting upwards of 20 miles per hour. At certain points, the precipitation reached something close to a downpour, sending fans scattering for cover.
Yet this was nothing new for Niese, who owns a 3.10 ERA over his last seven outings in sub-50-degree weather. Just 11 days prior, Niese had pitched quite well despite nasty conditions at Citi Field in a game against the Braves.
"It seems like the more I pitch in cold weather, the more I figure out how to stay warm," Niese said.
Compare that to Hamels, who struggled mightily with his control for much of the night. Though Hamels opened the game in relatively good form, he walked four batters in the fourth inning alone, including two -- Niese among them -- with the bases loaded.
An inning later, Hamels issued another walk and hit a batter, setting the table for Ruben Tejada's two-run double.
Offense came from all angles for the Mets, who received multi-hit games from Daniel Murphy and Tejada, as well as RBIs from Murphy, Tejada, Niese, Chris Young and Josh Satin. Murphy also extended his streak of stolen bases without being caught to 28, five shy of the franchise record.
"We had good at-bats tonight -- really good at-bats," Murphy said. "It was up and down the lineup."
And it was despite poor conditions for everyone, with more rain waiting for Bartolo Colon and Kyle Kendrick in Wednesday's series finale.
Perhaps Colon can take some tips from Niese, who memorably pitched in frigid conditions last year on the Mets' first road trip through Minneapolis in Denver -- a trip that included three postponements due to wintry conditions. The left-hander performed relatively well in those starts considering the challenge, though Collins hinted later in the summer that the arm trouble that followed -- a partially-torn left rotator cuff that knocked him to the disabled list for two months -- may have stemmed from all his work in the cold.
Still, Niese learned along the way how to pitch effectively in the cold. Between innings Tuesday, he found refuge in his jacket, which contained hand-warmers in each pocket. He gravitated to the dugout heaters. On the mound, Niese simply tried to move around as much as possible in an effort to stay warm.
His next outing is scheduled for Sunday in Denver, where temperatures could soar into the 80s. Most pitchers would relish such a forecast.
Niese? He's not so sure.
"When you see the likes of Hamels [struggle], and Jon just keeps cruising along," Collins said, "you've got to be pretty impressed with the way he's gone about it."
Anthony DiComo is a reporter for MLB.com. Follow him on Twitter @AnthonyDicomo. This story was not subject to the approval of Major League Baseball or its clubs.