Salvy driving force behind Royals' six-run 8th
Catcher's double sparks decisive frame following two-run homer in 7th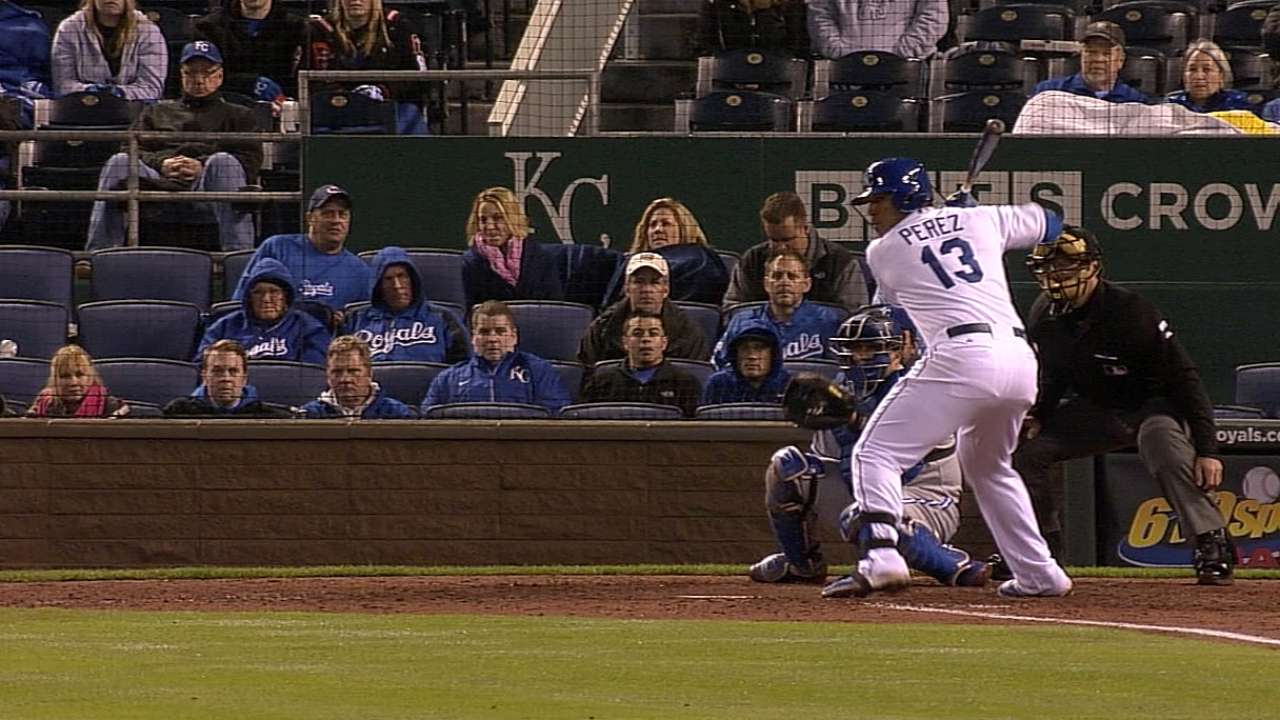 KANSAS CITY -- Salvador Perez is finally finding his batting eye -- and it's very sharp indeed.
Perez knocked in four runs with a homer and a double to propel the Royals toward a 10-7 victory over the Toronto Blue Jays on a chilly, rainy Tuesday night at Kauffman Stadium. It was the Royals' third win in four games and pulled them over .500 at 13-12.
After going through a 1-for-29 swoon, Perez is hitting up a storm -- going 7-for-13 in the last three games.
"El Nino is back," he said, grinning.
His home run came in the seventh inning after the Royals managed just two hits in the first six innings and trailed, 5-2. Alex Gordon was on base with a double and Perez's blast to left field made it 5-4.
"He put us back in there, that was a game-changer right there," Jarrod Dyson said. "We kind of knew we were coming back after that."
Did they ever, with a six-run eighth inning and Eric Hosmer doing some baserunning derring-do.
Hosmer led off against reliever Brett Cecil with a single. When Billy Butler also singled to left, Hosmer challenged left fielder Melky Cabrera with an unexpected dash to third base.
"I was just getting a good turn and I realized how deep he was," Hosmer said. "It was a long ways out there and it was cold night, and I saw his momentum really wasn't bringing him in for the throw, so I figured it was a good time to take a chance right there."
Hosmer beat the throw.
"At that point that was a huge baserunning play for us," manager Ned Yost said. "It put us in a position to tie the ballgame."
Cecil slipped a third strike past Gordon and Blue Jays manager John Gibbons decided to bring in closer Sergio Santos.
"It was starting to go the other direction and we've got Perez up there," Gibbons said. "We're bringing [Santos] in, looking for a strikeout."
Perez didn't strike out, though. He whistled a grounder just inside third base and toward the left-field corner. Two runs scored and the Royals were ahead, 6-5.
"I think he wanted to go inside," Perez said. "He threw me a first-pitch ball and he didn't want to get behind in the count, so he came in with a fastball and I was ready for the fastball."
The breakthrough continued after Santos fanned Mike Moustakas. Alcides Escobar walked and Dyson singled home a run. Esmil Rogers relieved Santos, but Nori Aoki singled in a run and Omar Infante drove in two more with a single. It was 10-5.
Maybe it was a change in the weather.
"It's hard to play like that. The weather's cold and it's raining a little bit, and it's hard to see the ball," Perez said. "I think the first six innings, we had just two base hits and, after that, the rain stopped and we started to see the ball a little bit better."
Evidently, so did the Blue Jays.
With a five-run lead, Yost kept closer Greg Holland in the bullpen and brought in Louis Coleman for the ninth. He gave up a walk and a two-run homer to Edwin Encarnacion, then survived a home run replay review (Dioner Navarro's ball was foul), before ending the game.
The comeback bailed out Royals starter Jason Vargas who, after five stellar starts, gave up a season-high five runs before leaving in the seventh. He was pulled after giving up two runs on Colby Rasmus' double, a single by Jose Reyes and Cabrera's double.
"I thought he was OK. Miserable night, rain, cold," Yost said. "In the seventh inning, he went back out. There were a number of reasons -- his pitch count was manageable, we had two lefties and two switch-hitters that I'd rather face right-handed than left-handed. He just got a pitch up to Melky and Reyes got a pitch that he dumped in the gap there, but other than that, I thought he threw the ball well."
Jose Bautista hammered his eighth home run, a solo shot to left, off Vargas in the first inning. Bautista also showed off his power arm in the third inning, throwing out Aoki as he tried to advance from second to third on Infante's flyout to right.
So what's going on with the revival of Perez?
"Working, working, working," Perez said. "This early in the season when something bad happens, I keep swinging and now I feel better at home plate."
And what's going on with the revival of the Royals' offense with a season-high 10 runs and 19 in their last two games?
"It's going to click, we know that," Hosmer said.
It clicked for the Royals' sixth comeback victory this year.
"We never give up. That's the motto in here is to never give up and to always play like we're in it," Dyson said.
"Our guys don't pack it in," Yost said. "One thing we've learned over the last two years with this group is they don't pack it in. ... They keep getting after it."
Gibbons, the Royals' bench coach until three years ago, certainly has noticed.
"I want to say one thing about that team over there, because I was there when they were young," he said. "They play nine innings. Up or down, they compete and they get after you. That's why they are going to wind up winning some day."
Dick Kaegel is a reporter for MLB.com. This story was not subject to the approval of Major League Baseball or its clubs.