Norris helps power A's past Perez, Rangers
A night after beating Darvish, Oakland hands Texas lefty his first loss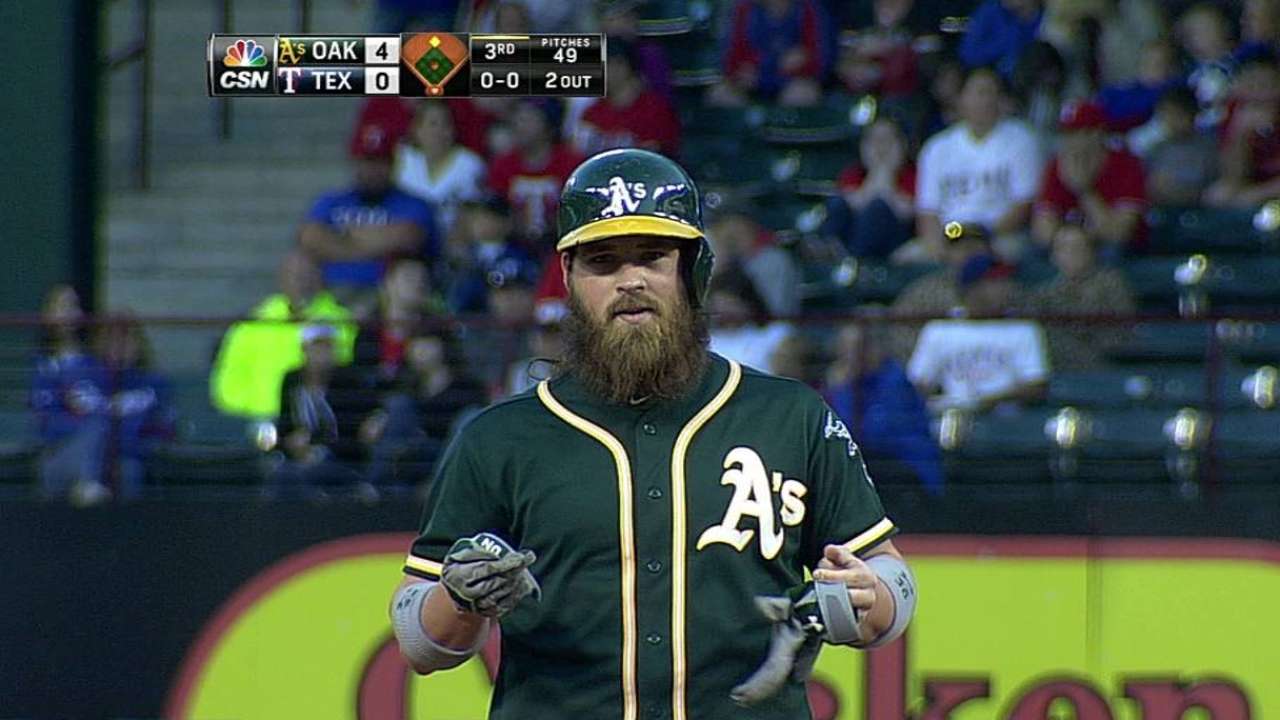 ARLINGTON -- One night after beating Rangers ace Yu Darvish, the A's took care of the American League's ERA leader with ease on Tuesday.
Texas' Martin Perez was forced to relinquish that title, after allowing a career-high eight runs in the A's 9-3 series-clinching victory at Globe Life Park, where they'll attempt a three-game sweep over the Rangers come Wednesday.
Perez, whose ERA moved from 1.42 to 2.95 in the loss, was on the heels of back-to-back shutouts and riding a 26-inning scoreless streak, but the A's quickly put that to rest in the first inning with a pair of runs off the first of two Derek Norris doubles on the night.
Oakland knocked Perez out of the game after just 4 2/3 innings. Darvish only made it 3 1/3 innings.
Together, they were tagged for a combined 12 runs. Consider it revenge on the A's part for being swept in their home park by this same club last week.
"It's almost like a little payback," said starter Scott Kazmir, who picked up the win. "We just feel comfortable out there, especially being able to get their No. 1, No. 2 guys out of there so early.
"We set the tone early. We worked Darvish, and it seemed like the same thing today. They were laying off some good pitches and waiting for the ones they could really do something with, and they didn't miss them."
"For me, I've always seen him pretty well," said Norris, 13-for-27 over his last nine games. "I kind of have to, considering I'm facing all left-handers. He's a great ground-ball pitcher. He gets a lot of double plays, and so you have to force him up in the zone. He didn't have much of a choice. He was living down there in the zone and we weren't biting on it. He had to elevate it to get the strikes."
Craig Gentry's second-inning leadoff triple in his first at-bat back in Texas led to the A's third run, and Norris would add his second RBI double in the third for a 4-0 lead the A's would never relinquish.
Oakland improved to an American League-best 17-10 with the win, extending its lead in the AL West to two games.
The Rangers reached the board against Kazmir in the fourth, but the A's broke open the game with full force in a five-run fifth.
All of the inning's runs came with two outs. Perez walked in a run before departing, and righty Jason Frasor proceeded to walk in another run. Josh Reddick followed with a two-run single, and a wild pitch would send in another run to cap off the wild inning.
"[Perez] missed a lot of spots tonight," said Rangers manager Ron Washington. "When he missed it, it was in the middle of the plate and it was up. Previous, everything he threw he put it where he wanted to. Tonight, when he missed his spot, it was in the middle of the plate.
"They hit mistakes very well. That's what they do well, they hit mistakes."
Kazmir labored and lasted five innings for the A's, his shortest stint of the year, and allowed three runs on seven hits and a walk with four strikeouts while improving to 4-0 on the season.
He hasn't lost since Sept. 16, a stretch spanning eight games.
"If that's a bad game for him," said manager Bob Melvin, "we'll take it."
A's relievers Ryan Cook, Fernando Abad and Sean Doolittle combined for four scoreless innings to close out a win that came just six days after Perez had limited the A's to three hits over nine scoreless innings.
"We got on him early today," said Melvin. "Typically with a good pitcher like that who's on a roll, your best chance is early on before he gets settled in. When we're doing well, that's what we're doing, making guys work and throwing a lot of pitches and finding a ball in your zone and squaring one up."
"That's what Oakland does," said Rangers catcher Robinson Chirinos. "Even through the Minor Leagues, they take a lot of pitches, they make the pitcher work long every at-bat, and when you don't execute the pitch, they're putting themselves in good hitting counts. That's what happened yesterday and today."
Jane Lee is a reporter for MLB.com. Read her blog, Major Lee-ague, and follow her on Twitter @JaneMLB. This story was not subject to the approval of Major League Baseball or its clubs.