Perez sees innings, win streaks come to an end
Lefty loses for first time in five starts; scoreless stretch is over after 26 IP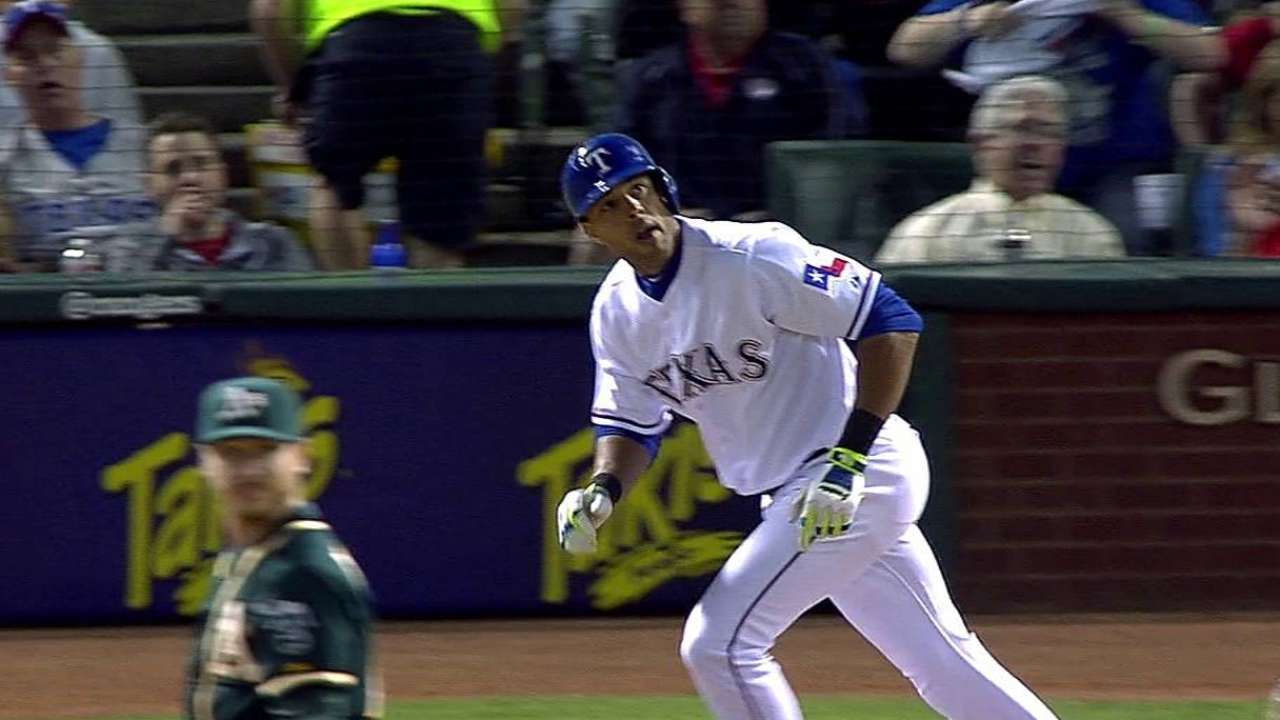 ARLINGTON -- Over his previous three starts, Rangers lefty Martin Perez strung together 26 scoreless innings. Tuesday, he had a hard time getting one.
The Athletics scored in the first, second and third frames on their way to a 9-3 victory, guaranteeing them a win in their three-game series that ends Wednesday. Perez was one of the heroes of the Rangers' sweep in Oakland last week, throwing a three-hit shutout last Wednesday, but on Tuesday he was a victim, earning his first loss in six starts this season.
Everyone from Rangers manager Ron Washington to A's manager Bob Melvin to catcher Robinson Chirinos to Perez himself agreed: he put too many pitches in the wrong place and the Athletics, having seen him so recently, were more willing to wait for him to leave one up this time around.
"They looked more aggressive tonight," Perez said. "They didn't swing too much, they just waited for a pitch and they knew that I missed the zone."
Perez allowed eight earned runs on eight hits in 4 2/3 innings and thus brought a humble ending to a streak that included consecutive three-hit shutouts following a five-hit, eight-inning win.
"Previous, everything he threw he put it where he wanted to," Washington said. "Tonight, when he missed his spot, it was in the middle of the plate."
Perez briefly found a rhythm, retiring the side in the fourth inning and getting the first out of the fifth, but then the game got away from him again.
With one out, Jed Lowrie singled and Josh Donaldson doubled on a hard-hit ball that left fielder Michael Choice couldn't corral in left field. Then Yoenis Cespedes walked and Derek Norris popped out. With two outs, Perez walked Albert Callaspo on five pitches, pushing in a run and ending the 23-year-old Perez's outing.
Unfortunately for Perez, all three runners he put on base scored against reliever Jason Frasor, who walked Craig Gentry to force in another a run, allowed a two-run single to Josh Reddick and then uncorked a wild pitch that allowed Gentry to score.
Had Choice taken a more perfect route to Donaldson's hit in the fifth, he might have had a chance to make a play, but instead he had to twist his body back to the ball and couldn't make the catch.
"The ball was smoked, he went back, he made his move on it and he just didn't come up with it," Washington said. "Off the bat, I thought it was gone, but the ball just wasn't jumping out of here tonight. He just didn't come up with it. He makes that play, it's still a [4-1] ballgame, but then we didn't make the play and we got a couple walks and a base hit and before you know it it's a 9-1 ballgame."
Norris drove in three of the game's first four runs with a two-run double in the first and an RBI double in the third, all off Perez.
"He's a great ground-ball pitcher," Norris said. "He gets a lot of double plays, and just forcing him up in the zone … when you get the ball elevated just don't try to do too much, and we did a great job of getting them in early and often.
"He didn't have much of a choice. He was living down there in the zone and we weren't biting on it. He had to elevate it to get the strikes."
The Rangers' top two starting pitchers, Yu Darvish and Perez, combined to pitch eight innings Monday and Tuesday night. Darvish's 3 1/3-inning outing was the shortest of his Major League career, while Perez's eight earned runs were the most he'd allowed since debuting in 2012.
"So far they've been showing us that they're making adjustments, yesterday to Darvish and today with Martin," Chirinos said. "That's what Oakland does, even through the Minor Leagues, they take a lot of pitches, they make the pitcher work long every at-bat, and when you don't execute the pitch, they're putting themselves in good hitting counts."
Oakland starter Scott Kazmir earned the win with five innings of work, scattering seven hits and allowing three earned runs.
The Rangers got a run in the fourth when Alex Rios doubled home Adrian Beltre, who led off the inning with a single. In the fifth, Texas tacked on two more -- including Prince Fielder's ninth RBI on a single -- to pull within six runs. They did not get a runner in scoring position in the final four innings.
"We had four innings tonight where I thought if we could have scratched one run, then maybe scratched a couple runs in some situations, it might have been a different ballgame," Washington said. "We're not clicking."
Dave Sessions is a contributor to MLB.com. This story was not subject to the approval of Major League Baseball or its clubs.