MLB.com Columnist
Jonathan Mayo
Finnegan on path back from injury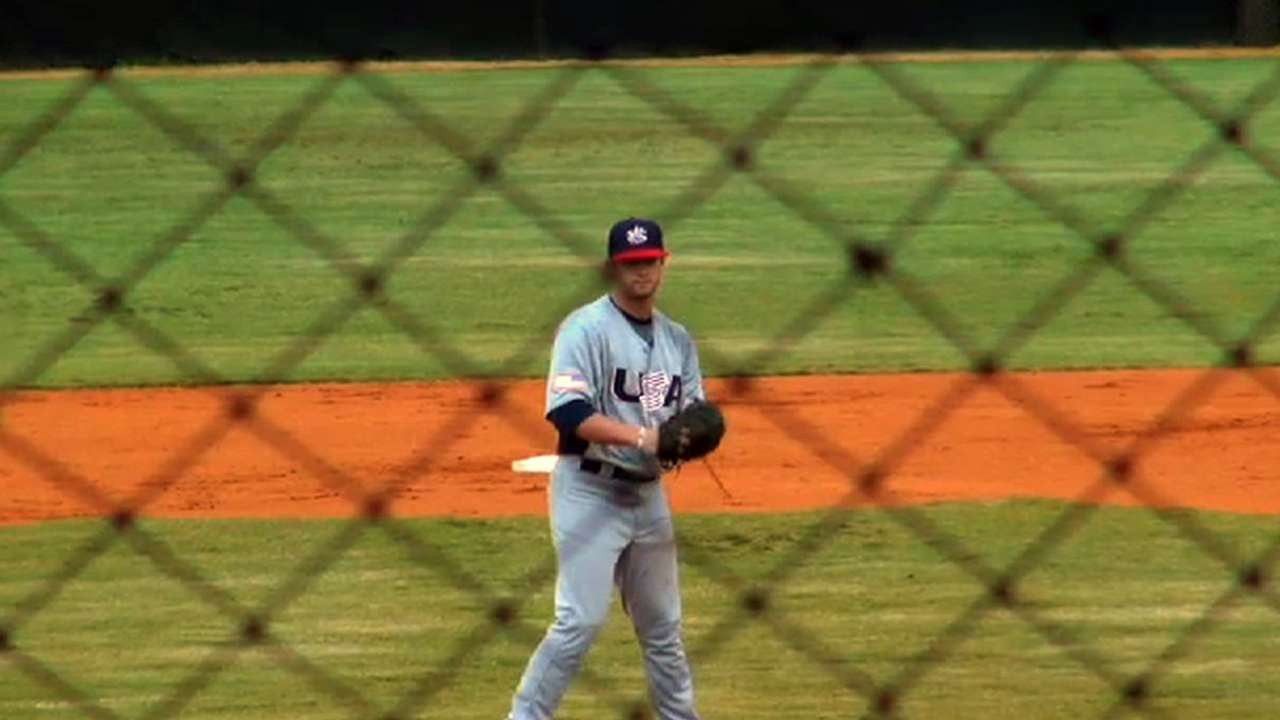 Pitching prospects in the 2014 First-Year Player Draft class have caught the injury bug this spring. One of the better high school arms, Dylan Cease (Milton, Ga.), has been out since March with an elbow injury he's hoping won't need surgery. East Carolina ace Jeff Hoffman, in the mix for the No. 1 overall pick, is shut down for at least two starts with arm soreness. Rice reliever-turned-starter Zech Lemond is on the shelf with elbow inflammation.
So when Texas Christian ace Brandon Finnegan left in the third inning of his Friday start against Cal State Northridge, there was a definite "Here we go again" buzz around the scouting industry.
It was initially called shoulder soreness or tightness, and that always makes everyone a little nervous. While Finnegan hasn't been cleared to return to the mound just yet, there are signs that this will be a temporary setback.
"He's better, for sure," TCU head coach Jim Schlossnagle said shortly after watching Finnegan long-toss from about 120 feet at about 75 percent on Monday. "He's passed every possible test there is in terms of his shoulder. There's no structural damage in any way. If anything, it's a little bursitis, so he's just on normal anti-inflammatories."
Finnegan has been outstanding in his junior season, going 7-2 with a 1.50 ERA in his 11 starts. Over 72 innings, he's allowed just 48 hits (.191 batting average against) and 18 walks while striking out 96. Finnegan has raised his Draft stock to the point where one scout thought it possible for the lefty to go somewhere in the top 10 picks of the first round on June 5.
To do that, Finnegan will have to show he's healthy and have no ill effects from this shoulder issue. The next step will be to throw his normal Wednesday bullpen session. If Finnegan clears that hurdle, as he did following his long toss on Monday, then there's a chance he could be allowed to take the mound on Friday against Kansas State.
"We're not there yet," Schlossnagle said. "But the fact he went out [on Monday] and did his normal, for the most part, routine and didn't have any issues, we're cautiously optimistic. He's a part of our future, and he has a very big future ahead of him."
Finnegan will either take the mound Friday or another day this weekend, or his turn in the rotation will be skipped to give him extra time. It seems very unlikely that he'd be used in a relief role against Kansas State, though that might be of some interest to scouts who think Finnegan will be a reliever at the next level, one who could draw some comparisons to Billy Wagner.
"He will not pitch this weekend unless he feels like he did against Texas two weeks ago," Schlossnagle said, referring to Finnegan's eight-inning shutout performance with 11 strikeouts. "He's either going to be cleared to start or not pitch. We're not going to try and win a game in one weekend with him in the bullpen if he doesn't feel great."
Jonathan Mayo is a reporter for MLBPipeline.com and writes a blog, B3. Follow Share This