MLB.com Columnist
Jonathan Mayo
Not all college matchups live up to expectations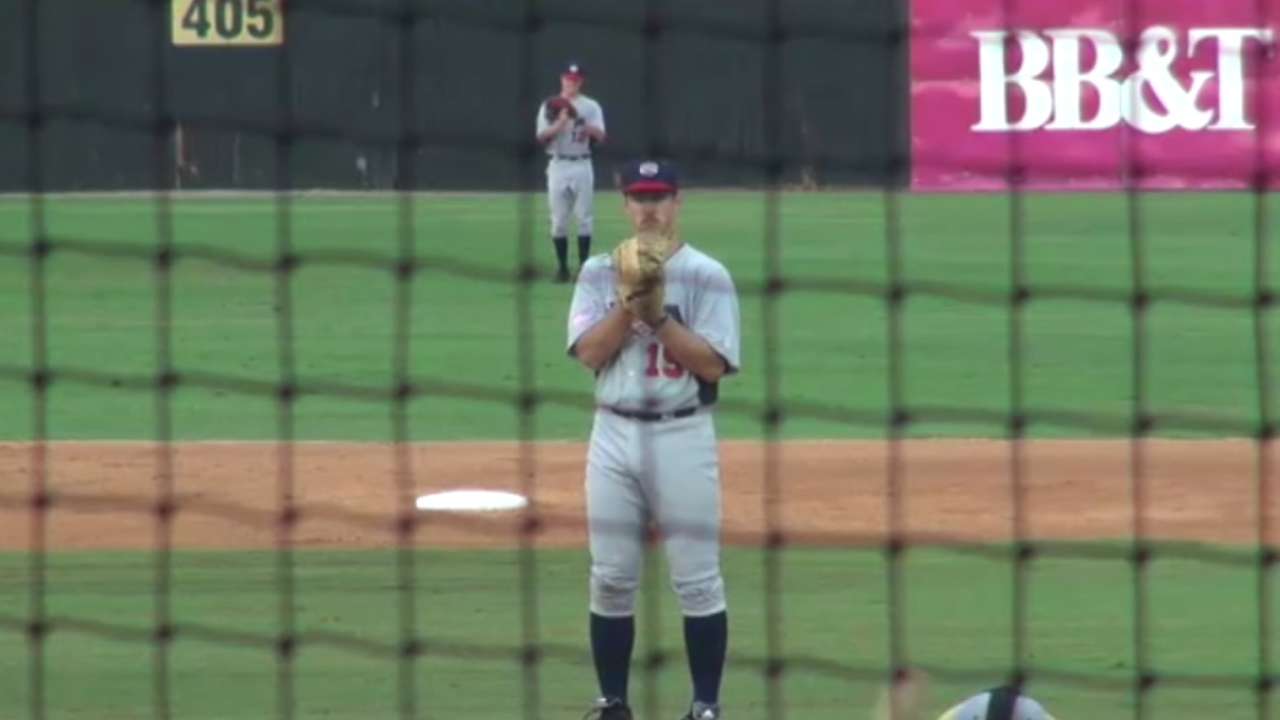 There are a limited amount of days left on an amateur scout's schedule before the 2014 First-Year Player Draft, so any way to see multiple players at once in a competitive setting is a bonus.
This, of course, goes beyond the top tier of Draft talent. Scouting directors might choose to head to the first couple of games of a weekend college series to get a look at more than one potential early-round prospect. That was the hope when some headed to Mississippi State to watch Texas A&M come to town. Because of some weather and some subpar performances, it didn't really work out that way.
There were two pitchers in particular generating greater interest in this series. One is Texas A&M starter Daniel Mengden, a former two-way player who is focusing on pitching for the first time. He took the mound on Friday, after the completion of a rain-suspended game from Thursday. The 6-foot-2 right-hander was, according to one scouting director, just so-so, going six innings and allowing two runs while walking only one. Mengden gave up nine hits and struck out just two.
"I've seen him better than that," said the scouting director, who thought Mengden would go in the top two rounds, maybe as high as the sandwich round. "I think it's more quantity than quality for him. He has average pitches all across the board. But his pitchability is what makes him a little bit higher.
"He was in the middle of the plate with everything. I know that's not him. But he doesn't have that one pitch that can get him out of trouble."
The other top arm of interest was Mississippi State lefty reliever Jacob Lindgren. Lindgren started in 2013, but he moved to the bullpen this year and could reach the big leagues quickly, potentially as a closer at the next level. Unfortunately, evaluating relievers can be a tricky business.
Lindgren actually "started" the resumption of the suspended game on Friday, but he got only one out and was removed after giving up a hit and two walks. He pitched again on Saturday and was dominant, striking out seven in 2 2/3 hitless innings. Unfortunately, much of the scouting "heat" that was in on Friday had already gone on to other matchups.
"Lindgren was the guy I really wanted to see, but I couldn't write him up," the scouting director said. "He's 90-94 mph, some guys see a plus curve, some see a plus slider. I didn't get a chance to see anything except a fastball that was out of the zone.
"I throw that out. Otherwise, why do have the other guys out there scouting? I know some will say, 'I didn't see it, we can't take him.' We've seen him five times, I just happened to catch him bad. I'm trying to give the kid the benefit of the doubt."
Jonathan Mayo is a reporter for MLBPipeline.com and writes a blog, B3. Follow Share This