Pipeline preview: Cards' Taveras heating up in Memphis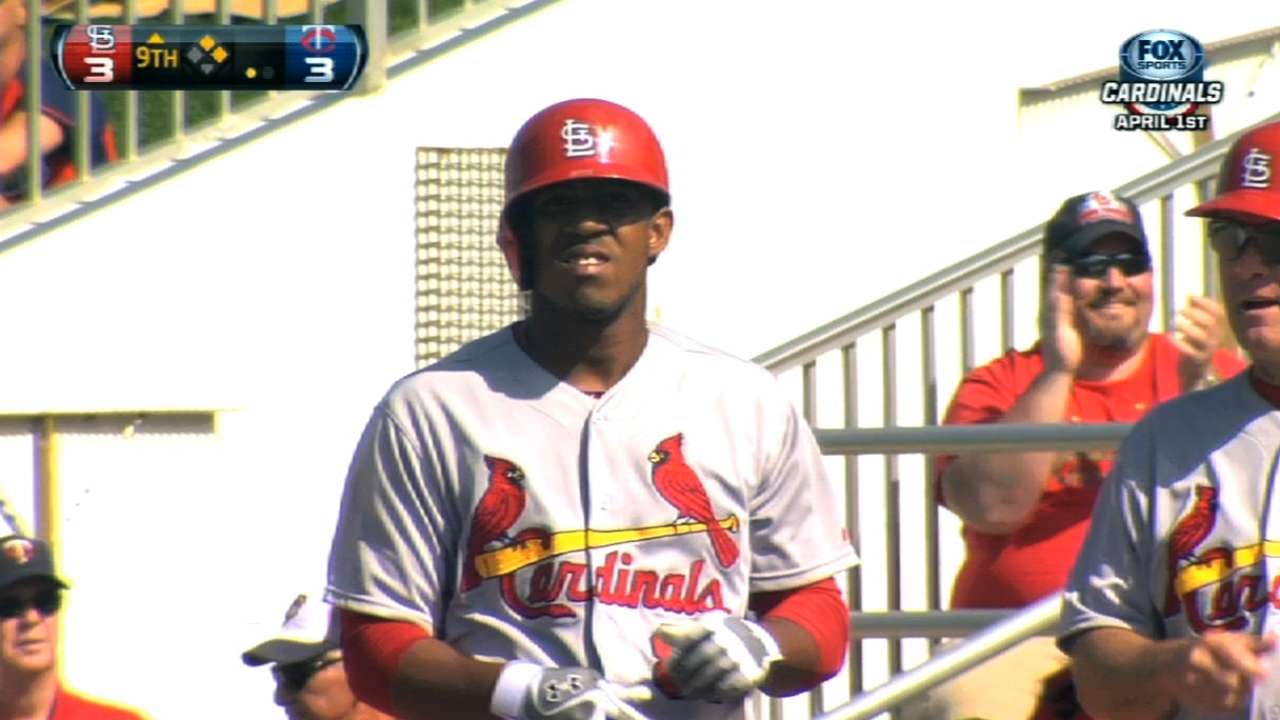 At the beginning of the season, most would have expected No. 1 Cardinals prospect Oscar Taveras to be the first member of the Triple-A Memphis outfield to be promoted to St. Louis. Instead, it was Randal Grichuk (No. 12) who got the call Sunday night.
Undeterred, Taveras extended his 12-game hitting streak Monday against Colorado Springs, going 2-for-4 with a double and a home run. The No. 3 prospect on MLBPipeline.com's Top 100 list is hitting .356 with three home runs during the streak.
Tuesday, as Memphis' series against Colorado Springs continues at 8:02 p.m. ET on MiLB.TV, Taveras will face a pitcher on a hot streak of his own. Rockies' No. 12 prospect Tyler Matzek, the SkySox scheduled starter, enters the game having thrown 11 consecutive scoreless innings.
The rest of the Minor League pitching slate is highlighted by right-hander Marcus Stroman, the Blue Jays' No. 2 prospect (No. 52 overall). After his scheduled start for Triple-A Buffalo was rained out Friday; the Blue Jays pushed him back to Tuesday, putting him on the same schedule as embattled fifth starter Dustin McGowan. That could indicate fans will be able to see Stroman in Toronto soon, but for now they can watch him face Louisville on MiLB.TV at 6:05 p.m.
Other pitchers ranked in the Top 100 who are scheduled to start Tuesday include right-handers Lance McCullers (49), Rafael Montero (80) and Nick Kingham (98). Fans can watch Montero and Kingham on MiLB.TV at 10:05 p.m. and 6:35 p.m., respectively.
Top prospect probables
Miguel Almonte (Royals' No. 6), Wilmington vs. Myrtle Beach
Chris Anderson (Dodgers' No. 5), Rancho Cucamonga at Inland Empire
Tyler Anderson (Rockies' No. 10), Tulsa vs. Arkansas
Austin Brice (Marlins' No. 19), Jupiter at Palm Beach
Jamie Callahan (Red Sox No. 19), Greenville at Greensboro
Michael Clevinger (Angels' No. 12), Burlington at Wisconsin
Dylan Covey (A's No. 13), Beloit vs. Peoria
Jonathan Crawford (Tigers' No. 5), West Michigan at Lake County
Tyler Danish (White Sox No. 5), Kannapolis vs. West Virginia
Amir Garrett (Reds' No. 20), Dayton vs. Lansing
Joan Gregorio (Giants' No. 12), San Jose at Modesto
Hunter Harvey (Orioles' No. 4), Delmarva at Savannah
Mike Kickham (Giants' No. 17), Fresno at El Paso
Nick Kingham (Pirates' No. 8), Altoona at Erie
Branden Kline (Orioles' No. 16), Frederick vs. Carolina
Tyler Matzek (Rockies' No. 12), Colorado Springs at Memphis
Lance McCullers (Astros No. 5), Lancaster vs. High Desert
Rafael Montero (Mets' No. 2), Las Vegas vs. Reno
Daniel Norris (Blue Jays' No. 4), Dunedin at Tampa
Ariel Pena (Brewers' No. 18), Nashville vs. New Orleans
Matt Purke (Nationals' No. 6), Harrisburg vs. New Britain
Anthony Ranaudo (Red Sox No. 9), Pawtucket at Lehigh Valley
Joe Ross (Padres' No. 9), Lake Elsinore vs. Visalia
Tyler Skulina (Cubs' No. 18), Kane County at Cedar Rapids
Blake Snell (Rays' No. 9), Bowling Green vs. South Bend
Marcus Stroman (Blue Jays' No. 2), Buffalo vs. Louisville
Andrew Thurman (Astros' No.16), Quad Cities vs. Clinton
Austin Voth (Nationals' No. 16), Hagerstown vs. Hickory
Gabriel Ynoa (Mets' No. 15), St. Lucie vs. Charlotte
Teddy Cahill is a reporter for MLB.com. Follow him on Twitter at @tedcahill. This story was not subject to the approval of Major League Baseball or its clubs.