Using relentless attack, Red Sox top Rays
Lackey yields just two runs, fans five over eight stellar frames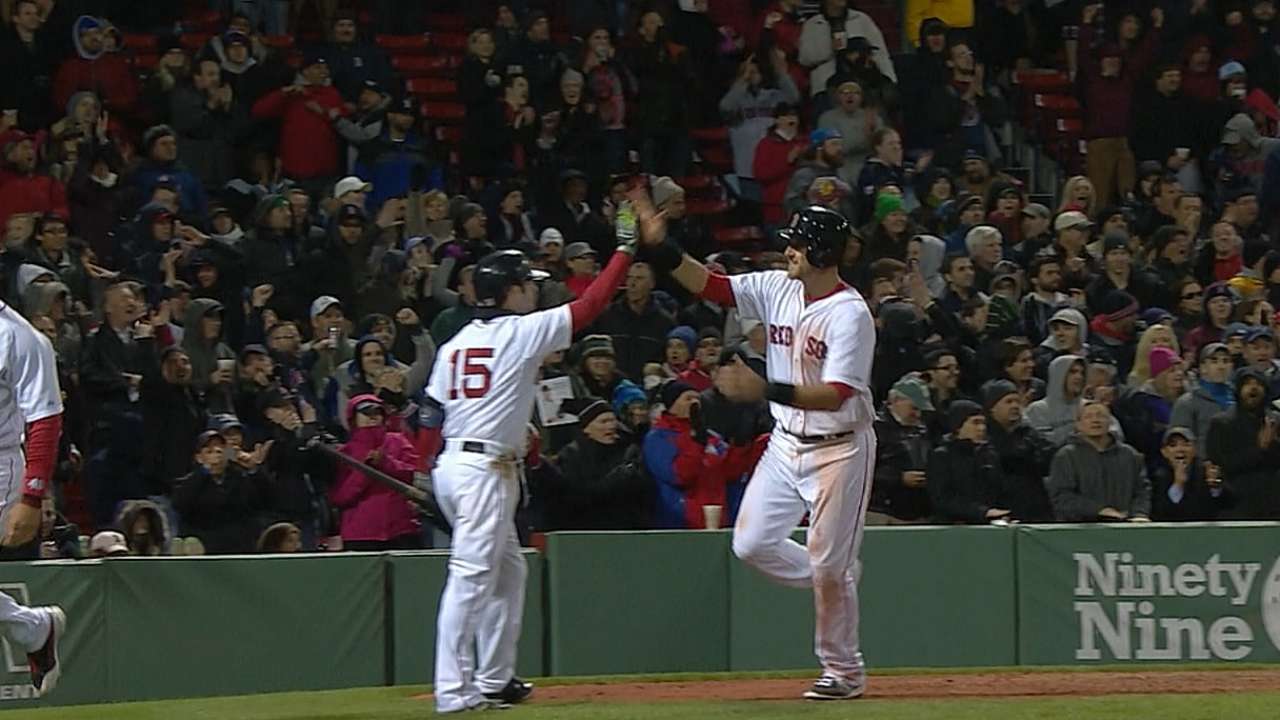 BOSTON - The relentlessness was back for the Red Sox on Tuesday night, a welcome sight for the fans who braved the bitter cold at Fenway Park.
Backed by the same grind-it-out plate approach that matched so much of their success last season, the Red Sox rolled to a 7-4 victory over the Rays.
There were quality at-bats from top to bottom, backing a second straight strong outing from winning pitcher John Lackey.
"We're in a stretch here probably the last eight, 10 games where the bats have become more consistent," said manager John Farrell. "I think it's just guys getting to the point in the first month where they're gaining some comfort, gaining some confidence."
With just one game left in April, the Red Sox are 13-14 and getting healthy again.
Shane Victorino, activated from the disabled list last week, had a four-hit night and added a sacrifice fly.
"Obviously it's a great night, but having him back, that's what he can do for our lineup," said first baseman Mike Napoli.
As for Napoli, the slugger had only one hit, but he saw 33 pitches in five plate appearances and was instrumental as anyone in the victory.
"A lot of guys had grind-it-out at-bats," said center fielder Jackie Bradley Jr. "Napoli was seeing a ton of pitches today."
Bradley hammered a pair of doubles, the latter of which brought home two runs in the five-run rally that swung the momentum for good in the sixth.
"I'm definitely gaining more confidence as each day goes on," said Bradley. "I'm getting comfortable and I'm learning pitchers and I'm working. I'm just trying to get better."
Will Middlebrooks, another everyday player who recently returned from the disabled list, was also in the middle of the action, scoring twice, drawing a walk and ripping an RBI double.
A.J. Pierzynski continued his recent surge with a two-hit night.
But it wasn't all about the offense. Lackey went eight innings for the second straight start, giving up six hits and two runs and striking out five.
"I'm trying to be aggressive. I'm trying to work fast," said Lackey. "I'm trying to get guys in the dugout. It wasn't a whole lot of fun out there on the field today. I tried to work quickly and get outs as quick as I could."
Pierzynski did his part, working in sync with Lackey again.
"Well, one thing about John, he's always aggressive. He makes teams beat him," Pierzynski said. "He's not going to walk guys. He's not going to mess around. When he's right, I've seen it for over 10 years now. He knows what he's doing and he can dominate teams when he gets it going."
Rays manager Joe Maddon has seen it many times before, dating back to 2002, when Lackey won Game 7 of the World Series for the Angels. Maddon was the bench coach for that team.
"He threw the ball well," Maddon said. "He's sharp right now. He's very sharp. He had a good fastball, he had a really good fastball. He broke out the other stuff the second time through."
Amid the chilly conditions, the ball wasn't carrying much for either team.
Victorino broke a scoreless tie in the bottom of the fifth with a sacrifice fly to center against starter Erik Bedard that was plenty deep enough to score Middlebrooks. Bradley had the big hit in the inning, a double to the gap in left-center that moved Middlebrooks (walk) to third.
The Rays bounced right back in the top of the sixth when Desmond Jennings jump-started a rally with a one-out double and moved to third on a single by Matt Joyce. That put Jennings in position to score on Evan Longoria's sacrifice fly to right-center.
It didn't stay tied for long. The Red Sox got what turned out to be the game-turning rally started in the bottom of the sixth when Napoli and Jonny Gomes led off with back-to-back walks against reliever Brandon Gomes. With Juan Carlos Oviedo pitching, Pierzynski ripped an RBI single up the middle to put Boston back in front.
Middlebrooks followed with an RBI double and Bradley unloaded for a two-run double to center, and Boston had a 5-1 lead before Victorino capped the rally with an RBI ground-rule double.
It was a satisfying win for the Red Sox, one in which they utilized a blueprint that worked like a charm last season.
"It's like we're all working together," said Napoli. "Get the starter out early and try to get to the bullpen."
Ian Browne is a reporter for MLB.com. Read his blog, Brownie Points, and follow him on Twitter @IanMBrowne. This story was not subject to the approval of Major League Baseball or its clubs.