After Bedard exits, bullpen struggles in sixth inning
Lefty gives up just one run, but offense comes up short against Lackey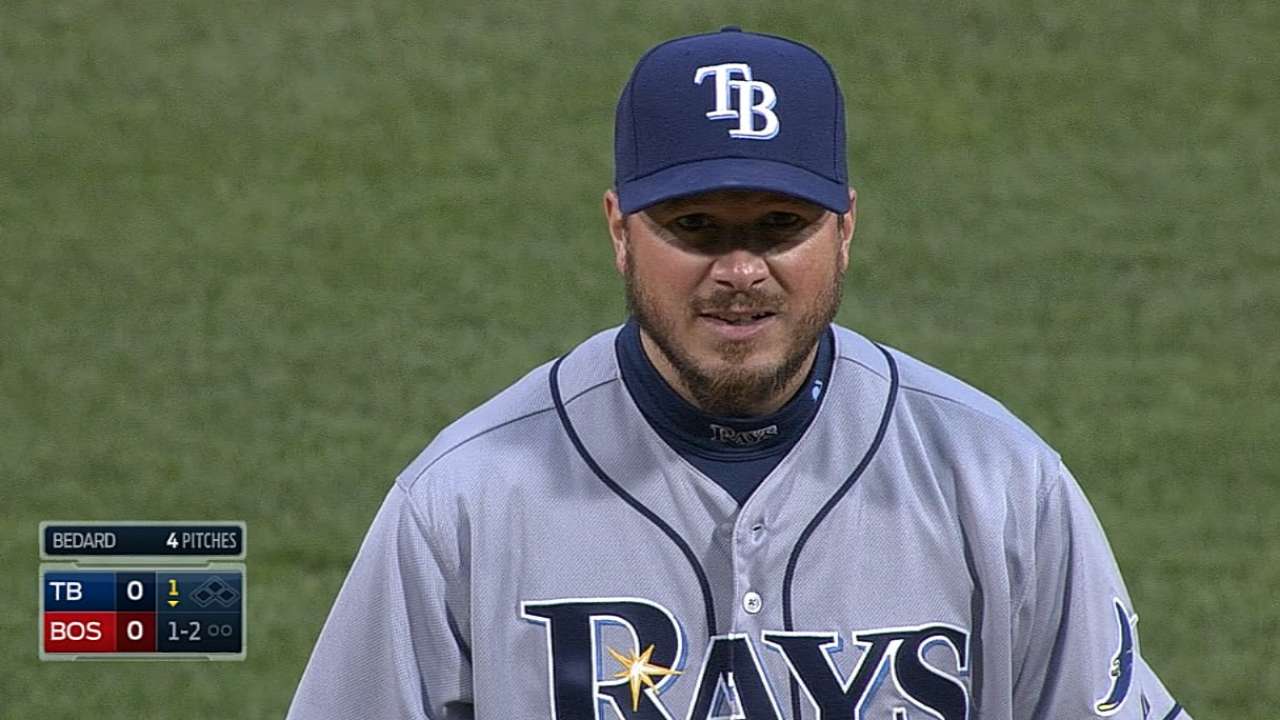 BOSTON -- As any team mired in a tailspin knows, the suspense is not a matter of if misfortune is going to happen, but when. On Tuesday night at Fenway Park, the answer came in the sixth for the slumping Rays when the Red Sox pushed across five runs en route to a 7-4 win.
"I look up at the scoreboard and see too many threes, fours and fives in specific innings, and that's something that we normally don't do," manager Joe Maddon said. "You have to minimize damage."
The Rays (11-16) are 1-4 on their current 10-game road trip and they have lost six of seven to remain in last place in the American League East.
Like the games in a four-game series against the White Sox that kicked off the road trip in Chicago, cold weather continued to follow the Rays as the temperature stood at 43 degrees when Red Sox starter John Lackey threw the first pitch of the game.
Mirroring most of the games from the trip, the Rays were in the game early before falling through the baseball equivalent of a trap door.
That trap door began to squeak when Brandon Gomes took over for Rays starter Erik Bedard with the score tied at 1 after five innings.
Maddon liked the matchups with Gomes against Mike Napoli and Jonny Gomes, but the right-hander got behind 2-0 to Napoli and then walked him on a 3-2 count before he issued a free pass to Gomes. He then retired Xander Bogaerts on a flyout to left before giving way to Juan Carlos Oviedo.
"I felt good down in the 'pen," Gomes said. "Then going out there, Napoli had a good at-bat. Fell behind, which you can't do to him. Threw some quality pitches late and he laid off a good one 3-2, and then Jonny Gomes, I was just non-competitive. I need to do a better job there attacking him. That was pretty much it."
Making Gomes' outing more disappointing was the fact that he entered Tuesday night's game on the heels of a perfect three innings against the White Sox on Saturday night.
"Last outing doesn't mean anything," said Gomes, who took the loss to move to 1-1 on the season. "It's about consistency and trying to make adjustments you need to as soon as possible. So I'll get right back at it and hopefully tomorrow I'll get that opportunity again and do it right this time."
While Gomes struggled, he did not get any help from Oviedo.
A.J. Pierzynski greeted Oviedo with an RBI single to center off a changeup. Will Middlebrooks followed with an RBI double, Jackie Bradley Jr. doubled home two more and Shane Victorino capped the inning with an RBI double to right to put the Red Sox up 6-1.
"The changeup, Pierzynski's changeup was up," Maddon said. "Bradley's changeup was up, Middlebrooks hit a fastball middle in. You look at the gun with him tonight, he had his best velocity fastball by far. Stuff-wise good. Good changeup. Good, except location was not there."
Boston's big inning came after Bedard made a nice accounting for himself in his third start of the season. The veteran left-hander pitched four scoreless innings before the Red Sox finally got something going in the fifth.
Middlebrooks walked to start the inning before Bradley doubled to center, putting runners at second and third. One out later, Victorino's sacrifice fly to center field scored Middlebrooks to put the Red Sox up 1-0.
That turned out to be the only run Bedard would surrender in five innings, for which he received a no-decision as the Rays answered in the top of the sixth with Evan Longoria's sacrifice fly that tied the score at 1.
If anything good came out of Tuesday night's game, Bedard's performance would be it.
"I'm feeling better," said Bedard, who is just now getting stretched out to 100-plus pitches. "Getting the pitch count up, getting the arm strength back. We'll go from there and hopefully it gets better."
Meanwhile, Lackey worked eight innings, matching his longest outing this season, to pick up his fourth win after allowing two runs on six hits.
"[Lackey] was outstanding once again," Red Sox manager John Farrell said. "He gave us a chance for the offense to get on track. … They answered back with [one run] to tie it in the sixth, and then because we were in a low-run game, we were able to get to their bullpen, put up five in the sixth and once again he goes eight strong innings tonight. A very solid outing once again by John."
The Rays are now a season-low five games under .500, but Maddon remains optimistic.
"It's not our time right now," Maddon said. "It's not our moment, but it will come back to us. I really believe that, so we just keep pushing and it's going to be fine. It's always difficult, but every team goes through this. We're going through a little taste of it right now."
Bill Chastain is a reporter for MLB.com. This story was not subject to the approval of Major League Baseball or its clubs.