Holaday outsmarts White Sox for a Tigers victory
Jackson reaches on three-base error to set up game-winning bunt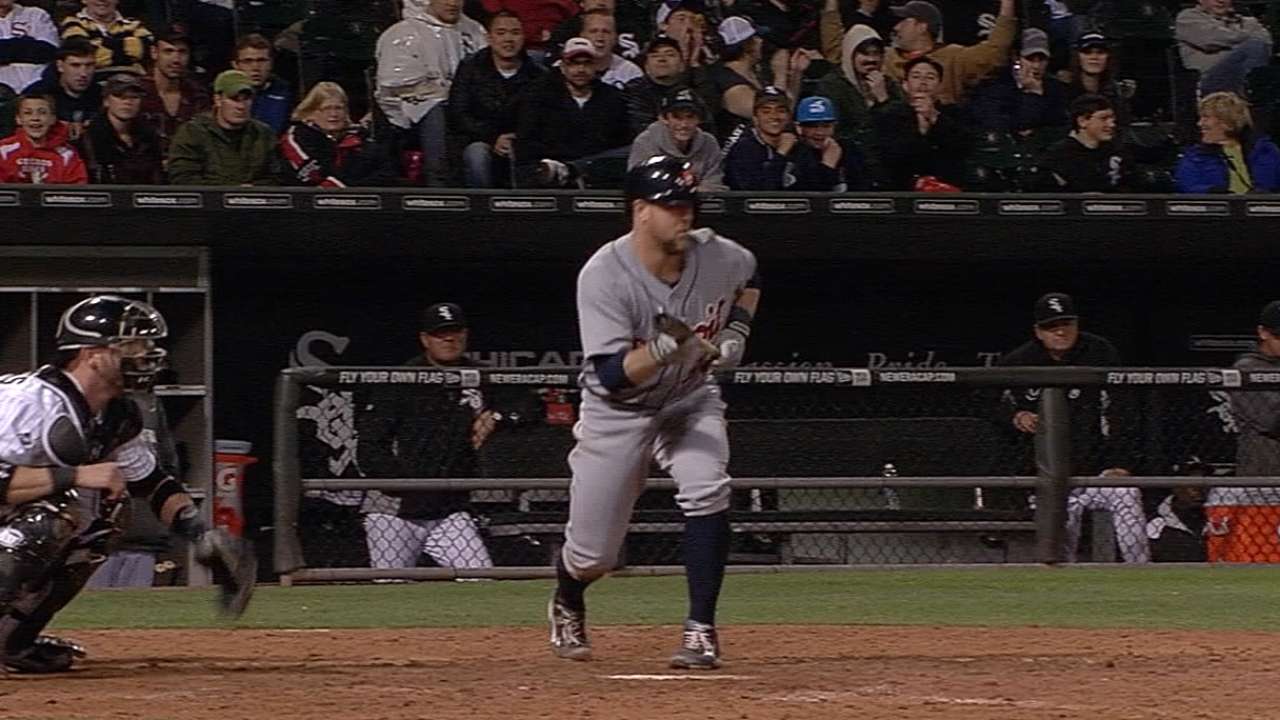 CHICAGO -- Tigers ace Justin Verlander and White Sox left-hander Jose Quintana essentially battled to a draw Tuesday night. Their matchup came down to a battle of late-inning bunts.
The White Sox didn't get theirs down against Verlander in the seventh. Tigers backup catcher Bryan Holaday did in the ninth off Ronald Belisario.
"I knew that it was going to be decent," Holaday said of his go-ahead bunt single with two outs in the ninth inning, scoring Austin Jackson with the deciding run in a 4-3 Detroit win. "I was just trying to run as fast as I could."
Holaday didn't know he was going to be playing Tuesday night until just before batting practice, when Alex Avila came down with back spasms. He didn't know he'd be laying down a bunt in the ninth inning of a tie game until he saw White Sox third baseman Marcus Semien moving back on him.
He didn't know until later that manager Brad Ausmus, bench coach Gene Lamont and third-base coach Dave Clark were all trying to get his attention to bunt.
"I don't know if he got it," Ausmus said afterward. "I gave it to Dave Clark and I think Clarky tried to give him a sign, and Gene Lamont and I were kind of yelling at him at the bench in code to look at him, but I don't know if he heard us or saw Clarky or just saw it on his own and took advantage."
He didn't see their signs, but he saw the third baseman.
"I didn't hear him," Holaday said. "I was just focusing on the third baseman, seeing what he was doing. I noticed he was starting in and then backed up. That's when I thought I had a good chance to lay it down."
It was the same read he made 10 days earlier for an eighth-inning single against the Angels. In that case, though, there was nobody on base, and the Tigers already had a lead.
"I'm really confident in my bunting ability. At [Texas Christian University], we did it a lot," Holaday said. "I'm confident that I'm able to get it down, so that's not a problem."
In that case, too, he had talked with Ausmus about it beforehand.
"Part of his ability to be successful as a bunter is the sneak attack tactic with the third baseman playing him back," Ausmus said. "If you don't know a player at this level and they're a catcher, you often assume that they won't bunt or they can't run well. And Doc's not a speed merchant, but he's not slow. So if they give him some grass and he can put it in that area, he's got the ability to beat it out."
The days of the sneak attack might now be done, but they got the most out of it.
Jackson reached base with one out in the ninth when his drive to right-center field fell in and out of Dayan Viciedo's glove for a three-base error. Ronald Belisario, who had retired the previous seven batters, struck out Nick Castellanos to take away the sacrifice fly opportunity and bring up Holaday.
After taking a first-pitch ball and fouling off another sinker, Holaday turned and laid down a roller to the third-base side of the mound. Belisario scrambled to retrieve the ball as Jackson scrambled home, but the throw to first was both late and high, pulling Jose Abreu off the bag.
"I mean, it was a perfect bunt," White Sox manager Robin Ventura said. "Just a smart play, you know, wet conditions. It would have been tough to get him on a night that was dry, let alone the way it was. So it was just a smart play."
Said Verlander: "As soon as he laid it down, I thought it was a great play, especially the way he'd been throwing the ball. Belisario had been obviously making some really good hitters look silly up there, and I think Holly understood the situation and knew it was going to be an extremely tough at-bat. I think it was a really heads-up play.
"If I was pitching, I'd have been [ticked], but that was heads-up and smart and won us a ballgame. I couldn't be happier for him. He did a heckuva job."
Verlander very nearly was that pitcher. The third baseman, Semien, was the batter who tried to lay down a bunt in a similar situation against Verlander with one out in the seventh.
The count was the same. But unlike the sinkerballing Belsario, Semien had to try it against Verlander, who elevated his 1-1 pitch as Semien tried to push it down the first-base line. The ball went foul.
"I actually thought that was a really good idea, because it was first-and-third," Holaday said. "It looked like it was a safety squeeze, like a bunt to first base. It was a good idea. Luckily, it was a tough pitch to lay down a bunt."
Thus came the difference on a night when Verlander and Quintana essentially matched each other, their damage mainly concentrated on one inning. For Verlander, it was a four-hit, three-run third after holding the White Sox hitless through the first two innings. For Quintana, the damage came down to four consecutive two-out singles in the sixth to plate two runs and tie the game.
Jason Beck is a reporter for MLB.com. Read Beck's Blog and follow him on Twitter @beckjason. This story was not subject to the approval of Major League Baseball or its clubs.