Angels rally late to take opener from Indians
Facing former club, closer Smith notches first save for Los Angeles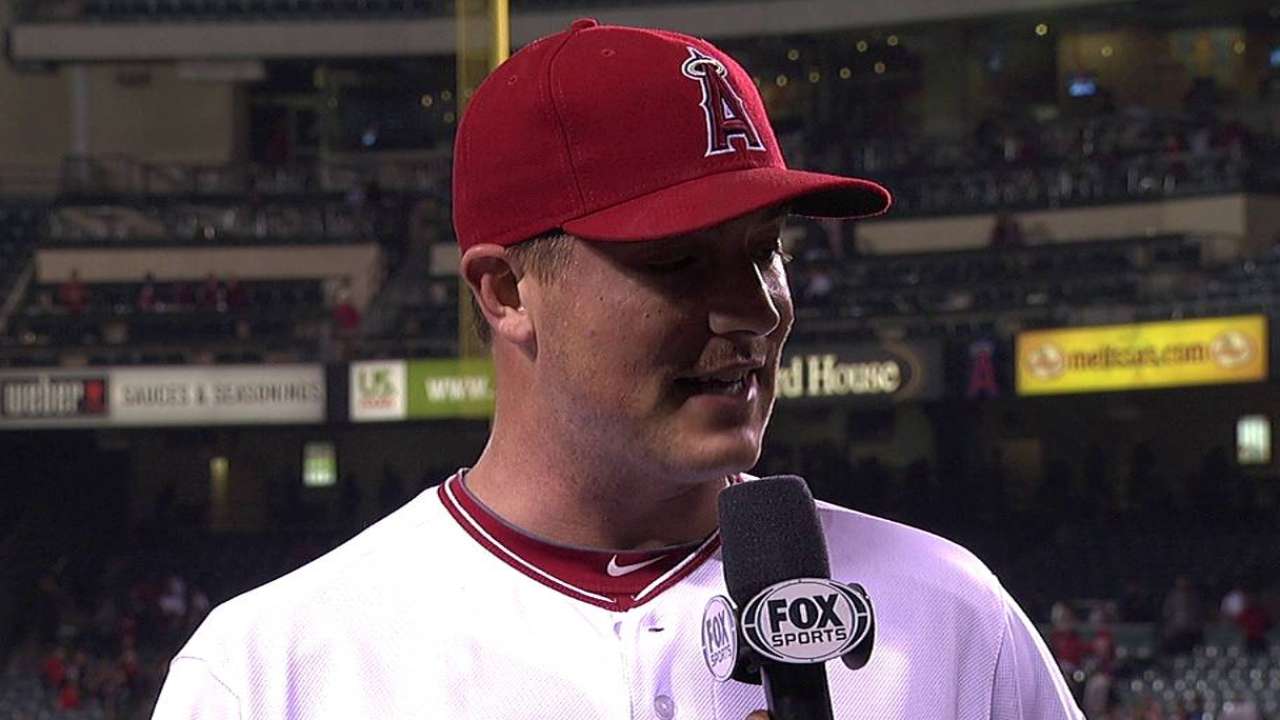 ANAHEIM -- When Joe Smith walked to his locker on Monday afternoon after the Angels' long overnight trek from New York, he made his intentions clear.
"I want to pitch tonight," Smith, the newly anointed closer, said loudly.
Smith did close the ninth inning against the Indians, his team for the past five seasons, to preserve a 6-3 victory at Angel Stadium.
It was his first save for the Angels, the first time he'd pitched in his new role and the first time period since working a scoreless eighth and setting up a save -- that was blown -- on April 23 in Washington.
"I was pretty pumped," said Smith, who went to the mound with a three-run lead, courtesy of Mike Trout's tie-breaking RBI single and Raul Ibanez's two-run triple in the bottom of the eighth. "I woke up this morning, and I had a feeling I was going to get to pitch tonight after not pitching in the series in New York.
"To get that first save [as an Angel] against that team was pretty cool. I spent a lot of time with most of those guys, and I enjoyed my time there."
Smith, in his first season with the Angels, had been pitching the eighth, as he often did in Cleveland, until closer Ernesto Frieri continued to struggle and was removed temporarily from the role by manager Mike Scioscia.
Smith's save was just the Angels' third in 2014, against four blown.
"If everything works out, we'd like to see Ernie back in that spot," said Scioscia, indicating that he'd still like to revert Smith to an eighth-inning setup role. "We'll continue with Joe tomorrow and until Ernie feels like where he needs to be."
Frieri is trying to recapture his 37-save form of 2013 by pitching in lower-leverage innings, so Smith will be used in an inning he doesn't see as much different from his seventh- and eighth-inning challenges.
"For me it's just another inning," Smith said of closing. "I'm not one of those guys who thinks it's a different animal.
"I think [closing] fits my game pretty well. I try to keep it down, try to keep it in the ballpark. I might close with three ground balls, but that's my game."
Said Indians manager Terry Francona: "I used to pull for him a lot a lot. I don't any more."
Smith's uniform and role have changed. Winning when left-hander Tyler Skaggs starts, though -- that's nothing new for the Angels, who have won all five of his starts this season.
Skaggs went seven innings and struck out six but exited after 103 pitches with the score tied at 3.
"I can see why they like him," Francona said. "There's a lot to like."
Skaggs had one bad inning, the fourth, when he gave up a Nick Swisher double, then his only walk -- to Jason Kipnis -- before hanging a 2-2 curve that Carlos Santana converted into a three-run homer and two-run Indians lead.
"[Skaggs] had a really good running fastball early in the game," Scioscia said. "He just made a couple of mistakes in that inning. Once he got through that stretch, and maybe realizing he was finessing too much, he really powered his way through seven innings. ... Tyler came out of that inning with some real purpose."
Skaggs said that his keys are "not flying open and staying consistent in my delivery. I can't let the game speed up on me."
But that's what he said failed him in the fourth, speeding up his delivery.
"I was mad," he said. "A three-run home run is not fun, especially to a guy you can get out. It wasn't the pitch, it was the location."
Following Santana's homer, "I went [back] out there with a vengeance," Skaggs said, "and tried to mow them down."
Cleveland starter Justin Masterson matched Skaggs through seven, and had started the eighth when an error by Swisher at first base opened the door.
After a sacrifice, with first base open, Francona elected to have Masterson pitch to Trout with 501-homer man Albert Pujols on deck.
"With the open base, it's not that we don't think Trout's a good hitter, but we're trying to not face all of them," Francona said. "With an open base, Masty's stuff right-on-right, it's something where I definitely thought about walking him. In the middle of the night tonight, I probably will."
Earl Bloom is a contributor to MLB.com. This story was not subject to the approval of Major League Baseball or its clubs.