Error hurts Indians in loss to Angels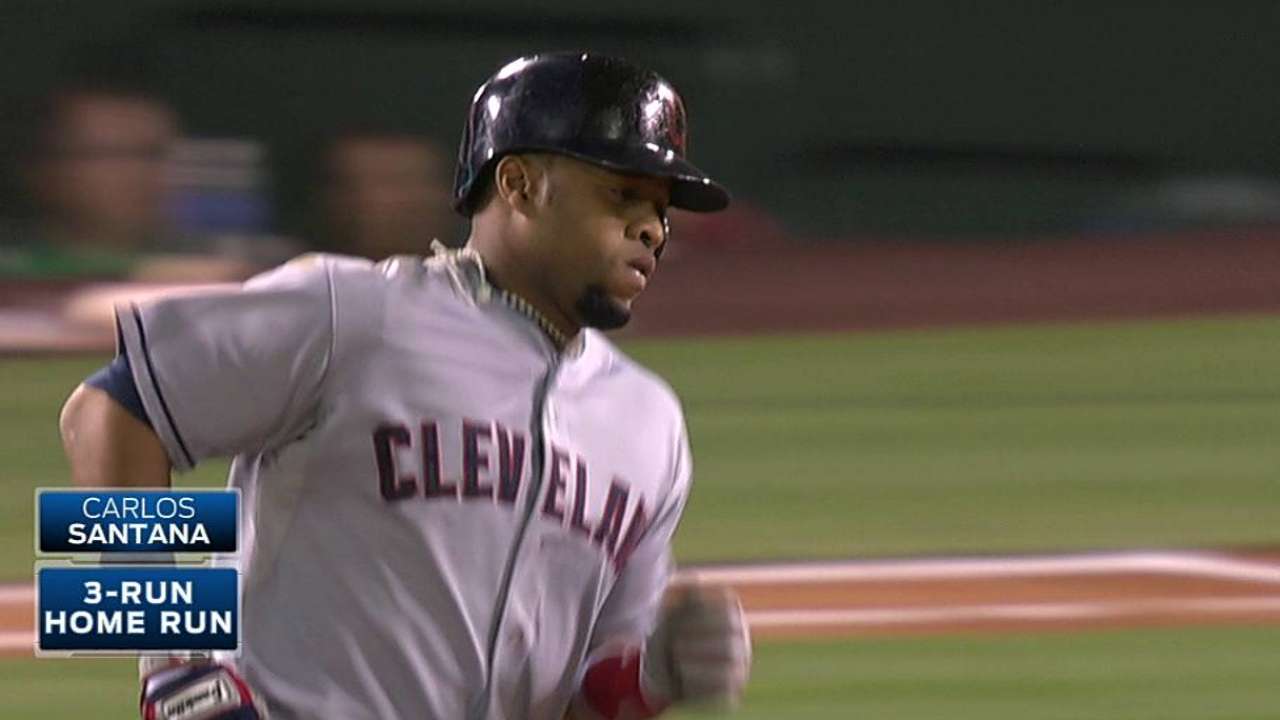 ANAHEIM -- There was only one ideal situation for seeing Angels closer Joe Smith this week as far as the Indians were concerned -- sharing a handshake with their old friend during a pregame workout and reminiscing about old times would have been fine.
The Indians did not want to see him in the ninth inning.
They did not get their wish.
"I used to pull for him a lot," manager Terry Francona said. "I don't anymore."
Smith closed the door on the Indians in the ninth on Monday, sealing a 6-3 loss that sent Cleveland to its fourth consecutive defeat on the current road trip. Sinkerballer Justin Masterson gave the Tribe an admirable effort, but defensive woes came back to hurt the club again in a decisive three-run push by Los Angeles in the eighth inning.
Following a three-game sweep at the hands of the Giants in San Francisco, the Indians lost their grip on the opener of this three-game set in Anaheim. Carlos Santana snapped out of a slump with a three-run homer and Masterson worked into the eighth, but a roller down the first-base line proved to be Cleveland's undoing.
"We get a ball that's hit 80 feet," Francona said. "Man, that's a great way to start the inning."
The ground ball in question came off the bat of J.B. Shuck, who reached safely to open the eighth when first baseman Nick Swisher bobbled the ball. With the score tied at 3 at the time, Swisher's error created an opening.
Erick Aybar, whose two-run double had knotted the score in the fifth, used a sacrifice bunt to move Shuck to second. That left Francona with the option of intentionally walking or pitching to Mike Trout with slugger Albert Pujols waiting in the on-deck circle.
"I definitely thought about walking [Trout]," Francona said. "In the middle of the night tonight, I probably will."
Francona allowed Masterson to face Trout, who ripped a pitch into left field for a run-scoring single that put Cleveland behind for good, 4-3. Masterson then intentionally walked Pujols to get to the veteran Raul Ibanez, who had a groundout, a strikeout and an infield single to that point. The base hit was a chopper up the middle that struck Masterson and died in the infield grass.
Even with his pitch count above 111, Masterson felt confident about facing Ibanez again.
"I felt like we executed some good pitches," Masterson said.
The big right-hander hung a sinker -- rather than burying it low in the strike zone or bouncing it in the dirt -- and Ibanez delivered a two-run triple to right-center that put the game out of reach.
"A sinker from me up in the zone, ever so slightly," Masterson said. "But he went down and got it and made a pretty good swing on a pretty good pitch. He was able to make it happen. We were going well. Some good things. Some tough plays here or there."
Francona had lefty Marc Rzepczynski warming in the bullpen but decided to stick with his horse.
"I thought [Masterson] was pretty good," Francona said. "To let him face who he faced in that situation, I thought he still had something left. I thought he deserved to be out there. I thought he was still executing pitches."
Masterson took the loss after being charged with six runs (five earned) in 7 1/3 innings, with seven hits, five strikeouts and two walks. He appreciated that his manager gave him the chance to pitch into the eighth.
"I love that Tito had the trust in me to go out there," Masterson said. "And again, it's not like we made terrible pitches. We didn't walk the house. We came out and we said, 'All right, here we go.' We were challenging guys. Unfortunately, that time, it compiled into a few more runs than we would have liked to give up."
The unraveling in the eighth effectively erased Cleveland's lone breakthrough against Angels lefty Tyler Skaggs, who allowed three runs in his seven innings.
With one out in the fourth, Swisher pulled a pitch into left-center for a double -- his sixth two-base hit in the past eight games. Second baseman Jason Kipnis then came through with a walk, setting the stage for Santana, who entered the night hitting .122 and headed into the at-bat mired in an 0-for-12 slump.
Skaggs unleashed a 2-2 offering that Santana launched to left field, where it carried over the wall for a three-run homer, pushing Cleveland to a two-run lead. The home run was his second of the season, and his three RBIs represented as many as he'd collected in the previous 23 games combined.
"It was a great game for me," Santana said. "But I feel a little sad, because my team lost. Day by day, I feel like I'm feeling better."
Masterson was disappointed that the loss spoiled Santana's moment.
"I was hoping we could be victorious," said Masterson, "so we could do nothing but talk about Santana and how great he did right there. That was big. He's been struggling a little bit. To be able to do that, it was big-time."
What the Indians did not want to talk about was Smith's first save for the Angels.
Cleveland's former setup man signed a three-year, $15.75 million deal with Los Angeles over the winter after spending the past five seasons with the Indians. He was recently given the ninth-inning duties, which he handled well against his former club.
"I was just amped up," Smith said. "I was facing the organization I was with for five years. I had a lot of fun facing guys I knew. Everybody I faced, I knew, pretty much. It was fun, man."
Cleveland was not as thrilled about the reunion.
Jordan Bastian is a reporter for MLB.com. Read his blog, Major League Bastian, and follow him on Twitter @MLBastian. This story was not subject to the approval of Major League Baseball or its clubs.