Rangers can't rally after Darvish's early exit
Texas aided by two replays, but lineup manages just three hits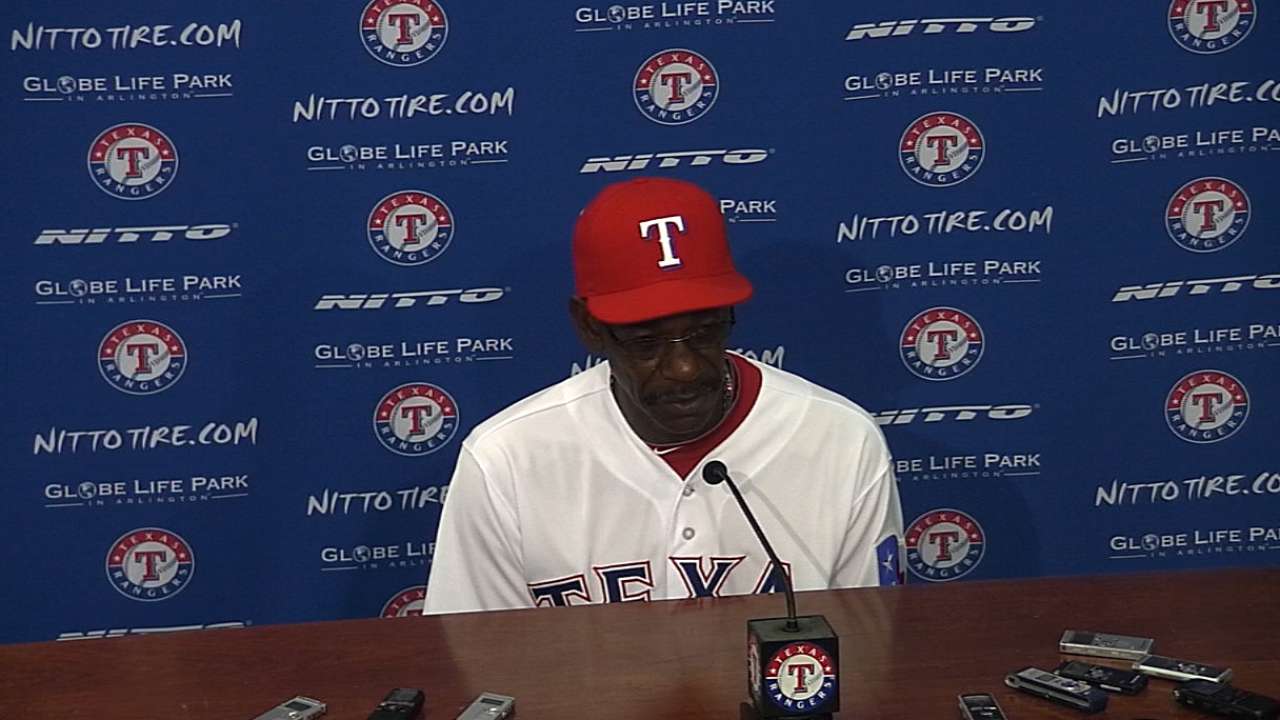 ARLINGTON -- The A's have a way of bringing out the worst in Yu Darvish.
In his third season stateside, the Japanese star has dominated many of the American League's heaviest-hitting lineups -- but the Rangers' leading division rival is a different story.
Pitching against the Athletics for the second time in eight days on Monday, Darvish had his roughest outing of the season -- the shortest of his Major League career -- and departed after only 3 1/3 innings, allowing four earned runs in a 4-0 loss.
Darvish fell to 1-7 against the A's in nine career starts; he hasn't recorded more than three losses to any other team. His ERA against Oakland ballooned to 4.73 in 53 1/3 innings -- almost two runs higher than his 3.09 ERA against all other teams.
"They have a really good game plan against me," Darvish said.
Monday night at least, that was something of an understatement. It was only the second time in 66 MLB starts for Texas that Darvish didn't pitch at least five innings. His streak of 56 consecutive starts of five-plus innings was the longest in Rangers history.
"As a starting pitcher you always want to go deeper in the game," Darvish said. "Obviously I was disappointed to only throw three-plus innings, but this is something that happens to any pitcher. What happened, happened, so I just don't want to dwell on it and do much better in the next outing."
After retiring seven of the first eight batters, Darvish's troubles -- largely with his fastball command -- began with one out in the third inning.
First, he walked No. 9 hitter Eric Sogard in an eight-pitch at-bat. Darvish then gave up a hit-and-run single to Coco Crisp on the seventh pitch of the at-bat. Crisp's soft fly ball fell just in front of center fielder Leonys Martin, who came within a few steps of an inning-ending double play.
With his next pitch, Darvish hit Jed Lowrie. Then Josh Donaldson put the next offering in play with a two-run single to left, and Brandon Moss singled the bases full.
If not for an overturned call that worked in the Rangers' favor moments later, Darvish's night might have been even more disappointing. Moss was originally ruled safe on a pickoff throw from catcher Robinson Chirinos. Manager Ron Washington successfully challenged the call, and Darvish was able to get a flyout to keep the damage at two runs in the frame.
Unfortunately for Darvish and the Rangers, the A's offered more of the same in the fourth inning. Darvish allowed a leadoff single to John Jaso, then an RBI triple to Josh Reddick, a sacrifice fly to Daric Barton and a four-pitch walk to Sogard. That ended Darvish's night earlier than any other in his Major League career, as Washington went to reliever Aaron Poreda.
"I thought he tried to throw everything at them but the kitchen sink, it just didn't work," Washington said of Darvish, noting that he didn't feel like he had a short hook for pulling Darvish after 83 pitches. "It wasn't going to get any better. We could save those bullets, that's all that was."
The only other time Darvish did not pitch at least five innings in his Major League career was May 21, 2012, when he went four innings in a loss at Seattle.
Oakland's game plan against Darvish, manager Bob Melvin said, is to try to win a sort of war of attrition.
"We just try to make him work early on and hopefully get his pitch count up, because you know you're not going to knock him out," Melvin said. "It's very difficult to do. The next best way is bring his pitch count up and score a few runs, and hopefully you get him out of the game sooner than later."
The Rangers' offense managed only three hits -- singles from Martin, Chirinos and Alex Rios -- against Oakland starter Sonny Gray, who threw his first career shutout. It was the first time this season that the Rangers have been shut out.
Wielding a tough sinker, Gray walked only one batter and struck out six, finishing the game in 108 pitches.
"They were beating it into the ground all night, which was awesome, because we played great defense tonight," Gray said. "I was able to get my curveball in there to get ahead, add and subtract with it."
Long reliever Nick Martinez did not allow a run in the final five innings for the Rangers, but with Gray cruising, it didn't matter. Oakland moved back into sole possession of first place in the AL West with the series-opening win.
"Pitching makes it difficult for anyone," Washington said. "They've got pitching and Sonny Gray was pretty good tonight. That's what did it."
Dave Sessions is a contributor to MLB.com. This story was not subject to the approval of Major League Baseball or its clubs.