Cardinals cough up lead, fall in extras to Crew
Wacha strikes out nine over 6 1/3; Maness allows two in 12th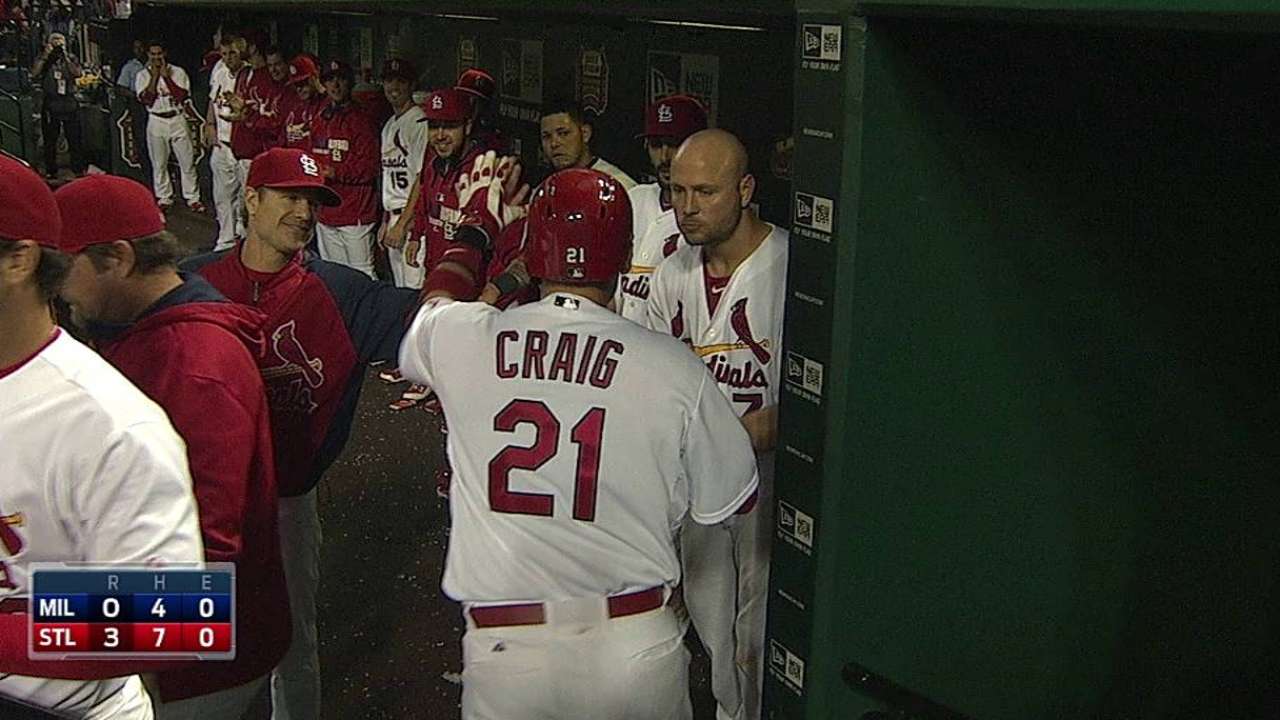 ST. LOUIS -- Seeking to make a statement in an early season series between the National League Central's best, the Cardinals weathered the Brewers' seventh-inning surge only to find themselves unable to make a dent against a formidable relief corps.
What was a three-run lead for Michael Wacha was lost with a sequence of rapid-fire singles. Milwaukee's two-run 12th against Cardinals reliever Seth Maness then clinched the game for the Brewers, who expanded their division lead to 5 ½ games with the 5-3 win in front of 40,514 fans at Busch Stadium on Monday.
Though the season is still young and 15 more games remain between these two clubs, that is a division deficit greater than any the Cardinals faced on their march to a division title last season. Manager Mike Matheny called the loss "as tough a one as we've had this year."
After Pat Neshek helped Wacha out of a troublesome seventh, scoreless relief appearances by Carlos Martinez, Trevor Rosenthal and Randy Choate gave the offense repeated opportunities to send the Cardinals home with a third win in four games. More so, the Brewers had run out of healthy position players after eight innings and were down to a Rule 5 Draft pick as the last man standing in the bullpen.
None of that would help Maness.
After carving a fit in the Cardinals' bullpen a year ago by becoming the ground-ball guy, Maness continues to watch balls be elevated against him this year. Monday was no exception.
Jonathan Lucroy greeted the right-hander with a double to left field. Khris Davis then lined an RBI triple into the right-field corner to give the Brewers their first lead of the night.
"I was trying to go away and left it up a little bit for him to get it deep enough," Maness said of the misplaced four-seam fastball. "Everything is just finding a hole."
David had been 0-for-5 with four strikeouts prior to that final at-bat.
"It's crazy," Davis told reporters. "You come from being as low as that to answering questions from you guys."
Mark Reynolds' sacrifice fly gave Brewers closer Francisco Rodriguez additional cushion. It put Maness' ground-ball-to-flyball ratio this season at 1.64. For comparison, it was 5.50 a year ago. He has been scored upon in five of his nine appearances, though he had allowed just two extra-base hits in his first eight games.
"I'd say it probably goes back to Spring Training, too, where he's just having trouble finding that good groove that he was in most of last season," Matheny said. "We know what he can do. We haven't really used him in the spot that he was so effective in last year, which is coming in the middle of an inning to get guys out of trouble. We also know he has good enough stuff to come in for a clean inning and give us a chance and throw a couple."
Reaching four runs was evidently the key to victory, as neither of these two clubs has lost a game yet this season in which it has reached that run total. The Cardinals had plenty of chances to puncture the Brewers' bullpen and get there first.
They stranded the bases full in the ninth, and wasted Matt Holliday's leadoff double in the 10th. That inning turned when Holliday was stopped in a rundown on a botched sacrifice bunt by Peter Bourjos, batting cleanup following a ninth-inning double switch.
A two-out walk by Matt Carpenter in the 11th led to naught. The potential tying runs reached with two out in the 12th before Jhonny Peralta ended the night with a flyout. Jon Jay had an especially rough night, finishing 0-for-6 and ending five innings.
"It's definitely frustrating," Allen Craig said of the missed opportunities. "But it's early in the season. We played a good game, took some good at-bats. We just couldn't pull through in the end."
Brewers starter Yovani Gallardo, long snakebitten by the Cardinals, would have his troubles again. The Cardinals jumped on him quickly, turning Carpenter's leadoff double into a run for the second time in as many days. Again, it was Holliday who drove Carpenter home, this time on a single to right.
The Cardinals later powered their lead to three behind sixth-inning solo homers from Holliday and Craig. The home runs were the second of the season for each outfielder. Gallardo, in 18 career starts, has now given up 22 home runs to Cardinals hitters -- nine more than to any other opponent.
But the Brewers' offense kept Gallardo from falling to 1-12 against St. Louis by getting all those runs back in the seventh.
Wacha opened the inning with his ninth strikeout of the night to retire Reynolds. A walk to Jeff Bianchi followed, after which the Brewers doubled their total number of hits off Wacha with four straight singles. That brought Milwaukee to within one and Neshek into a bases loaded mess.
"I thought he looked pretty good, real good actually," Matheny said of Wacha. "He entered that inning with about 82 pitches and we like his ability to get out of tough spots with swing-and-miss stuff like he has. Pushed him and it didn't work today."
Neshek nearly snuck out of it, striking out Jonathan Lucroy and getting to two-strikes against cleanup hitter Aramis Ramirez. Then he plunked him with an 83 mph slider to force home the tying run.
That took Wacha out of position to earn his third win of the month, though he does finish April with 44 strikeouts in 36 1/3 innings. Of the nine he had on Monday, eight were swinging. Three came on his four-seam fastball, two on the cutter and the other four with his signature changeup.
"I felt good throughout the good game," Wacha said. "I just let it get away from me there in the seventh. I just gave them the opportunities by putting the guys on base there and they made me pay for it."
Jenifer Langosch is a reporter for MLB.com. Read her blog, By Gosh, It's Langosch, and follow her on Twitter @LangoschMLB. This story was not subject to the approval of Major League Baseball or its clubs.