Odorizzi struggles as Rays get soaked in Chicago
Right-hander works fewer than five innings for second straight start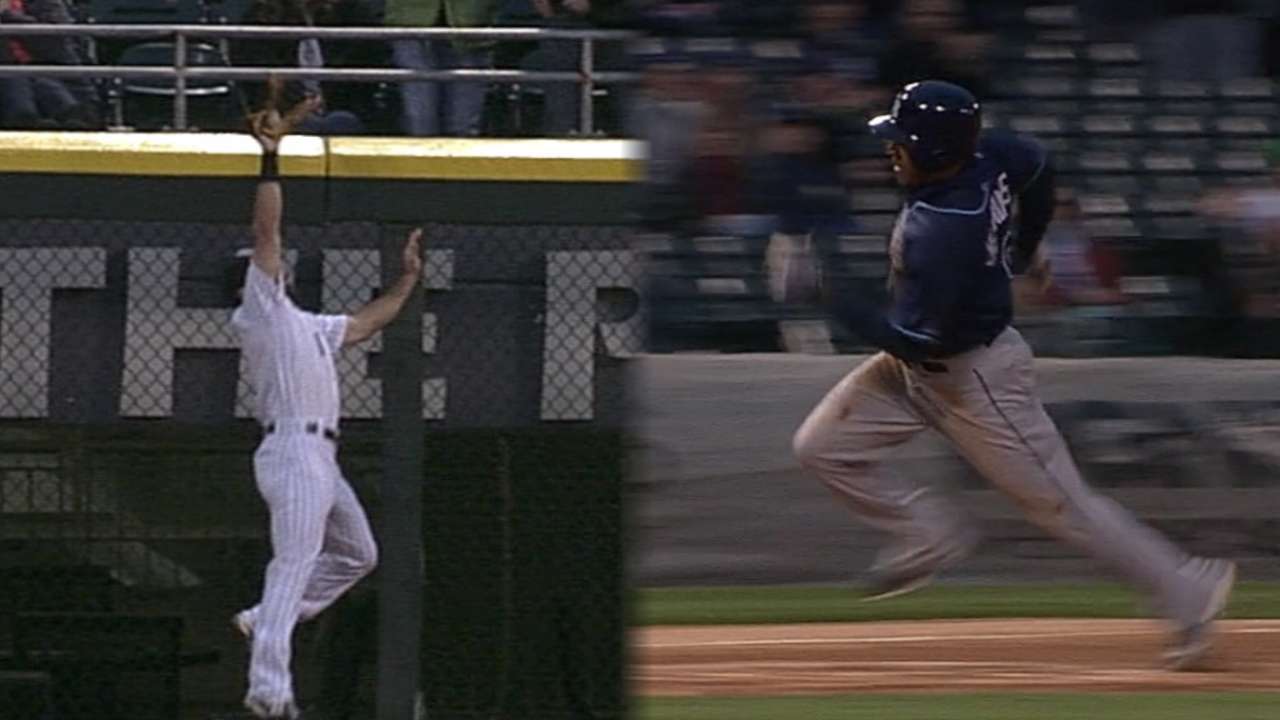 CHICAGO -- One day after watching former Cy Young winner David Price get tagged for eight runs in six innings, Tampa Bay starter Jake Odorizzi hoped to lead the Rays to victory Monday and salvage a split in their four-game series with the White Sox. Instead, the 24-year-old righty was chased before completing five innings for the second time in as many outings, and the Rays lost, 7-3, at U.S. Cellular Field.
"They beat us. They beat us fair and square," Rays manager Joe Maddon said. "They outplayed us over the course of four games. They're a little bit hot right now. We're not. You just got to give them credit. They played well and they beat us."
Odorizzi was given leads of 2-0 and 3-2 but couldn't make either stick. He set down the White Sox in order in the first, but gave up a game-tying, two-run homer to Alejandro De Aza in the second. De Aza sent a 1-1 offering 397 feet to right field.
"The home run was just a hanging changeup," Odorizzi said. "Stayed up. Right pitch, just bad location. Overall, it's tough. They're professionals, too, so you make a good pitch and they can put it in play just as easily and find some green grass."
Odorizzi gave up two more runs in the fourth inning on an RBI triple to Alexei Ramirez and an RBI double to Marcus Semien.
"Those hits are really clutch," Semien said. "Those hits can be the real difference in the game. Those are tough situations that some days they'll go your way and some days they won't. We're playing good baseball, so it's good right now."
Odorizzi allowed four runs on eight hits in 4 1/3 innings. He struck out five, walked two and threw 87 pitches -- 53 for strikes.
"He just was off a little bit," Maddon said. "He just made some bad pitches at the wrong time and they did not miss it -- and that was the gig. Right now, when you miss a mistake to their guys, the ball's getting hit. That's just a matter of execution."
In a game many feared would be postponed because of weather, the Rays wasted no time in jumping out to a 2-0 lead in the first inning. Ben Zobrist led off with a double and scored on Desmond Jennings' sacrifice bunt -- after White Sox starter Andre Rienzo uncorked a wild throw to first base. Jennings advanced to second on the error and then scored on Matt Joyce's sacrifice fly to the warning track in center field.
"It started out great," Maddon said. "De Aza's homer put the air back in their balloon."
David DeJesus doubled to right-center in the fourth to score Wil Myers and break a 2-2 tie. DeJesus has settled in nicely to the DH spot as he recovers from a sore shoulder. He is batting .389 (7-for-18) with six RBIs and four runs in his last seven games.
Rienzo, however, settled down after a rocky first inning, allowing just one run over the next five frames. Overall, he allowed three runs -- two earned -- in six innings. He threw 105 pitches, struck out four and walked three.
"Tonight, Zo did a good job, getting an opportunity, filling in and getting us [a win]," White Sox manager Robin Ventura said. "Bullpen did a great job. [Zach Putnam] coming in and taking that two innings was big. It was a nice job of pitching."
Rain cascaded down on U.S. Cellular Field as the bottom of the seventh began, causing many of the remaining 11,268 fans to take cover.
The Rays, however, couldn't get away from the poor pitching that has plagued them in this series. Saturday's 4-0 shutout notwithstanding, the Rays had no answer for the top-scoring offense in baseball. They allowed 25 runs in their three losses.
"We haven't been playing badly," Maddon said. "The first night we had the game won, and we lost it. The next time, we come back and it's 32 degrees out and we pull off a nice win. Last night, we just had a bad game. Today wasn't a bad game. They put those add-on runs on."
Tampa Bay reliever Jake McGee gave up a two-run double to Adam Eaton in the sixth that made it 6-3. Heath Bell gave up run in the eighth for the final margin.
"Offensively we had opportunities," Ventura said. "You give up two quick ones early, fight your way back. It seemed like we finally cashed in on them."
Odorizzi looked sharp in his first outing this season -- he pitched six shutout innings in an 8-1 win over the Rangers on April 4 -- but he's struggled ever since. He has now allowed 18 earned runs on 28 hits in his last 17 2/3 innings.
"It's been a tough April," Odorizzi said. "It's tough when you start off this way. Nobody wants to struggle, but everyone's going to struggle throughout the year. We're struggling overall as a team and when you go out there and do the same thing, it's discouraging.
"[But] my execution was a lot better tonight than what it was in the last three games, that's for sure. That's the positive I'm taking out of it, honestly. I was able to locate my fastball into these guys, and that was our game plan. We got burned with the double in the fifth inning, but, for the most part, we just kept pounding them in."
The Rays, who head to Boston for a three-game series, have lost five of six.
"That happens during the course of a baseball season," Maddon said. "There's going to be a point where we win five out of six. I don't want the guys to get down on themselves. It's just how things are going right now. We've just got to keep grinding. It happens to everybody, and we're going to come out on the other side."
Tony Meale is a contributor to MLB.com. This story was not subject to the approval of Major League Baseball or its clubs.