Rienzo, White Sox offense douse Rays
Righty works six frames; De Aza, Eaton each plate two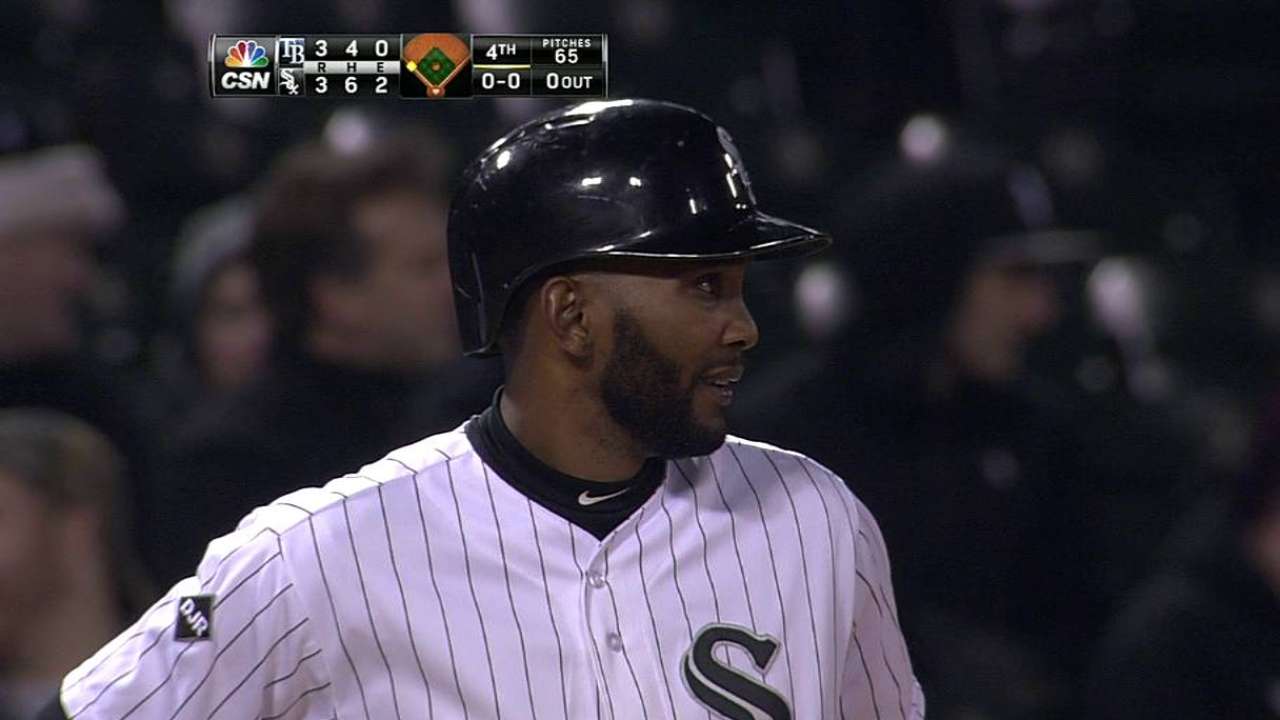 CHICAGO -- Andre Rienzo doesn't know how long his big league stay with the White Sox will last.
As a rotation replacement with Chris Sale and Felipe Paulino on the disabled list, Rienzo could be around for another two or three starts, or he could force his way into the starting five for the rest of the season. But Rienzo made one point clear following a 7-3 victory over the Rays on Monday night before a crowd that included 600 dogs at U.S. Cellular Field.
He's going to enjoy every minute that he has in Chicago.
"I don't know how long I'll be here," said Rienzo with a broad smile. "But every day I live the dream."
The White Sox (14-13) certainly understand the sentiment coming from Monday night's winning pitcher. Their 2013 season was an absolute nightmare at pretty much every angle, but even when things start slowly, as they did Monday, the offense has shown it's never too late to fight back.
Tampa Bay (11-15) opened the first inning with a Ben Zobrist double, a Desmond Jennings sacrifice bunt, Rienzo's run-scoring error on fielding the bunt, an interference call against second baseman Gordon Beckham while retrieving the bunt and Matt Joyce's long sacrifice fly to center to score Jennings from second. This little bit of chaos all took place within the first five pitches from Rienzo (2-0).
That 2-0 deficit didn't last long.
Alejandro De Aza launched a game-tying, two-run homer with two outs in the second, marking his first homer since April 3 against the Twins. The White Sox added two in the fourth, two in the sixth and one in the eighth on Jose Abreu's RBI single.
Abreu raised his Major League rookie record to 32 RBIs in April and tied Smead Jolley's club rookie record for RBIs in any month (from July 1930). The power-packed first baseman has received a great deal of well-deserved credit, including from Tampa Bay manager Joe Maddon before Monday's game, but the offensive success goes deeper than Abreu alone.
"Oh no, this is a team effort here," said White Sox third baseman Marcus Semien, who doubled home the go-ahead run with two outs in the fourth. "Guys just know their roles. My job and other guys who can run a little bit more, our job is to get on base and get in scoring position as soon as we can because those guys are swinging the bat well."
"If we have a successful season, that's definitely what it would entail and what we want it to entail," White Sox leadoff man Adam Eaton said. "The guys at the top of the lineup and the latter part of that lineup, they grind out at-bats and hopefully Abreu comes up and hits us in. It seems like it's working so far."
Alexei Ramirez tripled home a run in the fourth to set up Semien, and Eaton's two-out, two-run double in the sixth upped the lead to 6-3. Ramirez added a double in the seventh to give him 38 hits for April, leaving him one behind Paul Konerko's April club record of 39 set in 2002. The offense is hitting .297 with 60 runs scored over the last nine games, of which the White Sox have won six.
Rienzo threw 105 pitches over six innings, allowing two earned runs on five hits. He struck out four and walked three before Zach Putnam and Matt Lindstrom closed out the victory. It's easier for anyone on the mound to pitch with the comfort provided by the offense.
"We have so much firepower in this lineup, it's crazy," said Putnam, who threw two scoreless innings. "It has been fun just in the short time I've been here watching our offense work and score runs. Hopefully, they continue to do it through the rest of the season."
"They beat us. They beat us fair and square," Maddon said. "They outplayed us over the course of four games. They're a little bit hot right now. We're not. You just got to give them credit. They played well and they beat us."
This Dog Day victory gave the South Siders a series decision with three wins in four games against the Rays, which stands as their first series win against the Rays since May 28-30, 2012. This effort also moved the White Sox to within one game of the Detroit Tigers in the American League Central, with the Tigers in town Tuesday and Wednesday for a brief two-game, day-night set.
Yes, April has not even come to a close, but a first-place battle for a team that won 63 last year is still a step forward. It might even be considered living the dream.
Not only did the White Sox beat the Rays on Monday, but they even beat Mother Nature and the specter of heavy rains on the horizon.
"Sometimes they say it's going to rain in 20 minutes and you wait around and it never comes," White Sox manager Robin Ventura said. "You continue to play. You can't plan on it washing you out."
"Yeah, we got through it," Semien said. "There was one bad inning where the field was really wet. We got through it and it lightened up in the ninth, so it was good."
Scott Merkin is a reporter for MLB.com. Read his blog, Merk's Works, and follow him on Twitter @scottmerkin. This story was not subject to the approval of Major League Baseball or its clubs.