Big-time players emerge seemingly out of nowhere
Colabello among group to bust onto scene with impressive production early on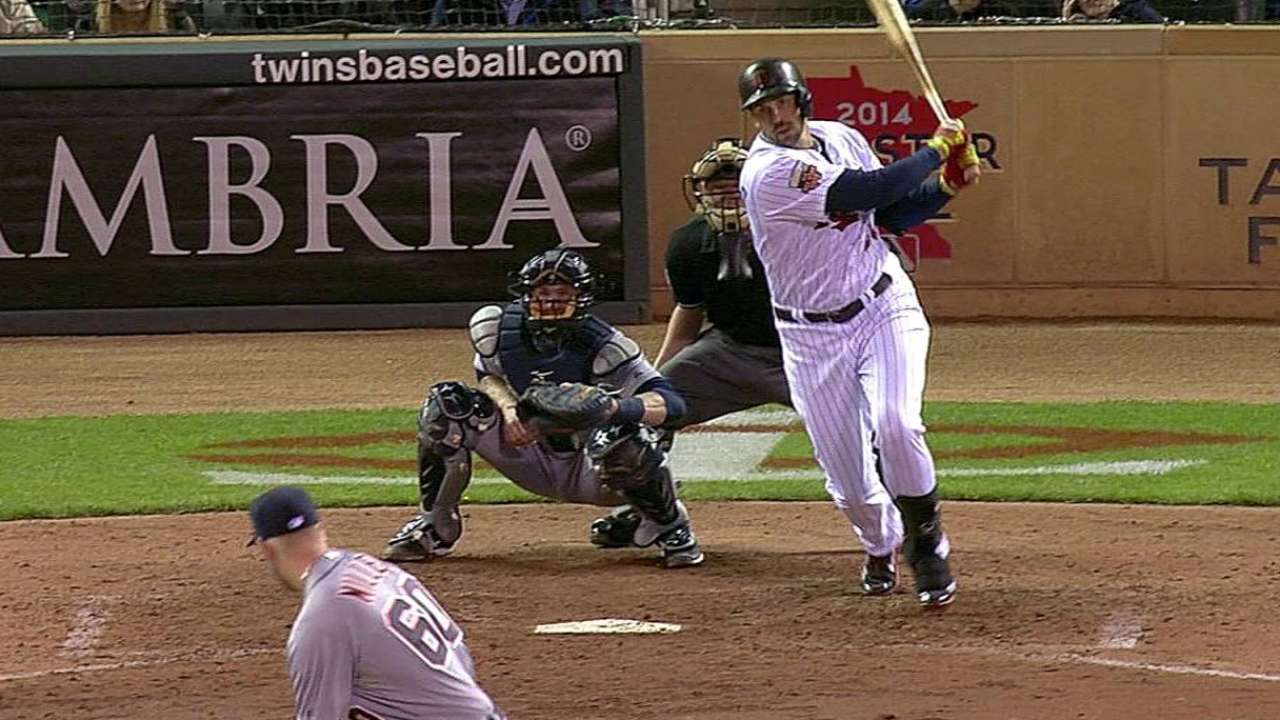 Almost a month of the 2014 Major League season has elapsed, and some of the things we've come to count on as baseball fans are once again happening.
Mike Trout, for example, has shown us that his first two seasons were not freakish blips in the space-time continuum. He's actually quite good at this game. The same goes for Miguel Cabrera, even though he's started off slowly, and Troy Tulowitzki and a healthy Albert Pujols and heralded rookies Jose Abreu and Masahiro Tanaka and sophomore whiz Jose Fernandez and steely veterans Mark Buehrle and Felix Hernandez. We know what to expect from these guys because we know what they're all about.
But one of the most beautiful parts of an always-stunning, ever-confounding game is the success story that appears from the clouds. Every year, at least a few weeks in, we're tantalized by the stories of the men that make us say, "Who are these guys?"
Already, there's plenty to embrace from this year's crop.
Yes, Abreu enters the week with the Major League lead in RBIs, and yes, that's sort of unexpected considering he played entirely in Cuba before arriving on the MLB scene this season. Then again, it's hardly an international secret that the dude can hit. The White Sox did pay him $68 million over six years before he even saw a big league pitch.
But Chris Colabello of the Twins has 27 RBIs, and he spent seven years in independent ball before making it to the Majors last year, and while he did hit seven homers in 55 games, he also batted under .200. There was no guarantee he would make the club out of Spring Training this year.
But Colabello has had his eyes on a dream for a while now. That's why the 30-year-old turned down an offer to play in Korea for about $1 million, and that's why he's batting cleanup for manager Ron Gardenhire and producing runs with the best of the American League.
"My heart was here," Colabello said. "I believed I could be here. I believed I had something to offer here. If not, I definitely would've gone over there. This was what I wanted to do. I've always wanted to be in the big leagues since my earliest memories. I don't think my first goals were to eat, drink or breathe. It was to make the big leagues."
As is the case with most players, once you make it, you don't want to go anywhere else. Colabello and the Twins will see if he can carry his April mojo into May and beyond.
"For me, it's a great story for a guy who has persevered as long as he has and had some great years in the independent leagues," Minnesota assistant general manager Rob Antony said. "He didn't get a chance with a Major League organization, but when he did, he took advantage of it. He's an important guy with some right-handed power. We need offense."
Most teams do, including the Yankees, who are without third baseman Alex Rodriguez for all of 2014 because of his much-publicized suspension. The club's infield depth and stability was and still might be a question mark moving forward in this 162-game grind, but New York has Yangervis Solarte filling in the blanks, and it's working.
Entering Monday, Solarte was batting .301 with one home run, 13 RBIs and a .400 on-base percentage. Not bad for a 26-year-old signed by New York as a non-roster free agent in January after never making it to the Majors in nine seasons as a farmhand for Minnesota and Texas.
"He's certainly playing above our expectations, and we'll ride that as long as we can," Yankees general manager Brian Cashman said recently. "Maybe he becomes a player that moves into a new category, but you have to give it time. We're certainly happy and pleasantly surprised by what he's provided."
In Colorado, the Rockies are giving similar answers every time they're asked about center fielder Charlie Blackmon, who was a bubble player heading out of a so-so Spring Training but has become an indispensable leadoff man in early-season 2014.
Blackmon, who hit .309 in 246 at-bats with the Rockies last year, went 2-for-4 with a run scored on Sunday and enters the new week batting .402. Seriously.
He went 6-for-6 with three doubles and a homer in one game earlier this year. He's already hit five homers this season after clubbing six in his entire Rockies stint in 2013.
"I don't put a whole lot of stock in Spring Training," Rockies manager Walt Weiss said. "We tend to get caught up in what a guy hits in Spring Training. When the season starts, your whole mentality changes. I put a lot of stock in what Charlie did at the end of the season last year."
And in Oakland, the A's continue to put stock in Jesse Chavez.
The right-hander was supposed to be a long reliever for the A's, but when starters A.J. Griffin and Jarrod Parker suffered arm injuries that took them out of manager Bob Melvin's five-man rotation, Chavez was plugged in.
Now, at the age of 30, Chavez has been a huge part of Oakland's early contention in the AL West. The 42nd-round Draft pick by Texas in 2002 who made four career starts prior to this year had his first rough outing of the season in his last start, but even with that on his ledger he's got a 2.32 ERA and 33 strikeouts in 31 innings for a contending team.
He's just another of those April stories we love to read: The out-of-nowhere guys who just might stick around for a while at the highest level of the game.
"When somebody goes down or somebody's struggling, you give somebody else an opportunity, and it's their turn to shine," Melvin said of Chavez. "He's been focused and ready for that opportunity and continues to run with it."
Doug Miller is a reporter for MLB.com. Follow him on Twitter @DougMillerMLB. This story was not subject to the approval of Major League Baseball or its clubs.