Giants sweep Indians on Hicks' walk-off homer
Vogelsong fixes mechanics, pitches seven shutout innings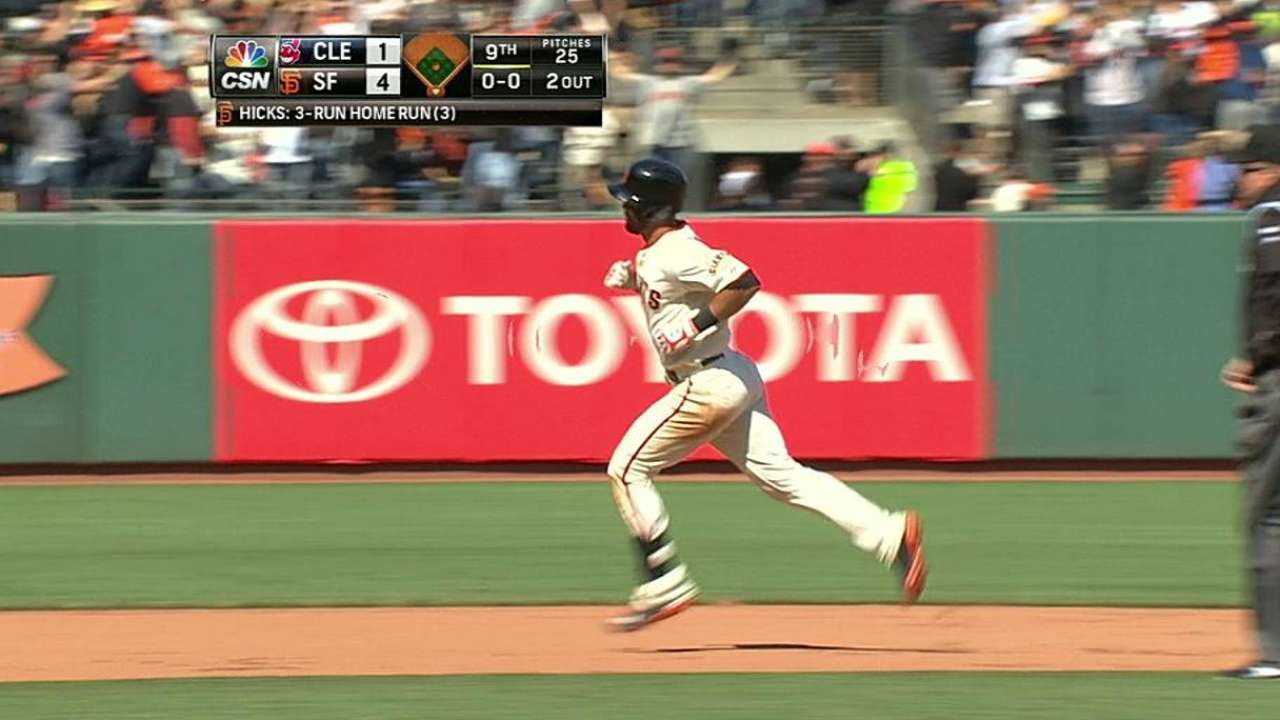 SAN FRANCISCO -- Refreshing his memory probably never felt so good for Brandon Hicks.
Having hit a walk-off home run nearly two years ago, Hicks re-enacted that thrill against the Cleveland Indians, belting a three-run, tiebreaking homer with two outs in Sunday's ninth inning to lift the Giants to a 4-1 triumph.
The decision lengthened the Giants' winning streak to four and sealed a three-game sweep of the Interleague series against the Indians.
From a big-picture perspective, the game's most promising development for the National League West-leading Giants was Ryan Vogelsong's seven shutout innings. Vogelsong, the No. 5 starter who entered the game with a 7.71 ERA, allowed just two hits, both by leadoff batter Michael Bourn.
But after Cleveland's Yan Gomes forged a 1-1 deadlock with his eighth-inning homer off Santiago Casilla, which ended a 19-inning scoreless streak compiled by San Francisco relievers at AT&T Park, the Giants needed more productive efforts.
Buster Posey began the Giants' winning surge against Cleveland right-hander Cody Allen (2-1) with a leadoff single. Pinch-hitter Gregor Blanco's sacrifice bunt advanced Ehire Adrianza, running for Posey, to second base. Allen fanned Pablo Sandoval before intentionally walking Brandon Crawford to set up a force play.
Up came Hicks, who yanked Allen's 1-0 fastball into the left-field seats.
The 28-year-old Hicks, who has spent the vast majority of his eight-year professional career in the Minors while performing for four organizations, journeyed briefly into the past while absorbing his latest thrill. He correctly recalled that he victimized Texas pitcher Michael Kirkman with his only other big league walk-off homer as a member of the A's. The date happened to be July 18, 2012.
"You always remember these," said Hicks, who has received an opportunity to become the Giants' primary second baseman while Marco Scutaro attempts to heal his aching back. "It's just an awesome feeling being able to help the team win in that kind of way."
Hicks' third homer of the season demonstrated why Giants manager Bruce Bochy has installed him in the lineup over Joaquin Arias and Adrianza more often than not.
"The thing I like about him is he's going to get his swings in," Bochy said of Hicks, a non-roster invitee to Spring Training who made the season-opening roster by hitting .348 in exhibition games. "He wants to be up there."
Hicks didn't mind that Allen, who retired two batters to finish the eighth inning, was throwing blistering fastballs that reached 97 miles an hour.
"You have to be ready for it, when a guy's throwing like that," said Hicks, who connected with a 96 mph heater. "That's what I was saying to myself when I went up there: 'I just want to be on time,' for when he throws a fastball."
Hicks' timing was equally effective on defense. He started a slick double play in the third inning after making a sliding backhand stop of Nick Swisher's sharp one-hopper.
That bolstered Vogelsong, who rarely needed assistance. The right-hander retired 19 of the final 21 batters he faced. This contrasted sharply with Vogelsong's 1 1/3-inning stint at Colorado last Monday, when he yielded five earned runs and six hits, including three homers. That matched his shortest start as a Giant and the most home runs he ever had surrendered in a game.
Vogelsong briefly courted trouble in the first inning as two of the first three Cleveland batters reached base safely.
"After the last game, it definitely sticks there in the back of your mind for a second -- 'Not again,'" Vogelsong admitted. But he stranded the runners by retiring Carlos Santana on a fly to deep right and Michael Brantley on a grounder to second base.
As it turned out, Vogelsong's visit to Colorado wasn't such a dreadful experience. He corrected a significant mechanical flaw while throwing off a bullpen mound as that series concluded last Wednesday. Vogelsong declined to detail his adjustments but said that they involved his legs.
"It was pretty apparent what I was doing wrong," Vogelsong said.
Nevertheless, he refused to pronounce himself completely fault-free.
"At this point in time it's been back and forth," Vogelsong said. "If I can throw two or three more really good ones like today and the Dodger game [a one-run, six-inning effort April 16], I'll feel a lot better. I'm not going to get overly excited about one good start after a really bad one."
The Giants partisans in the NL-record 258th consecutive sellout crowd at AT&T Park still felt compelled to shower Vogelsong with a warm ovation when he concluded his final inning by striking out Asdrubal Cabrera. Vogelsong remained mostly expressionless as he entered the dugout, but later reiterated his profound regard for his loyalists.
"I've said many, many times that the fans here are awesome," Vogelsong said. "They're behind us all the time, good and bad. It never gets old."
Like the fans, Vogelsong rose from his seat -- in the Giants clubhouse, of course -- when Hicks delivered the game-winning clout.
"That never gets old, either," Vogelsong said.
Chris Haft is a reporter for MLB.com. Read his blog, Haft-Baked Ideas, and follow him on Twitter at @sfgiantsbeat. This story was not subject to the approval of Major League Baseball or its clubs.